Cakes You Can Make: Fancy Nancy & Breakfast is Served
As an Amazon Associate I earn from qualifying purchases. For more details, please see our disclosure policy.
Fancy Nancy and Breakfast!? These two themes were suggested by readers during FishMama's Birthday Cake Challenge. They were chosen as the top two in a readers' poll a week later.
Both were definitely challenging. Breakfast because it was a unique thing to conceive in sugar. Have you ever heard of such a thing? And Fancy Nancy had me a little stumped because I'd never even heard of her. So, I tackled them both and had a fun time doing it.
Here are the basics:
Fancy Nancy's Purse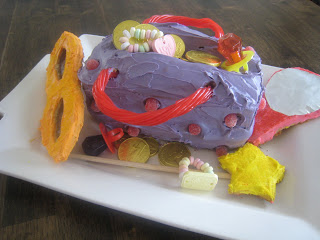 — cake baked in two loaf pans, stacked, a wedge cut out of the top for the opening of the purse
— cookies cut in the shapes of sunglasses, star wand, and hand mirror. Fill the inside of the sunglasses frames with crushed lifesavers before baking.
— licorice whips for purse handles
— fill purse with candy necklaces, rings, and chocolate coins
Breakfast is Served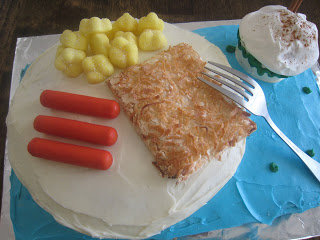 — cake baked in a pie plate and 9 x 13 pan, additional muffin needed for mug
— bubble gum hot dogs for sausages, gummy popcorn for scrambled eggs, coconut meringue baked in the shape of hashbrowns.
— also add cinnamon stick and dash of cinnamon on top of the mug