Can Your Baby Have Too Many Clothes? (Guest Post)
As an Amazon Associate I earn from qualifying purchases. For more details, please see our disclosure policy.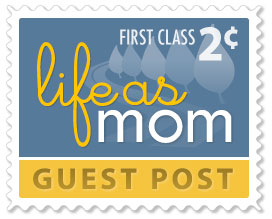 The following is a guest post from Deanna:
Is it possible for your baby to have too many clothes?
When I was 20 weeks pregnant with my first child, I received a phone call that changed my life. Merely a week before, I had learned that I was going to have a baby girl. My desire to go shopping and fill up my little girl's room full of adorable outfits was tempered by the concerns that were on our ultrasound.
So when I received THE phone call telling me "I'm sorry, your daughter has Trisomy 21," at first I was so devastated that all I could do was sit and cry.
When friends reached out to me and asked what they could do, I replied that I wanted to go shopping. To buy clothes for my little girl.
I still remember the first thing that I bought her: a cozy brown sleeper with scattered pink polka dots. I paid full price. From Osh Kosh. But in my grief, I ignored the price tag. My unborn daughter had an extra chromosome. By buying her beautiful things to wear, I felt like I was doing something to help her — to show her love in the only way I knew how.
As my very difficult pregnancy progressed, I received many gorgeous presents and clothes for Baby Girl. Friends that I hadn't heard from in years sent generous packages in the mail with sweet notes of love for our baby rockin' a little something extra. It meant so much to me to receive an outpouring of love that way.
By the time my daughter was born, she had an AWESOME wardrobe. Onesies, outfits, dresses, shoes, tights, hats — you name it she had it. (And yes, she was born in February, but she had 6 pairs of sunglasses!)
She was in the NICU for 5 weeks, so she really wasn't able to wear the clothes until she left — and then we had to dress her around a g-tube and an oxygen nasal cannula, so she wore each outfit differently than I had imagined, but was a baby modeling star from the moment she traded her NICU incubator for that brown and pink sleeper that I bought for her the day after receiving her diagnosis.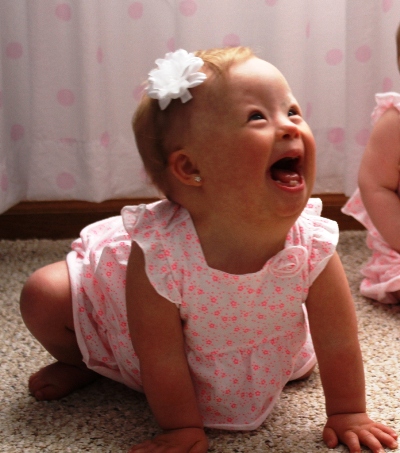 It wasn't until recently that I have reflected back on this new start to motherhood and realized how all of that shaped my philosophy in dressing my daughter. Addison is now 17 months old. She is healthy, happy, and growing like any other toddler….charming the world around her with one toothy smile at a time.
Shopping — A lot
But for months I still found myself with a desperate need to overflow her closet and dresser. To my way of thinking, it was easier to take her out in public and have people ooh and ahh over her coordinating outfit/hat/shoe combo rather than notice her almond shaped eyes and cast pitying glances my way.
I live across the street from Carters, Gymboree, and OshKosh outlets. I've rocked the sales and learned how to get outfit pieces for steals and have maintained the same giant wardrobe that she had waiting for her when she was born.
I rationalized:
she grows really slowly and wears each outfit forever — which is true.
I'm horrible at laundry, so it's nice to be able to go a while before running out of clothes for her — also true…regrettably.
But the truth was, I irrationally felt that if she wore an outfit more than once, then people were going to see her as less than the princess she was because she has Down syndrome.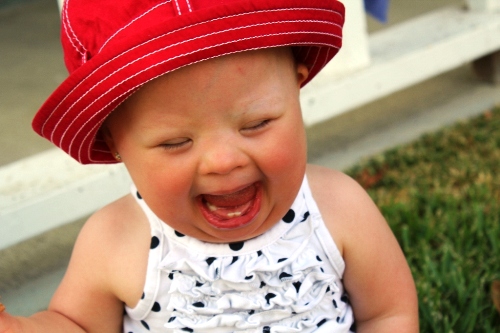 Skip ahead to today.
One month ago I became a stay-at-home mom. Cutbacks were needed. I scratched my head in wonderment. Where oh where could I possibly cut back?
After a few critical comments from well-meaning friends as to how many clothes Addison has (while I was in line to purchase yet another bundle), I burst into tears thinking that they didn't understand mothering a child with special needs.
And when I calmed down, I realized that I was overcompensating.
Yes, I love my daughter very, very much. But it's OK if she wears the same thing twice. It's OK if there is a new/fashionable outfit hanging in that outlet store that she doesn't have in her closet.
I've spent many hours contemplating the question: Is it possible for your baby to have too many clothes?
Honestly, I think as long as you are shopping sales and being frugal about how you come about the clothes, the clothes in and of themselves aren't wrong. And of course there are the showers and gifts that absolutely should fill your baby's room full of the cutest possible outfits. But I found that I had to be careful.
Why did I want her to have all of these clothes?
Why did I feel the need to always have her chubby goodness encased in high baby fashion?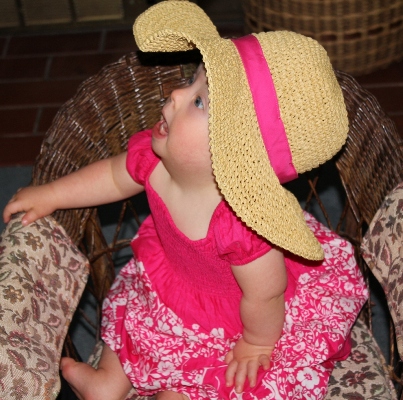 Finding Balance
I still dress my daughter well. But I feel that I know now where to stop. When enough is enough. I think through each purchase. Am I buying this because she needs it or because I want to add to her collection and prove something to the world? She certainly doesn't seem to be complaining.
The truly ironic thing? In September, Little Miss Well-Dressed Addison is getting a very special delivery….which means that her already reduced clothing budget now gets cut in half…and none of her old clothes can be passed along.
Hopefully a little brother will help balance me out even further.
How do YOU tell when your child has enough clothes?
— You can read more about Deanna, Addison's birth story and their life together at Everything and Nothing in Essex. Read Deanna's previous guest post on Parenting a Child with Down Syndrome.