Saving Money on Travel Food
As an Amazon Associate I earn from qualifying purchases. For more details, please see our disclosure policy.
Find yourself on the road often? You don't need to pay the high price of restaurants and convenience foods. Save on vacation eats. Here's how:
Where noted, I have received sample product to review. All opinions are my own.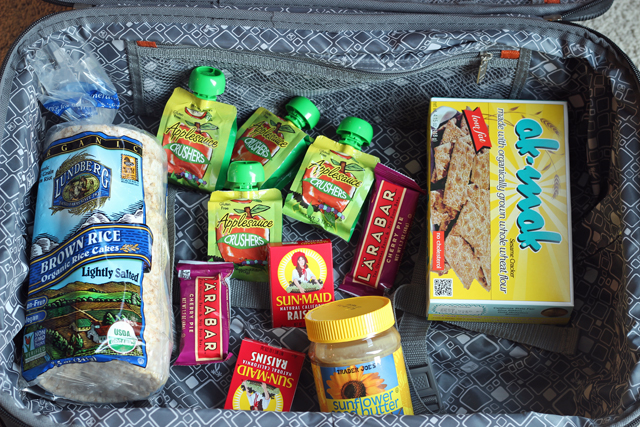 One year on a trip to Mammoth, I perused a fisherman's shop while my husband talked rods and tackle with the salesman. As I am apt to do, I was drawn to the food section. It was sparse, but there was a fair amount of shelf-stable foods for sale.
I was SHOCKED when I saw a box of graham crackers priced at $14.99. My husband joked that they must have added an extra 1 at the beginning of the price. $4.99 was a more reasonable, albeit expensive, price for a box of crackers.
But, the salesman didn't laugh. That was their price. Insert crazy shocked emoticon face.
The lesson here: take food with you if you possibly can because you will be gouged.

Whether you travel for business or pleasure, being away from your regular kitchen and grocery stores can hit the budget pretty hard, especially if you go places geared toward tourists. But the same strategies that help you save money on groceries can help you on the road as well.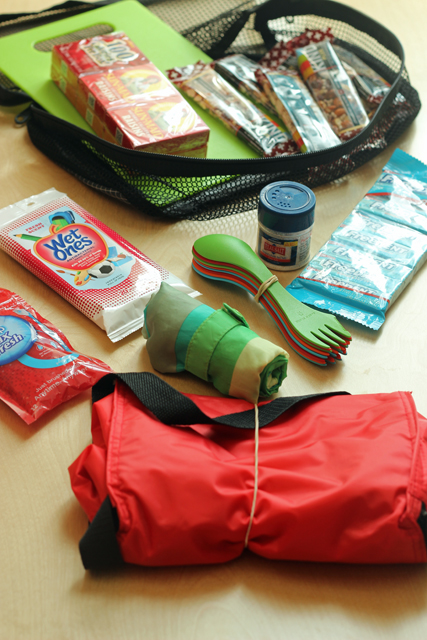 When we travel we try to stay in places where we have access to a full kitchen. This enables us to accommodate different food preferences and food allergies, to eat on our own schedule, and to save money. We shop at grocery stores where we are staying, but also like to have food packed in case we can't find what we want or need in a timely manner.
This prevents people from getting hangry* and helps us enjoy our trip so much more.
Since we're planning a big vacation in France with brief stops in London this fall, I'm particularly concerned about my daughter who has severe food allergies and my husband who is prone to hanger.
The kids and I were discussing suitcase-stable foods that we could bring or buy in the event that we can't find allergy-free/cheap snacks on the road. Rarely do I pack and regret it, but many is the time that I wish I had. We came up with a great list.
Not all those listed are appropriate for carry-on luggage or for import into all countries, so adjust for your particular trip.
Suitcase-Stable Foods to Pack on a Trip
applesauce pouches (no need for spoon)
almonds or other favorite nuts
dried fruit
Larabars (make homemade Mamabars, if the trip is short)
beef jerky or meat sticks
sunflower or nut butters (may not be allowed to take into certain countries)
fruit leathers or ropes
crackers
rice cakes
pretzels
canned fruit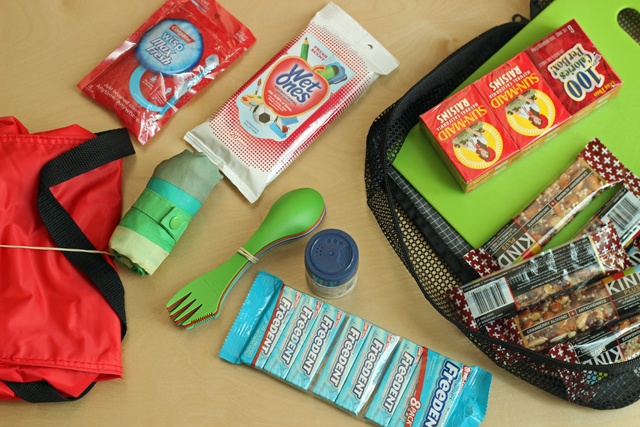 Pack for a picnic
Don't forget to pack these items that will help you out on picnics:
water bottles (collapsible water bottles work well for plane travel)
plastic utensils (I like these reusable sporks)
small plastic trash bags
ziploc bags for leftovers or open packages
picnic blanket
travel size condiments, salt and pepper
a reusable grocery bag that folds small
hand sanitizer or antibacterial wipes
napkins or paper towels
bread knife and cutting board (be sure to check the bag if you're flying with a bread knife)
bottle/can opener (again, this must be in checked luggage, when flying)
insulated lunch box or cooler bag
mini disposable toothbrushes or gum to freshen breath
Am I missing anything?
Pictured here is the picnic pack I'm taking to Europe. We'll buy the paper products overseas. But, we're ready as soon as we hit the ground to grab yogurts, bread, cheese, and fruit and be able to have a quick snacky dinner on the road.
I've packed it all away in a Tom Bihn packing cube. The company sent me a range of items that I'll be sharing more this week. The packing cube is a great way to see what's inside and be able to grab just the things that I need out of the suitcase. I'm compartmentalizing lots of things for this trip in packing cubes. Love them!
Where noted, I have received sample product to review. All opinions are my own.
What do YOU do to save money on travel food?
Travel with Kids
This is part of the Travel with Kids series. Every day in October, I'm posting tips, tricks, and tutorials for making all your travels fun, frugal, and family-friendly.
Be sure to read through the archives in case you missed a post.
*hangry = hunger that produces grumpiness on the verge of anger.