To Be More Joyful: Encourage Others
As an Amazon Associate I earn from qualifying purchases. For more details, please see our disclosure policy.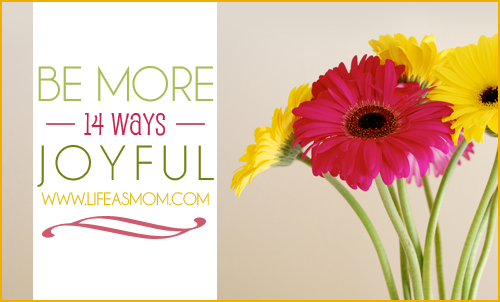 This is a continuing series about ways in which we can become more joyful. If you missed previous posts or find that you're still too crabby, go back to the beginning of 14 Ways to Be More Joyful.
This past week as my kids and I hit a few bumps in the road as regards schooling and life in general, I found myself alternating between discouragement and bulldogged determination to solve the problems. I knew that our school and home wasn't running as smoothly as it could.
As I reflected on possible reasons why and on the several areas where I saw room for improvement, I felt like I had a big L emblazoned on my forehead. You know, "Loser!"
A vanilla coke and a pep talk from FishPapa helped things immensely. I later realized that my kids probably needed just as much encouragement as I did. So as the week continued, I looked for ways to encourage them.
I intentionally sought out moments to praise growth and improvement.
And their eyes sparkled. And the dimples showed. And I knew that they felt good inside. And so did I!
By telling them when they were doing something right, I was boosting their spirits and giving them confidence to try — and win. In the process, I was boosted in knowing that I was helping them learn, grow, and develop.
I realized that being an encourager not only helps others, but it helps me be a happier mom.
Photo Source: Kopfjäger
What are you looking at?
Think about driving. I remember in driver's training that they made a big point of keeping your eyes on the road, specifically focusing on where you wanted to go. If you looked to the left, instinctively your body would turn the car to the left. Don't look where you don't want to go. We were instructed to keep our eyes on the goal.
Hmmm…. Ya with me here?
If I am seeking to find fault, I will find it — as well as the emotions that come with criticism and defensiveness.
But if I am concentrating on encouraging my children, my husband, or my friends, I will look toward making people do right and feel right about themselves and I will land in a happy place. Literally.
I'm not saying that we never bring criticism. I'm talking about encouraging others. In The One-Minute Manager, the authors suggest, "Help people reach their full potential. Catch them doing something right."
The rationale is that if someone does something correctly and is praised appropriately, they will want to do that thing again. You're conditioning them to want the right thing.
And when they know the right thing and know that you are on their side, they will be able to take criticisms with that mindset.
Encouragement can be powerful.
It helps our kids know we love them.
It revitalizes the weary spirit.
It promotes improvement in weaker areas.
It strengthens already positive characteristics.
It simply feels good when we can lift up one another.
Encourage Generously
But maybe life already feels like one big give-athon. You wonder when you will ever catch up. When will the laundry pile diminish? How long until the baby is potty trained? Will this child ever obey me? Will it ever get any easier?
One thing that has helped me over the years has been this verse that a friend pointed me to long ago.
A generous man will prosper;
he who refreshes others will himself be refreshed.
I was whining that I didn't feel my hard work and care for others would ever be reciprocated. My friend pointed out that God has already promised me that it would. It might not come from the same person I was giving to, but God says that those who care for others will be cared for. He's looking out for you.
Encourage generously. They'll be blessed and you will be more joyful.
Are you an encourager?
What holds you back? What spurs you on? Where can you grow in this area?