I am the last one to claim Fashionista status. However, I finally realized that I needed to stop using my lack of natural giftedness as an excuse to be frumpy.
I'm not talking about dressing to the height of fashion. Rather, I'm thinking about looking pulled together in such a way that I feel confident leaving my cave and mingling with the real world. So, I decided to do something about it. And if I look like a geek, well, what's new?
Research of the Frumpy Mom
It all started with this picture on Pinterest. I started thinking about having a wardrobe where everything went with everything else. You've probably heard about that theory before.
The idea of being able to wear everything in my closet also sounded appealing. As you know, my closet and I had a "discussion." And I did some purging.
Then Hallie went shopping for me. After I posted about Hallie's shopping trip for me, a reader pointed me to What I Wore. What a fun little fashion tour!
Between Pinterest, Hallie, and Jessica Quirk, I've been able to look at my closet with new eyes and see how I can put stuff together that suits me. It's really been fun!
Shopping My Closet
I hunted through what I had, what I liked, what fit, and then combined them with some new items. Seeing pinboards on Pinterest helped me see that accessories really do make a difference. I never got that until I saw it visually on a board, like this one. It's a simple outfit, but the shoes, bracelet, and necklace make it something more.
So, I tried to apply this same philosophy to my clothes closet. I added a few basics that I found on clearance. The results?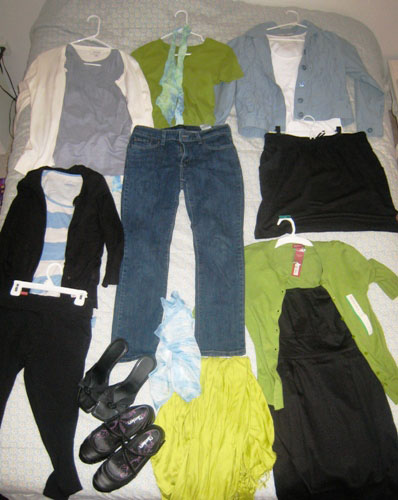 Here's what my Summer into Fall Wardrobe includes:
2 pairs of pants – dark jeans and black pants
1 black skirt
1 black dress
5 tops – blue tshirt, green tshirt, white tank top, blue and white striped tank top, black tank top (not pictured)
3 sweaters – black cardigan, white cardigan, green cardigan
1 jacket blue embroidered jacket
3 scarves – green scarf/shawl, blue/green scarfs (2)
3 pair shoes – black sandals, black flats, black tennies (not pictured)
Everything can pretty much mix and match, built around black basics, which I can then, transform with different colors next season. Theoretically, of course, because what do I know?
That's 19 items that result in a multitude of combinations. Someone out there can do the mathematical formula and figure out how many outfits that can make. This is as far as I go.
I don't really know what I'm doing. But, I am excited to learn. And feeling kinda good about what I have in my closet now.
Update: I created a Travel Capsule Wardrobe last fall for our month in Europe and it was a huge success! I always felt put together, and I was able to pack very light.
Where do YOU stand on the fashion continuum?