12 Ways to Save on Baby Stuff
As an Amazon Associate I earn from qualifying purchases. For more details, please see our disclosure policy.
Having a baby is a joyous time — and it doesn't have to break the bank. Here are 12 ways to save money on baby stuff.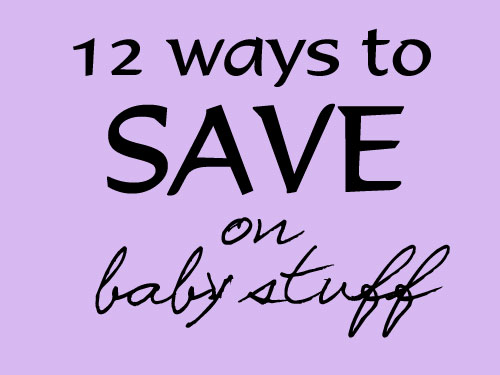 My baby days are over. The Girl turns four next month. Last spring I gave all my gear to a friend having a baby. The maternity clothes went the previous fall.
But, even though our family has moved on, I still remember those days of preparation and excitement as well as those moments of oh-my! how in the world will I survive?
You'll be fine. Promise.
Here are 12 ways to save on baby stuff, learned through experience. Believe me.
1. Lower your standards.
With my first child I wanted the biggest and the best of everything. I can't believe how I traveled all over town looking for a certain patterned fabric on my "travel system." They had just come out with car seats that attached to strollers. I wanted a "unique" pattern and searched high and low to find one. And paid a pretty penny to do it, too.
Guess what? The baby didn't care.
2. Set a budget.
If you don't put limits on your spending, who will? Keep in mind a bare minimum list of baby items. Buy those items first and then wait.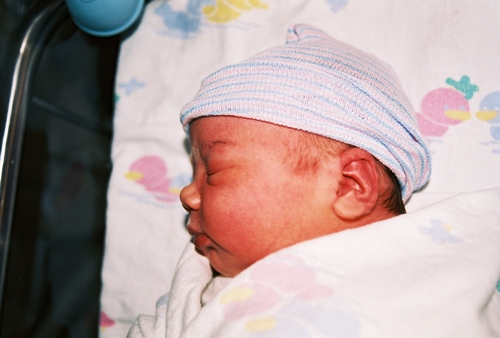 3. Learn to be patient.
THIS is the number one lesson of motherhood anyway. You don't need to have everything you think you need to have today. Be patient. The right time will come. Or that item will just be unnecessary; time will pass and you'll find that you don't need it anyway.
4. Borrow from friends.
We never bought an exersaucer –until our sixth baby came! I consider those suckers must-haves when babies are between 4 and 9 months old when babies are more active and yet still need to be contained so you can get something done. We always had friends happy to loan one to us and free up storage space for 6 months or so. When the last baby came along, none of our California friends had one, so we splurged. (Must-have). And then we were happy to give it to a friend.
Hopefully, you've got generous friends who don't mind sharing.
5. Buy used.
Babies grow so quickly, you really don't need to worry about them wearing out their clothes. They just outgrow them. You can easily find almost-new baby clothes at garage sales, thrift stores, and consignment shops. Babies don't care what they're wearing as long as they are warm and dry.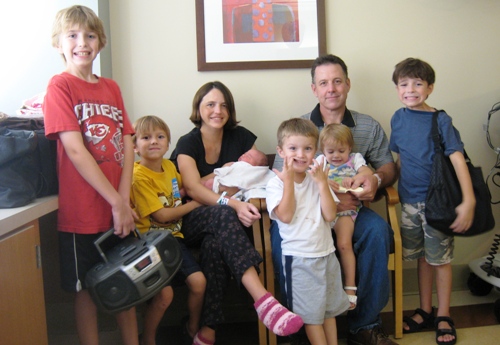 6. Save hand-me-downs.
I have known moms who gave away their baby clothes right away even though they hoped to have more children. This always puzzled me. Why rebuy all that stuff again?
To each his own, but you can save a lot of coin if you save hand-me-downs for your next kid.
7. Use coupons.
I've almost kissed coupons goodbye. But, if I were still buying diapers, you can bet I'd be grabbing all the diaper coupons I could lay my hands on. It was rare that a diaper coupon ever went unused in my baby days. You're going to buy them anyway, why not use a coupon. Put out the word that you're looking for diaper coupons. My grandma used to mail me any that she found in her paper. Those suckers are expensive these days!
8. Stockpile.
Build a stockpile of baby supplies that you know you will use. Buy these items on sale whether or not you need them that week. As long as you've got room in the budget and in your closet, it's a good move to buy things that you know you will use at a great price.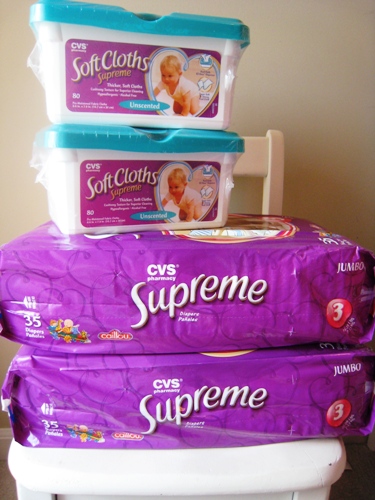 9. Try out cloth diapers.
I've never done cloth. The easy kind of diaper wraps came on the scene in the middle of my baby years and I was too stuck in my ways to try something new. Plus, I already had laundry in the millions to wash.
My sister, however, had a great experience in cloth diapering. Depending on how you go about it, you can do it very economically and possibly save money over disposables.
10. Breastfeed.
I know, not everyone can do this, but breastfeeding can save you a chunk of change over formula. I never bought formula, so I can't speak to the experience, personally. However, The Simple Dollar crunched some numbers in 2007. The figures are admittedly up for debate based on the differing nutritional needs of the baby, the additional calorie intake of a breastfeeding mother, and all kinds of other variables. But, if you're able to nurse your baby exclusively, you can save close to $2000 over the first year. (I'm rounding up since I'm sure the cost of formula has gone up in 5 years.)
11. Don't buy what you don't need.
It's hard to avoid, but overbuying is a big money waster. I often found diaper rash creams on sale and stocked up. But the reality is that we didn't need to use it that often. I am still finding random tubes of Desitin, two years after we kissed diapers goodbye. Obviously, I could have saved a few pennies by not buying what we didn't need.
12. Do without.
As long as your baby is well-fed, diapered, and warmly clothed, he doesn't need much more, except time with you. There are lots of baby things that we don't need. We actually loved our diaper wipe warmer, but it was definitely not a must-have. We could have lived without it.
There are plenty of things like that in life. We can do without them if the budget doesn't allow them.
And even if it does.