Ready to homeschool high school? Here's a list of 9th and 12th grade homeschool curriculum choices.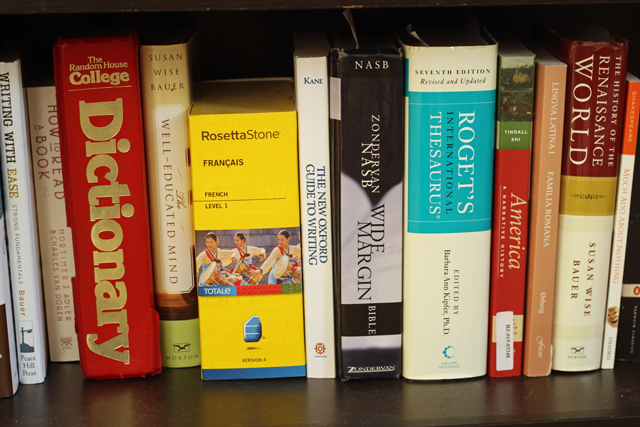 This year I will be teaching two high schoolers. I've done the math. While I will have multiple teenagers in the house at any given time over the next fifteen years, there will only be two in high school at a time. Hopefully, that also means there will never be more than two in college at a time. Ha! One can always hope, right?
FishBoy17 will be a senior this year while FishBoy13 will be a freshman. Again, I ask myself, How did I get here? They are two young men that I am pleased and proud to know. They are so different from one another, yet good friends. Most of the time.
I fondly call FishBoy17 my guinea pig because he's been the one we get to try things out on. Thankfully, the experiment is working — no First Waffle Syndrome here. He is a responsible young man who keeps on task with his studies, exercises regularly, and eats more healthfully than his parents. I have no complaints.
Except with his parents and teacher. They have made some mistakes. 😉 But, they are learning from them, we hope!
FishBoy13 gets the benefit of his older brother having tried out the system already. He had an easier potty training experience as well as an easier time learning to ride a bike without training wheels. Hopefully, our record will follow and his high school education will be even better than his brother's.
(For a glimpse into the past, check out my first thoughts about homeschooling high school. We have learned a lot over the last three years and changed a lot in our curriculum since then.)
Homeschool for High School
I was trained and certified as a secondary teacher in both French and English. I was a know-it-all, AP/Honors student in high school; I remember the definition of "challenging". I've tried to make our high school academically rigorous, though have done it quite imperfectly. However, if test scores are an indication, we're doing okay.
Or I am. I always tell the kids that standardized tests are more a reflection of my teaching than it is of their learning. 😉
Overall, I want to focus on relationships with my kids. The teen years are often the time when parents and kids neither see eye to eye nor do they try to see through each other's eyes. We suffer from this as well, but enhancing our relationships is one of the reasons why we homeschool. I think I "get" my kids better than I would if they were gone all day.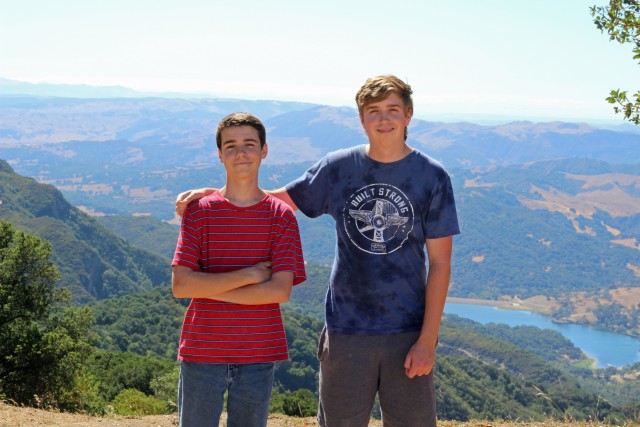 Here are the basics of our homeschool curriculum for high school:
Science:
Apologia's Exploring Creation series – Our entire family really enjoys the work of Jay Wile. We elder four have all heard him speak at conferences and appreciate his perspective and way of communicating. I also like his balanced approach to common disagreements within the sciences.
Composition:
Brave Writer online courses – Last winter I discovered Brave Writer and fell in love. The creator, Julie Bogart, a homeschooling veteran and mom to five kids does a wonderful job of melding all the things that I learned in my teaching credential program with the homeschool setting. After trying a bazillion different writing curriculums, I think I finally found my match.
Brave Writer blends copywork, dictation, and freewriting in a great way to help kids gain confidence, find their voice, and put words to paper. My kids have taken many of the online classes, including Kidswrite Intermediate, Expository Essay, High School Writing Project, and Movie Discussion Club.
Grammar:
Winston Grammar – I really like this program as a hands-on, kinesthetic way of teaching parts of speech. I've gone through it with middle and high school students.
Excellence in Writing: Fix It – This is a great booklet for multiple ages. It gives students texts from classic literature that has been "messed up". There are grammar mistakes they need to find and repair. Apparently, the booklet I have, the one good for multiple levels, is no longer in print. Look for it used.
Rod and Staff: Preparing for Usefulness – I did this with my eldest son a few years ago. We never got all the way through the book because it is very tedious. It's thorough, but tedious.
Vocabulary:
Vocabulary from Classical Roots – This book series was recommended in The Well-Trained Mind and we've had good success with it in giving kids the tools they need to understand English vocabulary. My three older boys will be working through some book in the series this year.
Foreign Language:
Ah, foreign language. This is a subject near and dear to my heart. And also one that gets the short end of the stick at our house. I'm hoping to remedy that this year.
Visual Latin – We love Visual Latin, both the CDs and the online classes. Dwane is hilarious and makes Latin fun, if you can imagine.
Rosetta Stone – (insert frustrated emoticon here) We have tried Rosetta Stone twice now, once with Spanish and then with French. I'm not sure if it's user error or what, but we have such problems from a technological perspective. You speak into the mic and the computer tells you if you're wrong or right.
I know that my kids were saying the French correctly and the computer kept saying they were wrong. I tried it and it said I was wrong! I have a pretty good accent, people, so I was a bit shocked. I know some folks have great success with this program, so I'm hoping we can make it work for us.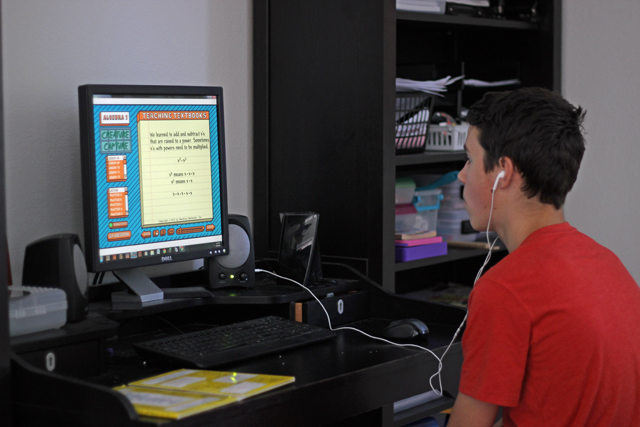 Math:
Teaching Textbooks – After making a few mistakes in my math curriculum choices, we've settled on Teaching Textbooks for math for grades 3 and up. This does need a little supplementation and the course sequence is not ideal, but it works in terms of teaching and grading. The computer does it all!
If you go with TT, be sure to do these things that we learned the hard way:
supplement with facts drills so that you know your kids can say their math facts quickly and easily
make sure they do all the practice problems
make sure they try a problem twice
make sure they watch the solution when they get it wrong
get through Geometry before your child takes the SAT
History & Literature:
For 11 years we've integrated history and literature, reading primary source texts alongside history texts. We've cycled through the history of the world in four-year increments. This year completes our third cycle through. I think I will have gone through it almost three more times before we are done. Ha!
This system works really well when teaching multiple children of varying ages. We all study the same time period, but each child does so at his own level.
Now, this starts to change a bit because when we started high school three years ago, we started with Susan Wise Bauer's The History of the Ancient World. There were supposed to follow three more books, dividing up history. However, Susan's series ended up to be three books, covering the history of the world through the renaissance. So, late last year we turned to her previous recommendations in The Well-Trained Mind and how to handle the latter parts of history, from post-renaissance to the present. I don't love it that the high school years don't more easily follow the time periods of my younger kids.
This year we should all be on track with one another, tackling the Modern Era, 1850 to the present, so I'll cross that bridge next year when we get to the ancients and a new cycle of history.
Ninth grade homeschool curriculum
Here's the nitty-gritty of what my ninth grader is doing:
Twelfth grade homeschool curriculum
So, there we are. This is what high school looks like at our house this year.
How about you?
Do you have a high school resource you love? Do you have questions? Do you need help? Let's put our heads together in the comments section.
Here are our elementary school choices for the year.
Here are our Middle School choices for the year.