Practically Free Family Night Ideas to Try with Your Kids
As an Amazon Associate I earn from qualifying purchases. For more details, please see our disclosure policy.
Family Night Ideas don't have to be complex, expensive, or involve crazy stunts. Our kids mostly want to spend time with us that doesn't involve laundry or dishes.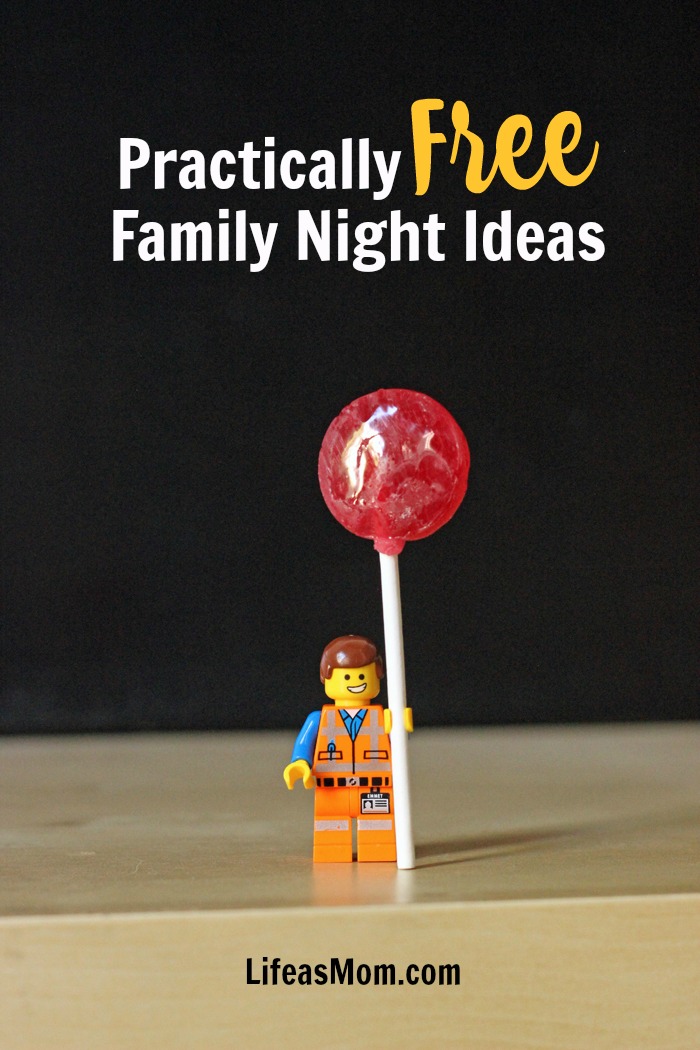 Summer is over. I think it's official, even if the weather doesn't always agree. With our regular school schedule, earlier bedtimes, science classes, and train pick-up and drop-off, many of our evenings are taken up with "stuff". The carefree summer evenings we've enjoyed are long gone.
But that doesn't mean that the fun's over. Oh no!
It only means that I have to be a little more intentional about how we spend our precious free time, namely Friday nights. If we're smart, my fellow parents, we'll choose some family night ideas and make the most of these longer evenings.
Here are some family night ideas to get you started: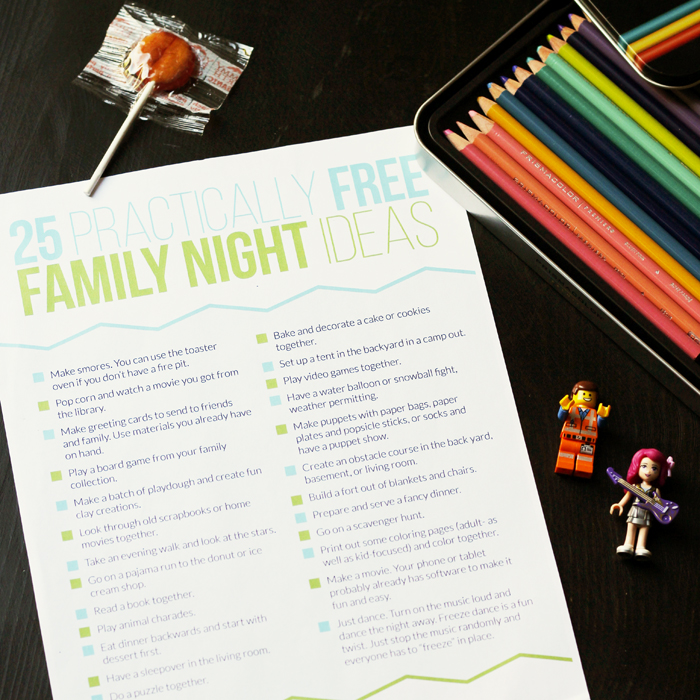 Practically Free Family Night Ideas
Make indoor smores — we actually own a fire pit, but it smokes up our backyard something fierce since we live in a little hobbit hole. Well, not really, but we're surrounded by fence and retaining wall, so it just stays smokey back there. Not much fun for roasting marshmallows. Indoor S'mores help me have the best of both worlds. Good eats and fresh air.
Pop some corn and watch a movie from Redbox or Amazon Prime Instant Video.
Make cards to send to family or friends.
Play a game — One of FishChick8's faves is The Ladybug Game but we also love Monopoly Empire.
Pull out the playdough — even big kids can get into this if everyone does it and there are enough supplies.
Look through scrapbooks or home movies together.
Take an evening walk and look at the stars.
Go on a jammie run — after the kids are in jammies, load them in the car for a trip for ice cream or donuts.
Read a story together — we're currently rereading The Mysterious Benedict Society.
Play animal charades — our kids have always LOVED this, particularly the littles.
Make a tent in the living room and camp out.
Set up a tent in the backyard and really camp out.
Play video games together — my littles still doubt that I was once a high scorer on Mario Kart. Eventually, I will set the record straight.
When my girls saw the list pictured above, their eyes lit up. You can bet some people will make sure that we make our way through the list!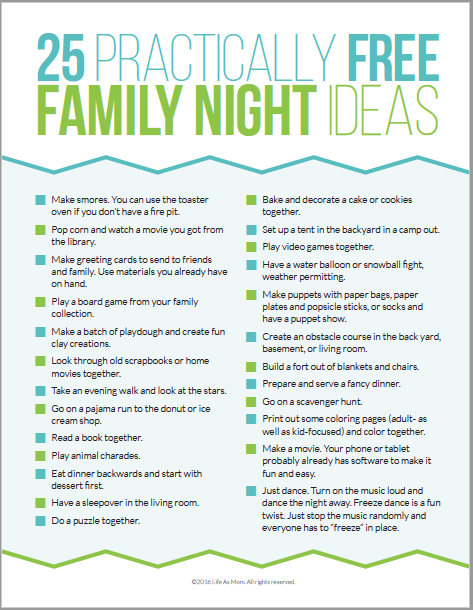 Get the list
Get the free printable practically free family night ideas when you subscribe to the Life as Mom newsletter.
At the same time, you'll get instant access to the Life as Mom Free Resource Library, including guides and printables for all seasons and holidays.
This post was originally published on September 19, 2013. Updated October 11, 2016.