How to Pay for Traveling with Kids Without Winning the Lottery
As an Amazon Associate I earn from qualifying purchases. For more details, please see our disclosure policy.
Want to take a trip with your kids? How do you pay for traveling with kids? Consider these tricks for saving up and funding that vacation, debt-free.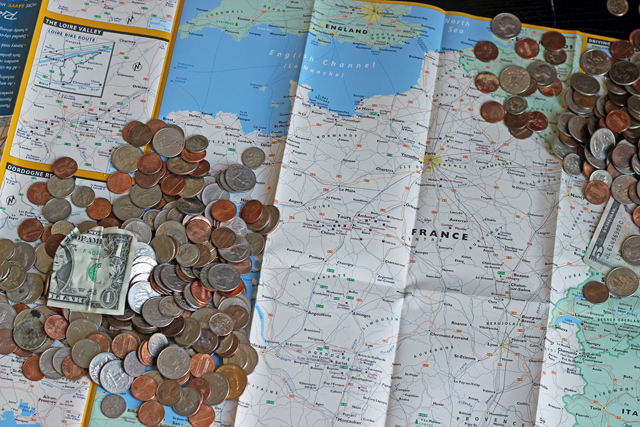 Back in our credit-card toting, debt-defying days, we took a few vacations. We flew to Minnesota to visit family. We drove to New Mexico for a conference. We spent a weekend in Saint Louis just to say we had done it.
But, we always used credit cards. Typically I felt pretty guilty about it. It wasn't our money we had spent. And we'd be paying for it long after the laundry was finally washed, and the kids couldn't even remember the voyage. That was a little disheartening.
In 2009 we paid off the last of our consumer debts. A year later we decided to take our first, bonafide vacation. We drove up the coast, stopping in Santa Barbara, Santa Ynez, San Luis Obispo, and Monterey. We visited the Aquarium, slept in a funky hotel on the beach, and ate pizza at a place we'd never ever heard of. It was fabulous to get out in the world with our kids.
Even better was knowing that it was paid for.
There was no nagging feeling about how to strategize to pay for it nor any worry about whether or not we should or could buy something or do something. There was freedom and a lot of joy.
Since then, we've taken not one, but TWO extended trips to Europe, funding it prior to departure and enjoying each month abroad, knowing that it was all paid for — even as we traveled as a party of eight.
So, how do you pay for traveling with kids?
It's really easy to justify running the credit card in the name of "family togetherness", but I think the practice does more harm than good, especially in what it teaches our kids. Better to save for the trip, include your kids in the experience, and feel great about a fully-funded vacation fund.
Here are some ways that you can pay for that next family trip:
1. Set a goal.
When we got this crazy idea to take everyone to Europe, I ran some rough estimates for plane fares and accommodations. I had a rough idea how much we would need to travel in France for a month, plus a little wiggle room. As it turns out, most of that wiggle room got eaten up by inflation and a weak dollar. It was a budget trip, but we still had money leftover when we came home.
For our month in Great Britain, we were pleasantly surprised by a weak pound/strong dollar and came in ten thousand under budget! That's a lot of fish and chips! With either trip it was super helpful to estimate our travels as if we were going today and save accordingly.
Estimate how much money you'll need to take your trip and start saving.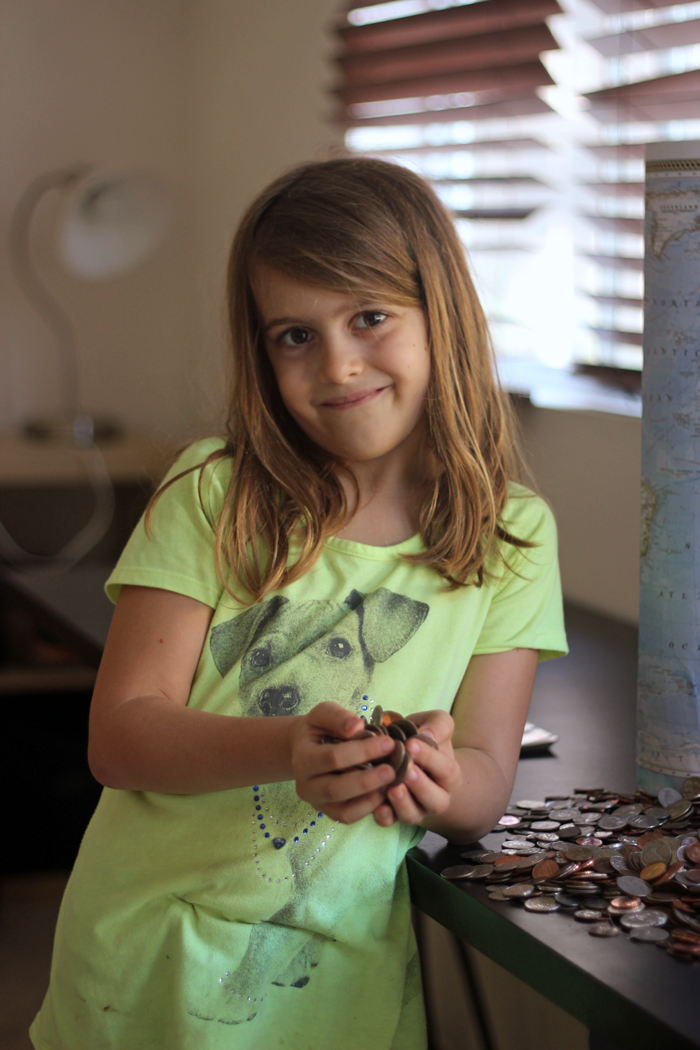 2. Open a separate bank account. Maybe in a different bank. Without a debit card.
Years ago I opened a separate bank account in a different bank from where we normally do our banking. The two banks share a parking lot which makes it convenient, but they are not electronically linked in any way which makes it difficult to just transfer money when we might "need" it.
I even went so far as not to get a debit card for this account. I wanted the money as inaccessible as possible. Maybe you have great self-control. I don't — always. I figured I wanted a double hedge of protection not to spend the money on anything but our trip.
This is a pain since the tellers cannot understand why I don't want a debit card, so they are constantly asking me to swipe when I make deposits. When I explain I don't have one, I have to dig out identification. It's a momentary inconvenience though it's worth it to make the money less easily accessible.
3. Find a way for the whole family to contribute.
I've heard of some families hosting garage sales, selling large items, or otherwise finding ways that every family member can participate in the funding of the trip. There are lots of ways to be creative with this and get your kids involved.
Two years ago I took a big poster canister and a world map and combined the two into this cool looking world canister, dubbed our Travel Fund, destined to collect loose change. The kids have made random contributions to the fund over the last six years and any money we find under the couch cushions goes here. FishPapa is known for bringing home pocketsful of change. It now holds our leftover pounds and euros from previous voyages.
Lugging this big old canister out of the closet and counting it out is always lots of fun — and quite time intensive. It was also a great illustration to the kids that little bits of saving do add up. With our first trip we had over $485 saved in loose change and random bills!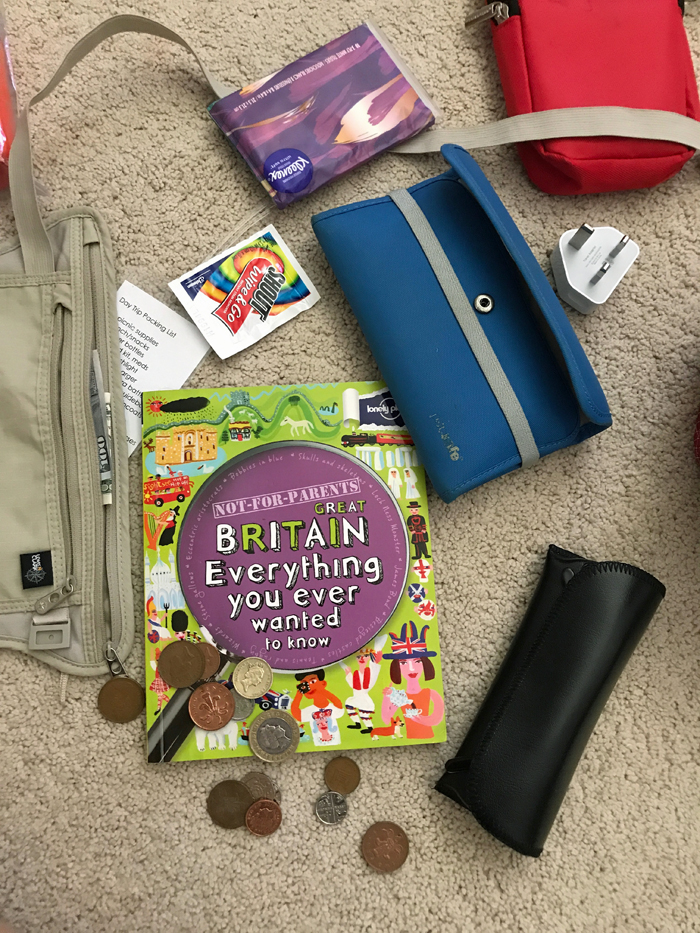 4. Put off other travel.
Before our European adventures, we typically took a fall vacation every year. We haven't done that for a couple years in order to fund larger, longer adventures. We knew that if we gave into the requests for "Mammoth in the snow", it would take longer to get to France. Or England.
However, we may give in to the snow requests still this winter.
5. Resist splurging.
Whenever you're saving for something, it's important to delay or decline other luxuries in order to meet your goal. We haven't bought new furniture, cars, or other big ticket items during the last few years. We look at travel as a way to enjoy "mini retirements" WITH our kids while they still want to travel with us — or have no other choice. Ahem. 😉
Plus, we have our kids watching. We want them to know that saving for something big can happen if you put your mind to it.
6. Snowball it.
Like we did when we were paying off our debt years ago, we throw all extra monies into our travel fund. Some months there is no extra money. But, we keep at it, and we hit the mark.
To pay for traveling with kids doesn't need to be credit-based. It needed take you ten years to achieve it, either. Persistence pays off. You can pay for that trip in cash. You just have to want it bad enough.
Want to know how our traveling has gone? Head here for the low-down on European Travel with SIX kids. Or our Great Britain on a Budget archives.
What's worked well for YOU to fund vacations?
 Travel with Kids
This is part of the Travel with Kids series. I've posted lots of tips, tricks, and tutorials for making all your travels fun, frugal, and family-friendly.
Be sure to read through the archives in case you missed a post.
Originally published October 2, 2014. Updated January 18, 2018.