Zone Defense: Organizing Your Traveling Equipment
As an Amazon Associate I earn from qualifying purchases. For more details, please see our disclosure policy.
This year we're back on Zone Defense, tackling clutter and getting our homes more in order. This month, we set our sights on organizing our traveling and vacation equipment.
(At my boys' hockey games they play inspirational music during warm-ups and right before a face-off, so here's a little music to get you going before the play begins.)
We've been moving throughout the home, addressing different problem areas, or "zones", over the last year. By doing so, we avoid feeling overwhelmed. Sure, your whole house might need an overhaul. But, unless you're independently wealthy with a host of assistants and can put life on hold for a month, you're going to need to address your organizational issues in a piecemeal manner.
And let's face it. If you were  independently wealthy with a host of assistants, you probably wouldn't be in this mess, now would you?
Since it's summertime and folks are gonna get their bags packed for trips and vacations, now's a great time to look at your travel and transportation "stuff".
Do you have what you need for that camping trip later this summer? Do you know where your travel papers are for that trip to France? Did you remember to clean out that cooler when you came back from the lake last month?
Even if you don't have any plans today to hit the road again, it's in your best interests to get that stuff organized and ready for the next adventure. You want to be poised to say yes when an impromptu opportunity arises.
And if your family is anything like ours, packing to go anywhere takes just as long as the trip does!
Here are some of the questions I posed last year updated in order to get us ready for travel this year:
Is your car clean and free of clutter?
Has the car been washed in the last month? Vacuumed? Have you cleaned out the science experiments?
Are the coolers clean and sanitized?
Do you know where your maps, GPS, and other road trip equipment are?
Do you have a roadside emergency kit in your car?
Do you have a child emergency kit (aka sick kit) in your vehicle?
Do you have a picnic box or bag ready to go?
What things could you store in your car to make day trips and errands easier?
How grungy are those carseats? Is it time to clean them?
Do you know where the fluids are to refill your car? Do you have extra cans of oil, window wiper fluid, brake fluid, etc?
Has your car been recently serviced?
Is the gas tank full or empty?
Can you walk into your garage without tripping?
Do you know where the camping supplies are?
Do the sleeping bags need to be cleaned?
Do you need to replenish some of your camping supplies? (Propane, matches, fishing bait?)
Do you have firewood available for camping or beach bonfires?
Do you know where your suitcases are?
Do you have a designated place to store all suitcases and travel bags?
Do you have travel-sized toiletries on hand, maybe even already packed in a small bag?
Do you have activity bags packed and ready to go?
Do you have a file to store passports, copies of birth certificates and driver's licenses, and other travel documents?
Is your auto club membership up to date?
Can you easily locate the boogie boards, sand toys, and other beach paraphernalia?
Where are the portable lawn chairs anyway?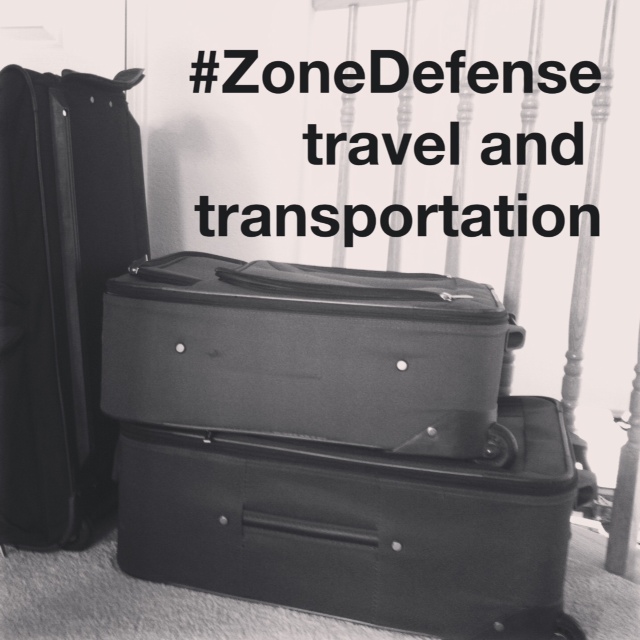 By doing a little work now, you can be ready to pack up and hit the road at a moment's notice.
We don't have any plans for summer travel yet, but I know that we'll try to squeeze in trips to Santa Clarita, Santa Barbara, and Santa Ynez. I certainly wouldn't mind another hotel staycation this summer. That all means I need to be able to pack up eight people. I want to make that easier to do.
This is your assignment for the next month. Get your travel and transportation "stuff" in order. You'll be glad you did.
We'll have a check-in at the end of the month, so be sure to take pictures. Feel free to tag pictures on instagram or twitter with the hashtag #zonedefense so that we can follow along with your progress.
Ready? Set. Hike!