DIY Christmas Gift Canvas Tablecloth
As an Amazon Associate I earn from qualifying purchases. For more details, please see our disclosure policy.
Our Great Gifts series continues with this tutorial on how to make this personalized tablecloth for from guest poster Kelly.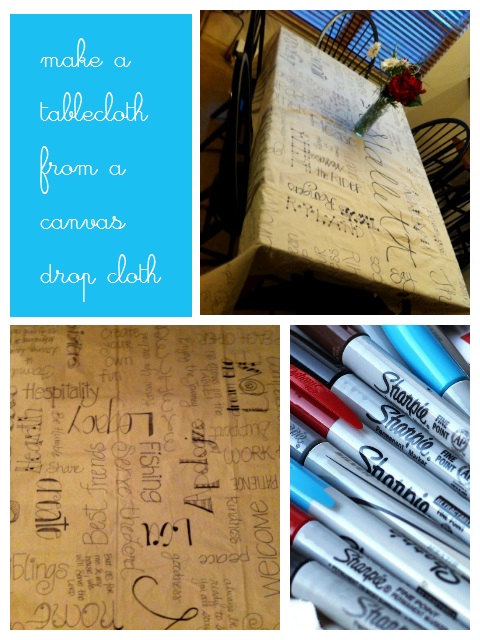 I love making Christmas gifts, especially gifts I customize for the receiver. One of my favorite gifts to make is a custom-made tablecloth, using only a painter's canvas drop cloth and some Sharpie markers. I spend around $10 for the entire gift.
I've made family tablecloths for friends using each family member's name as well as words and phrases pertaining to special family memories. For my own home, I made a holiday tablecloth with words and phrases for the holiday season (Thanksgiving, Christmas, and New Year's Day). This would also be a fun tablecloth to use at birthdays, using multi-colored Sharpies, or even a football-themed one to use for tailgating or Super Bowl parties using Sharpie markers in your team's colors.
You can wash the tablecloth in the washer. The canvas will get softer, and the writing will start to fade over time, but you can easily touch up the writing after several washes.
I've always made these tablecloths myself, and they take me a couple of hours. If you have older children, get them in on the action, and your time to create this fun and frugal gift will take even less time.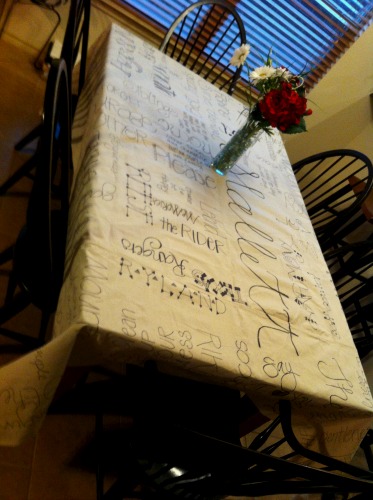 How to Make a Christmas Gift Canvas Tablecloth:
Supplies:
canvas drop cloth
Sharpie markers or other permanent markers
iron and ironing board
Directions:
1. Get your supplies. Buy a canvas drop cloth at any hardware store. I have always purchased the 6 feet by 9 feet size for a rectangular table. Make sure you have several black Sharpie or other permanent markers on hand as well. (The canvas scratches up the tips pretty quickly, and the ink starts to fade sooner than you would imagine.) You could also use fabric markers, but I've found that fabric markers smear and bleed on my hands.
2. Make a list of words and phrases you would like to write on your tablecloth. I usually add generic words, but it's really fun to come up with special memories, inside jokes, and other things that make the gift truly unique.
3. Iron your drop cloth. Just trust me on this one. I use the hottest setting that doesn't include steam.
4. Find a large table or flat floor space to lay out your drop cloth.
5. Start in the middle and create your own fonts and layout. I like to make words and phrases in parallel and perpendicular lines, in all different directions, so no one side of the table seems like "the right side."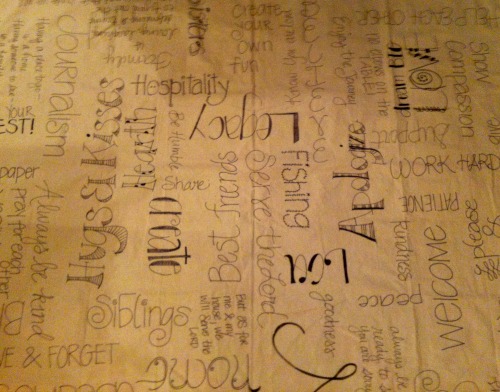 6. Use different hand lettering techniques and different marker tips to create added dimension. You could also use stencils if you'd like, I'm sure.
Looking for more great DIY gift ideas? Check out this list.
— Kelly Wiggains blogs about everything From Literature to Living. An English teacher by trade, Kelly left the classroom a few years ago, but she still tries to convince those around her to read and write. She loves to connect her reading to the real world around her. Her blog is a place for book lovers and book skeptics alike, offering concise book recommendations, tips for reluctant readers, along with stories and observations about her life. She writes at KellyWiggains.com.
For more gift ideas, check out this extensive list of DIY gifts for every man, woman, and child.