Cute Place Cards for Christmas
As an Amazon Associate I earn from qualifying purchases. For more details, please see our disclosure policy.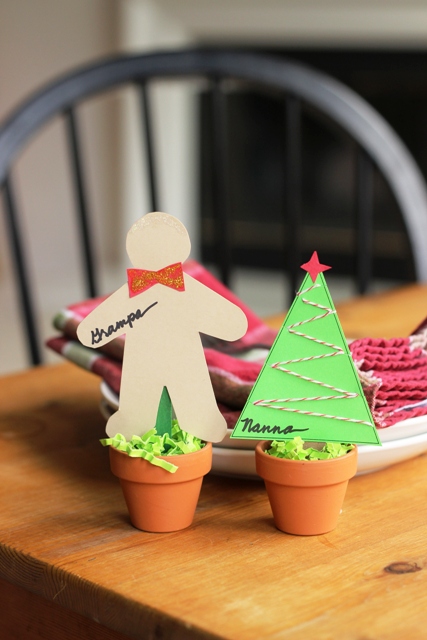 Remember the easy, peasy gingerbread and Christmas tree gift tags I shared with you awhile ago? Afterward I realized how cute they would be to use as place cards for your holiday dinner.
How fun!
The base is similar to the base that I used for the flower place cards back at Easter time. If you made those, you can easily reuse the clay pots and fillers. For that matter, make poinsettias if that suits your fancy!
How to make these cute place cards for Christmas:
You will need the following supplies:
these printables for the gingerbread or the Christmas tree (Choose one or do both!)
colored cardstock, scrapbook paper
markers and other things to decorate the gingerbread people and/or trees
scissors
gluestick
tape
mini flowerpots ($0.50 at Michaels)
1 1/2-inch styrofoam balls
craft sticks
green paper grass or shredded paper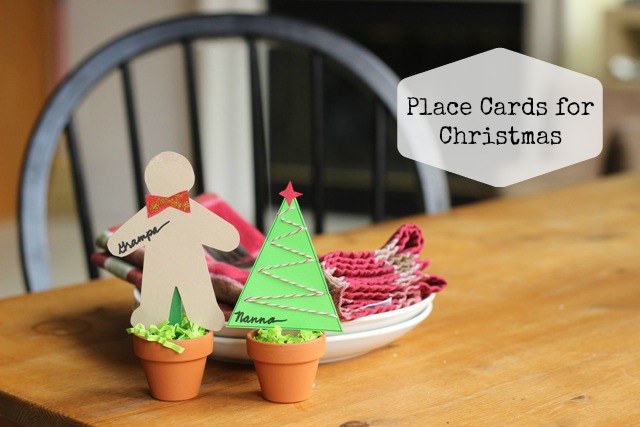 How to assemble the Christmas place cards:
1. Download this free template to your computer.
2. Print out the shapes you want onto cardstock. If your cardstock doesn't fit your printer, print out one page of each so that you can use the shapes as a template. If that's the case, cut out a template of each shape. Trace onto the back of your colored/printed paper.
3. Cut out the shapes and decorate the people with clothing and the trees with ornaments.
4. Write the diner's name on the shape.
5. Tape or glue a craft stick to the back of each shape.
6. Cut the styrofoam balls in half. Place one half flat-side up inside each flower pot.
7. Crumple a handful of paper grass into a small ball and place it atop the styrofoam. Insert the craft stick into the flower pot.
Your Christmas place cards are done! Since the paper grass is not glued down, beware of curious hands. Even if it were glued down, beware curious hands.
If you've already been making  the easy, peasy gingerbread and Christmas tree gift tags these place cards will be a cinch to pull off. But, only do it if it adds to your Christmas celebrations. (I think this is a great project for children to commandeer.)
More Christmas Crafts