5 Great Movies to Give as Gifts
As an Amazon Associate I earn from qualifying purchases. For more details, please see our disclosure policy.
This post does include Amazon affiliate links. If you make a purchase through those links, I am paid a small amount in way of advertising fees.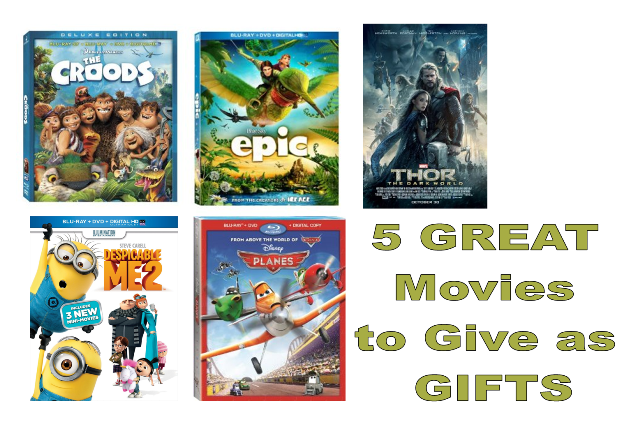 Each year at Christmas time, I try to give each child a movie as part of his or her gift. We're a movie-watching family, and so these gifts can become rather sentimental; they're tied to the experience of watching the films together as a family.
Over the last month we've had the opportunity to watch some fabulous films. I've been thrilled to have something fun and family-friendly for our movie nights. Some we rented. Others I was sent to review. One we even splurged at the movie theater for. All will make great gifts this holiday season.
Based on the summertime trailers that I had seen of The Croods, I assumed it was going to be a crass and disgusting movie of the Dumb and Dumber genre, only for little kids. We rented it on Amazon in a moment of desperation.
I couldn't have been more wrong about this film. Talk about false advertising! This film about a family of cavemen finally stepping out of the confines of their fears and cave was really meaningful. It's about loving your family and being willing to sacrifice everything for them. It's full of humor and adversity and triumph.
It got rave reviews from FishPapa, which is saying something. Trust me.
Again, this is a movie for which I had very low expectations. I didn't know much about it, but again, we rented it one Friday night when we couldn't find anything else. It was amazingly good!
The storyline takes place in two worlds: ours, where Mary Katherine and her scientist dad try to rebuild their relationship after the parents' divorce and the mom's subsequent death and the land of the Leafmen, an itty bitty society of small people who race about at light speed.
I watched the film twice in one 48-hour period. I cried twice, despite the fact that I already knew the ending. It's truly a moving film about love, life, and being torn between two worlds. The film's creator, William Joyce, lost his 18-year old daughter to brain cancer. Knowing the back story makes the film all the more poignant.
Disney sent us the Blu-ray copy of Planes to review. FishBoy11 claims that it is better than either Cars movie. In my mind, that's saying a lot.
Due to a busy hockey weekend, the littles saw this before I did. In fact, they might have watched it twice. Ahem. They had no problem watching it a third time with me on a wet, rainy afternoon.
At first I thought it was going to be a rip-off of the Cars movies, but about halfway through, it came into its own. It's a racing/underdog/common man story with hints of Ratatouille in it. We all really enjoyed it.
It's got a little more innuendo than the other films, but nothing over the top. Just a little more than I remember from Disney.
We saw Despicable Me 2 in the theaters earlier this year. Universal sent me the Blu-ray to review. It was just as much fun the second time as it was the first.
Gru, now the adoptive father of Edith, Agnes, and Margot, is a stay-at-home dad/jam and jelly entrepreneur. But, when a secret spy agency contacts him, well, he's tempted to rethink his career choices.
The film is full of the same animated slapstick from the previous film. The girls and minions and even Gru are just as loveable as they were the first time around.
As you know we are an Avengers/Marvel family of geeks. I admit it proudly. I love this brand and will spare no expense to see the films in theater. (Well, sort of.) Thankfully, our local theater charges only $6 a person which in this day and age in Southern California is a bargain.
Thor: The Dark World did not disappoint. In fact, I want to see it again, but will wait for the Blu-ray.
There are all kinds of twists and turns as Jane Foster and Thor reunite. Much of the action takes place in other worlds than our own which is an interesting twist to the Avenger brand. And there's a surprise ending that I had kind of guessed at.
If you like the Avengers, then this film is worth your splurge at the theaters. We took the whole fam. The 5yo was a little antsy but nothing was too scary or weird for her. (But, she's also pretty tough, having seen all the other movies in the series as well as The Lord of the Rings trilogy. Your mileage may vary.)
Whether you buy or rent a video with your family or take the crew to the theaters this season, these are five great films that our family enjoyed.
What great film have you seen recently?
This post does include Amazon affiliate links. If you make a purchase through those links, I am paid a small amount in way of advertising fees. In some cases, I received review copies of the movies. All opinions are my own.