DIY Three Men's Morris Game Board
As an Amazon Associate I earn from qualifying purchases. For more details, please see our disclosure policy.
Homemade games can be fun and inexpensive gifts for children. Learn how to make a "Three Men's Morris" Board Game from Life as MOM contributor Janel.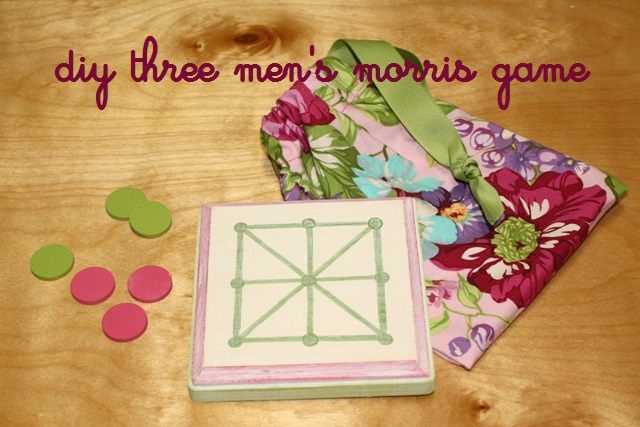 Two summers ago, my girls and I visited Yorktown Victory Center as an end-of-summer field trip. During our time in the Continental Army Encampment, one of the docents showed us some games that the Continental Army soldiers enjoyed playing.
One of these games was Three Men's Morris. It had such a funny name that it caught my attention. I still have no clue what the name means, but the game is pretty simple, entertaining, and easy for kids to learn. I decided to make a board for my girls so that we could play at home.
To make a re-useable board, you'll need a wooden plaque and wooden circles. I found mine at my local Jo-Ann store for less than $4 total (non-sale price). If you can purchase them with coupons, this game is super-cheap.
You'll also want a bag to keep the pieces together. A quick diy drawstring bag is perfect for this.
How to Play Three Men's Morris:
For 2 players
Goal: To be the first player to get your three pieces in a row. For a basic board, the row can be vertical or horizontal. With a more complex board, the row can be vertical, horizontal, or diagonal.
Directions: Players take turns placing a game piece on an unoccupied space (as marked by the dots on the game board). Once each player has laid all of his pieces on the game board, players take turns by sliding a piece into an adjacent space along the line. The first player to get three pieces in a row is the winner.
How to Make a 3 Men's Morris Game:
Supplies:
square wooden plaque (mine was 5″ x 5″)
6 small wooden circles (mine were 1″ diameter)
craft paint of your choice – at least two colors
ruler
pencil with eraser tip
thin paintbrush
game instructions – printed out onto cardstock of your choice
modge podge or clear spraypaint (optional)
Instructions:
Paint your square plaque in whatever fashion you prefer, but you'll want the game top to be one solid color. (I used a rustic, whitewash look.) Paint 3 circles with one color and the other 3 with another color. Let dry completely.
Use the ruler and pencil and lightly draw your preferred game board lines. A basic board will look like this:
And a more complex variation will look like this:
With the paintbrush, paint over your pencil lines. (To help make lines straighter, you can use the ruler. However, you'll want to wipe off the ruler after painting each line.) Then, dip the eraser tip of your pencil in paint and then dab it onto the board to make the dots as seen above. If you prefer, you can use a Sharpie marker to draw the lines and dots. Let dry completely if using paint.
If you wish, you can modge podge the game instructions to the bottom of your game board. (Note: If you print out the instructions with an ink-jet printer, the ink may bleed when you modge-podge it. A laser print has better results.) If you don't want to attach the instructions to the bottom of the board, make sure to include them in the bag along with the game.
Use modge podge or clear spraypaint to give a finish coat to your game board and game pieces if you wish. Allow to dry completely.
Package up in a DIY drawstring bag for gift giving.
Other DIY Gifts for Kids:
Looking for more great DIY gift ideas? Check out this list.

– Janel is a stay-at-home mom of two daughters and a "law school wife" in Virginia. Raised in a budget-conscious and DIY-minded family, she blogs about motherhood, crafts, and living on a law school budget at Life with Lucie and Ella. You can read all of Janel's Life as MOM posts here.
For more gift ideas, check out this extensive list of DIY gifts for every man, woman, and child.