DIY on a Dime: Mix Lavender Milk Bath
As an Amazon Associate I earn from qualifying purchases. For more details, please see our disclosure policy.
Mix up this easy Lavender Milk Bath to gift this year.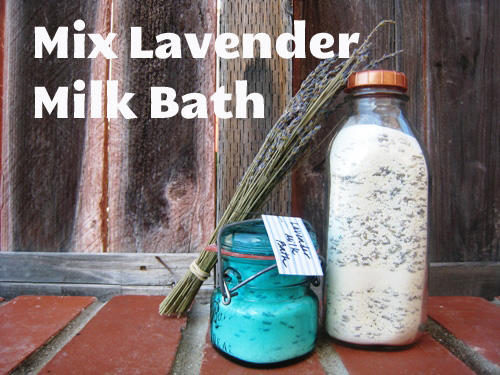 Years ago I had the best time putting together spa kits for the ladies among my friends and family. In addition to a few bath items like loofahs, puffs, and wash cloths, I also included a homemade milk bath scented with lavender.
Milk bath is super easy to prepare and lovely to bathe in. The lavender flowers are pretty, but they may weird your family out if you forget to rinse the tub.
Don't forget to rinse the tub.
With this great gift, you can do a little or do a lot. The milk bath, packaged in a nice jar, makes a nice gift all by itself. Step it up a little more by adding other bath accessories. Don't forget to consult the Spa Kit How to for more inspiration.
This is a frugal gift depending on how you source your items and if you will make good use of the extras. Epsom salt was cheap at 22 cents at Walmart. Baking soda costs a few pennies. The lavender flowers cost about 25 cents. The powdered milk about 50 cents. The lavender essential oil, however, was $10/bottle. While you're just using a little amount, it's still an investment on supplies that you may or may not use.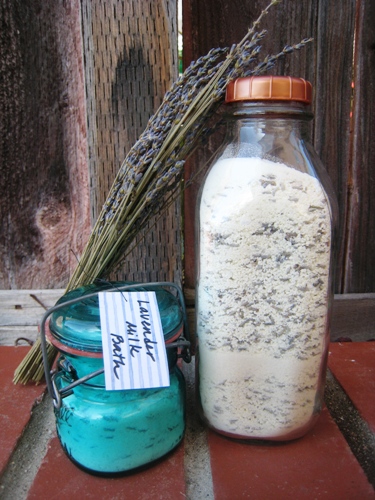 Make sure you find other uses for the lavender oil.
I found two fun jars in my stash: a vintage ball jar with a wire latch and a milk bottle. You know for the MILK bath? I bought the former at a dollar store years ago. The milk bottle I bought at my local grocery store. It was full of milk.
Use whatever containers you like, provided you make them airtight. You could use repurposed Starbucks Frappucino bottles for a very cute (and smaller than the quart size) milk bottle containers. But if you don't want to spend the cash on containers, just use clear plastic goodie bags. Be sure to add some kind of label so they know what they're getting.
All in all, you're not going to spend more than $2 or $3 per batch of milk bath (plus container), but you'll need to buy the ingredients for more than one batch. (Stay tuned for other gifts including lavender flowers and oil.)
Your friends will thank you for such a relaxing gift.
Lavender Milk Bath
Ingredients
1 cup epsom salt
1 cup powdered milk
1/4 cup baking soda
1/4 cup lavender flowers
4 drops lavender essential oil
Instructions
Combine all ingredients in a large mixing bowl. Store in airtight containers.
For bath, add 1/4 cup mixture to hot running water.
Relax!
Preparation time: 5 minute(s)

DIY on a Dime
This is part of the DIY on a Dime: Great Gifts series. For more easy and frugal gift ideas, check out the list.