DIY on a Dime: Make a Citrus Pomander
As an Amazon Associate I earn from qualifying purchases. For more details, please see our disclosure policy.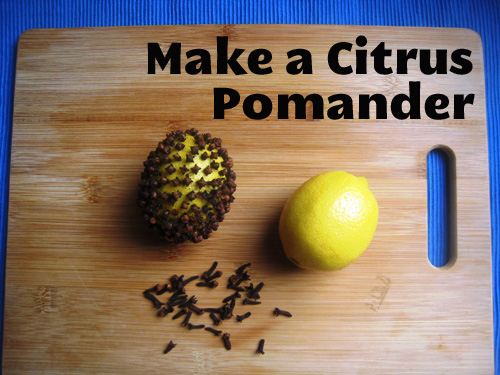 When I was growing up, there was a lemon tree growing in the backyard. It produced hundreds of lemons each year that we made into lemonade and lemon pie. I even ate a few raw. They were Meyer lemons, so they were sweet enough to eat without too much of a pucker.
Invariably each winter I would craft a pomander or two from the fruit.
In medieval times a pomander was a ball of perfumes to protect against infection or alter the aroma of the surrounding air. I'm thinking next hockey season, I might just pack one in my bag!
The modern form of a pomander is a citrus fruit studded with cloves. You can make one from any citrus fruit. I've always used lemons, but a lime or orange would be just as easy. The finished product is a small ball studded with spices that smells nice as it freshens drawers and cupboards. The cloves preserve the fruit inside so that it does not rot or mold.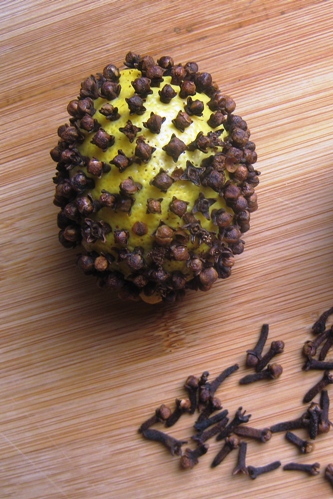 How to Make a Citrus Pomander
Making a pomander as a gift is super easy and fairly economical. Just be sure to buy the whole cloves in bulk. You'll need quite a few. They will be cheaper bought in a large container from Costco or Smart and Final than in the small jars in the grocery spice aisle.
I've seen some sources suggest that you roll the studded fruit in a spice mixture of cinnamon, cloves, nutmeg, ginger, and orris powder. That's not the way my mama taught me, so I can't speak to that.
You can wrap the finished product in a bit of lace or wrap a ribbon around it for hanging. A pile of pomanders in a decorative bowl is also pretty.
You'll need the following supplies:
lemon or other citrus fruit
whole cloves
toothpick, fork, or other pokey thing to make holes in the fruit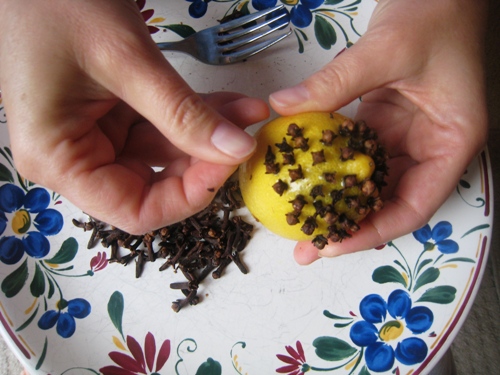 How to make a lemon pomander:
Poke holes in the lemon.
Stick whole cloves in all the holes.
Allow the fruit to dry for several weeks.
Have you ever made a pomander?

DIY on a Dime
This is part of the DIY on a Dime: Great Gifts series. For more easy and frugal gift ideas, check out the list.
For other holiday craft ideas, be sure to stop by the Holiday Home Linky Party featuring Crafts at Centsational Girl on Thursday!