DIY Calendar: a Book of Days
As an Amazon Associate I earn from qualifying purchases. For more details, please see our disclosure policy.
A book of days is a calendar without a year or days of the weeks. It marks the days of every month and helps you track important dates. Create a DIY Calendar like this as a memorable and economical gift to give.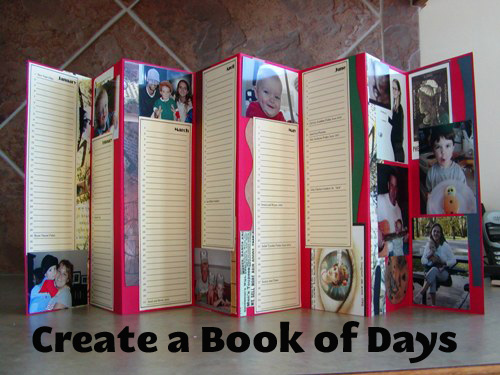 Want to save this post?
Enter your email below and get it sent straight to your inbox. Plus, I'll send you time- and money-saving tips every week!
Many, many moons ago I crafted handmade calendars for our extended families. Each was custom made and included photos of the previous year as well as birthdates and anniversaries.
I really enjoyed the process of making them. Eventually, though, I wanted to retire my calendar tradition so I went out with a bang by creating a Book of Days. It's a calendar of sorts, but one that does not include the days of the week.
Instead, a Book of Days is a great place to record special dates to remember. By adding bits of colored paper, photographs, and mementos, you can personalize and make it more special. And since it's undated, it never goes out of style. So to speak.
How to Create a Book of Days
This is a super easy gift to make for your family members or to help the kids make for the grandparents. If you do a lot of paper crafts, chances are you already own the necessary tools and supplies to make it. If you don't, none of these are very expensive to purchase. If you make several books as gifts, you'll save by buying in bulk.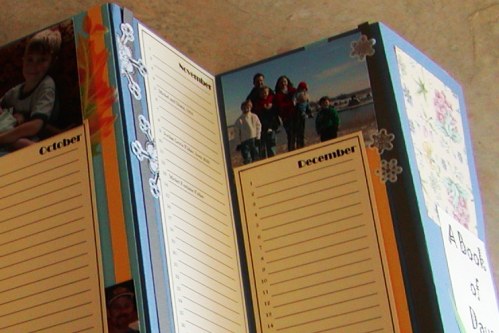 You'll need the following supplies:
large art paper – I used Canson textured paper
photos
colored papers and other scrapbook embellishments
glue or other adhesive
scissors
a bone folder to make crisp creases in the paper
all twelve months printed on long strips of card stock (Download this file to make it easy!)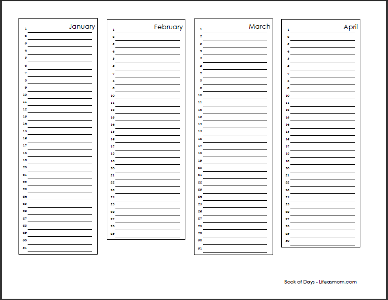 How to assemble a book of days:
Cut a long strip of art paper, 11 inches high.
Fold it accordion style, so that there are 7 spaces. Make creases crisp with bone folder.
Your 7 spaces on each side will allow for a cover, the 12 months, and a back. Decorate as desired.
Tie closed with colorful ribbon.
See? That was easy, wasn't it? Be sure to personalize your calendar with little pictures and bits of memorabilia to make it truly a keepsake.
More Gifts to Make