How to Make a Lightsaber
As an Amazon Associate I earn from qualifying purchases. For more details, please see our disclosure policy.
Need an easy craft for your Star Wars fanatic? Life as MOM contributor Janel explains how you can make a lightsaber at home with basic craft materials.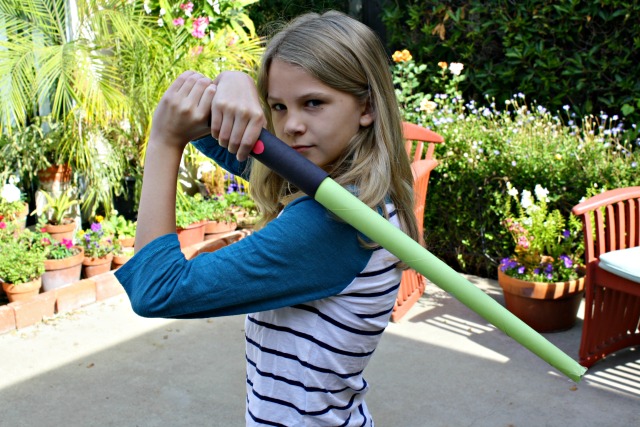 A couple of years ago, my daughters had a playdate with some good friends who lived just around the corner. When I came to pick the girls up, I found my eldest locked in a lightsaber duel with her friends. Yeah, that's not an uncommon occurrence necessarily, but she didn't have her lightsaber with her that day and they didn't have enough toy lightsabers to go around. So, they had improvised — all on their own — by crafting lightsabers from good ol' construction paper and tape.
It. Was. Awesome.
I was so impressed with our friend Josey's ingenuity to create the lightsaber. Better yet, a wayward swing with these homemade sabers didn't hurt like the toy variety might.
Making your own lightsabers is actually pretty easy and doesn't require any complicated craft materials — just some construction paper, scissors, tape, and a filling of some sort to help make it sturdier. By using such simple materials that you might normally have on hand, it's easier to have a spur-of-the-moment crafting session. Perfect for when you need to wrangle some kids into an organized activity or need a rainy day craft to save your sanity.
More detailed instructions are included below in the printable box. But in simple terms, make a tube out of construction paper in whatever color you choose. If you want to get accurate, I'm told that these colors match the characters:
Green = Yoda, Luke
Blue = Obi Wan, Anakin
Purple = Mace Windu
Red = Darth Vader, Darth Sidious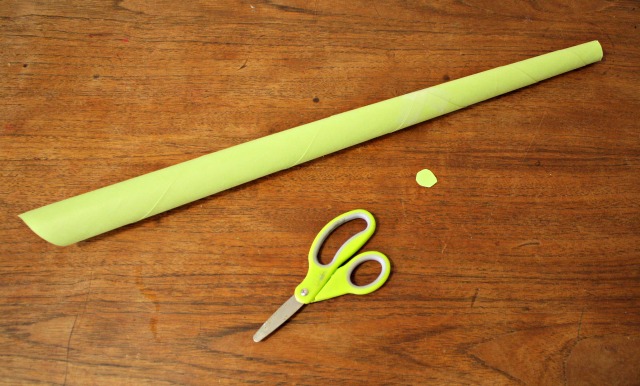 Then add another tube of paper for the handle. I used black, but gray might be more authentic. My daughter assures me that some Jedi out there used wood so brown would work too.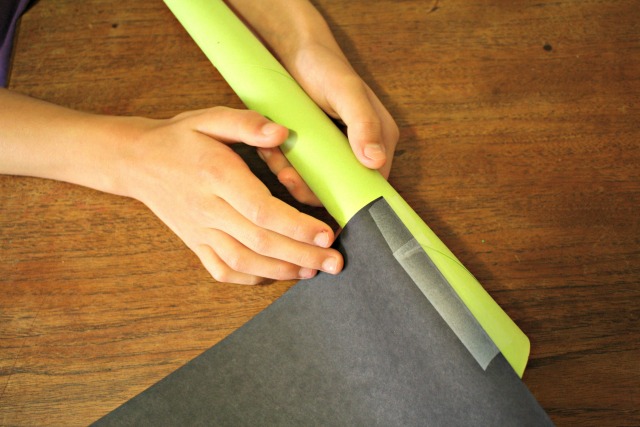 Then add any extras that you like with scraps of paper, and start dueling.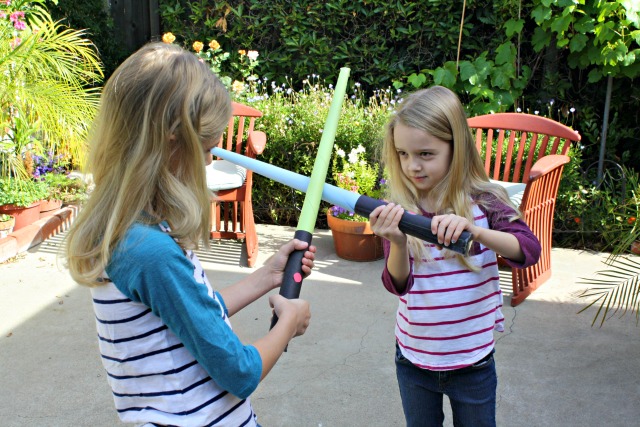 May the force be with you!
How to Make a Lightsaber from Construction Paper
Supplies:
one 12″ x 18″ piece of construction paper in lightsaber color (if your construction paper is flimsy, try doubling up with two sheets)
one 12″ x 9″ piece of black construction paper
scraps of construction paper for handle details such as the power button, etc
tape – I used clear packing tape
scissors
filling material – tissues, shredded paper towel, toilet paper, etc.
pencil
glue stick
Instructions:
Roll the colored construction paper into a tube. Do this slightly at an angle so that one end is wider than the other. You can grab the corner on the inside of the tube and pull that to adjust the tightness of the roll. Use tape to secure the edges. If you wish, you can wrap the tube in packing tape to make it stronger.
Trim a piece off the top of the tube so that the end is straight. Use this extra bit of paper and cut a circle that can cover the top of your tube. Save for later.
Stuff the colored tube with filling to make it a bit sturdier. I used balled up toilet paper squares. A pencil will help you shove them down into the tube.
Tape the black paper about 2 – 3 inches from the bottom of the colored tube. Wrap this around and around into a tight tube and secure with tape along the entire edge to form the handle.
Stuff the black tube with filling as well.
You'll need to close both ends of the lightsaber so that the filling doesn't fall out. To do this, you can cut a small circle of paper about the same size as the hole. Then, place a larger square of tape over your paper circle. Place this over the hole at the end of the lightsaber and then press the tape down to secure. You can cut lines in the tape at various spots around the circle to make this easier to do.
Finish off the lightsaber by cutting out small pieces of colored paper for buttons / detail and using the glue stick to add them to the handle.

– Janel is a part-time homeschooling mom of two daughters and a former "law school wife" in California. Raised in a budget-conscious and DIY-minded family, she (occasionally) blogs about motherhood, crafts, and living on a budget at Life with Lucie and Ella. You can read all of Janel's Life as MOM posts here.