Easy Homemade Gift Tags
As an Amazon Associate I earn from qualifying purchases. For more details, please see our disclosure policy.
Create easy, homemade gift tags to label presents and to add a little personal touch to the gifts you give.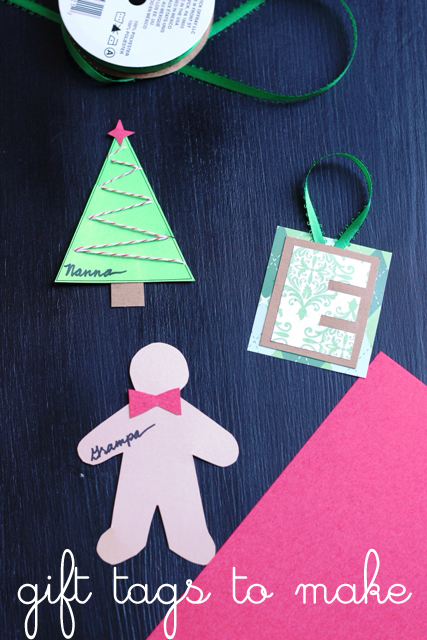 In the age of insta-everything, it's sometimes nice to step back and do a little home crafting. Whether you make gifts and wrappings yourself out of economic necessity or just a love for handiwork, the practice takes a little of the consumerism/stuffism out of the Christmas experience.
In years past, I've been in a rush to just get the wrapping done. I've made computerized tags that let me make quick work or wrapping and tagging. You can check out those tags here and here. This year, I want to change my pace just a little.
These gift tags, easy, yet homemade, are just the ticket to slowing down and really thinking about the gifts you're giving and the recipients you're gifting them to.
Today, I've got three easy tag tutorials for you to choose from: Letter, Gingerbread People, and Christmas Tree. All are quite simple and fun for you to do on your own or with the kids.
How to Make Easy Homemade Gift Tags: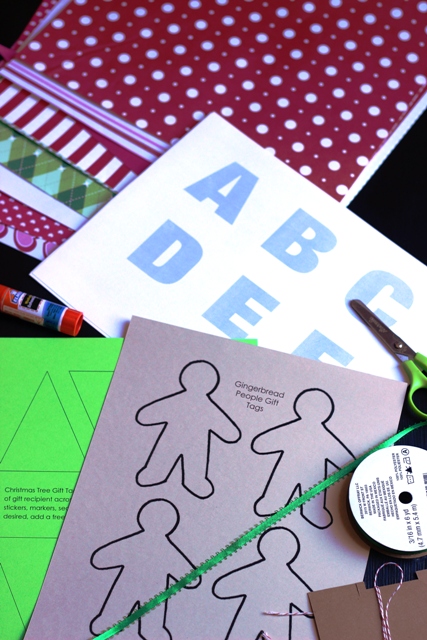 Supplies:
colored and patterned craft or scrapbook paper
ribbon
baker's twine or embroidery thread
glue stick
scotch tape
scissors
Templates: Letter, Gingerbread People, and Christmas Tree
assorted extras like stickers, glitter glue, etc
Instructions
Assemble all the supplies on your work surface.
Download the templates and print.
Follow the instructions as follows the type of tag you'd like to make.

How to make an Illuminated Letter Gift Tag:
1. Cut out the first initials of the folks you're giving gifts to from the alphabet template. Trace the letters onto patterned paper.
2. From contrasting paper, cut out a square or rectangle slightly larger than the letter. Glue the letter onto the square.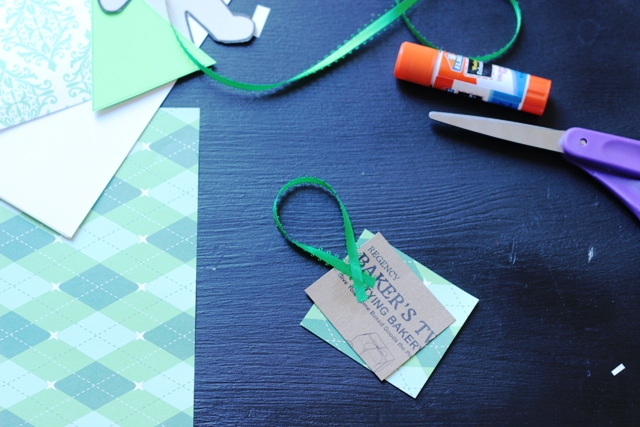 3. Adhere a loop of ribbon to the back of the contrasting paper. Obviously, you can recycle whatever paper you have since the back of this won't be showing.
4. Cut out a slightly larger rectangle from coordinating patterned paper. Glue the squares together, sandwiching the ribbon in between.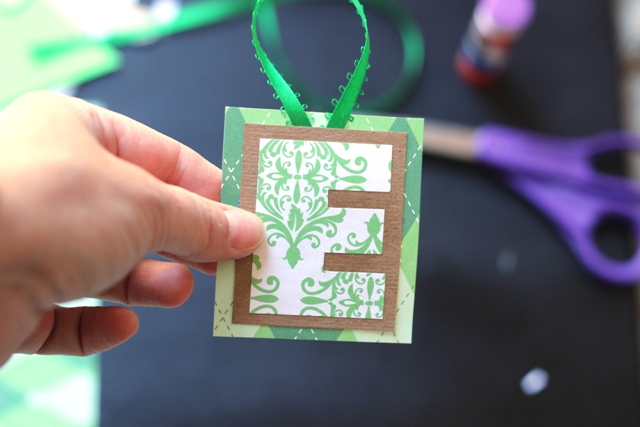 The finished product can serve to label the package as well as be used later for a tree ornament.
How to make a Gingerbread Person gift tag: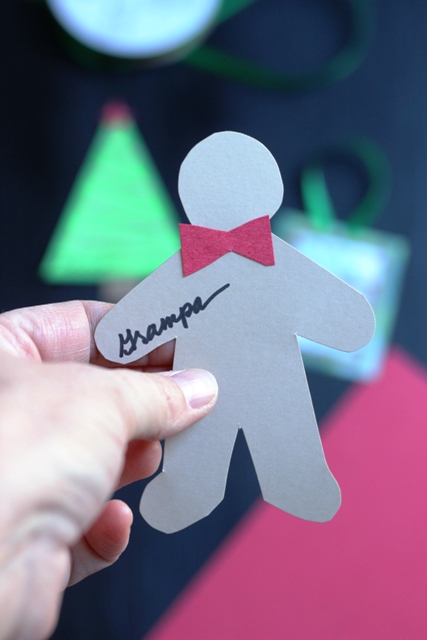 The gingerbread people are super easy. These are similar to the paper doll gift I shared with you last year.
1. Just print the template onto brown paper and cut out your people! This year I've put four people on one sheet of paper, so you can just print them onto brown cardstock and go.
2. Write the name of your recipient on the person. Add clothing and other accessories. If you'd like templates and ideas, check out last year's paper dolls for tips on how to do that. You can add yarn for hair or ribbon for bow ties. There really is no limit to how you dress these guys up. But, feel free to go plain and simple as well.
That's all there is to it!
How to make a Christmas Tree Gift Tag:
This is probably my favorite of the bunch. It's got texture, but it's so very simple.
1. Print out the tree template onto green cardstock. Cut out the trees.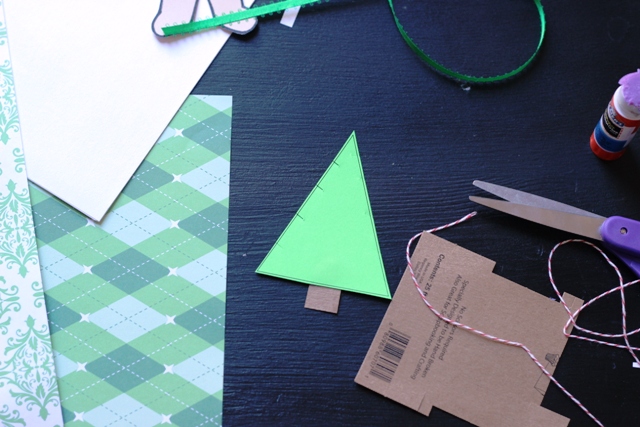 2. Cut out a bit of brown for the trunk and glue it to the back side.
3. Cut little slits in the side of the tree for the twine to hang onto.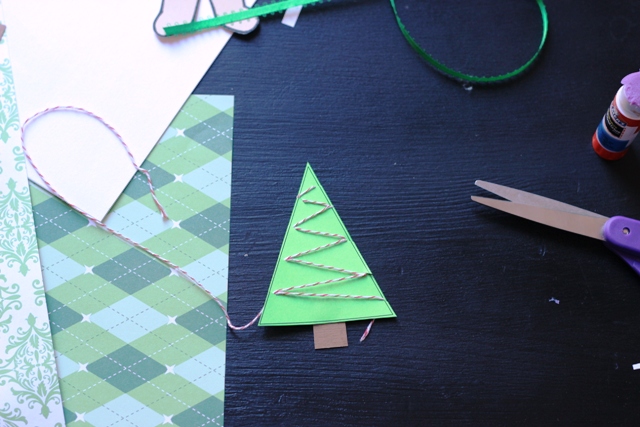 4. Wrap the baker's twine or embroidery thread through the slits back and forth across the tree. I did parallel lines as I went up the tree and then criss-crossed those lines as I wrapped the thread down the tree. Secure the ends to the back with bits of tape.
5. Cut a small star or use star stickers to top your tree.
If you choose not to use twine, you can decorate your tree with whatever you like: pompoms, stickers, markers, glitter glue, etc. Let your imagination — and that of your kids — run wild. Have fun with it.
What's your take on gift tags?