Fun Kids Gift: Muffin-Tin Crayons
As an Amazon Associate I earn from qualifying purchases. For more details, please see our disclosure policy.
Muffin tin crayons are so easy to make, even a kid can do it. In fact, FishChick3 and FishBoy9 were my assistants on this project last week, though I think they could have done it themselves. These are great crayons for toddlers to grab hold of, but even my big boys thought they were cool and wanted to experiment with them.
You will need:
old crayons
foil muffin papers
Lay out muffin papers on a cookie sheet or in a muffin tin. Divide old crayons by color into papers.
Place cookie sheet or muffin tin in warm oven (about 200-300 degrees) until crayons are melted. You'll start to smell a waxy smell. Remove from oven. Do not agitate. Allow to cool completely.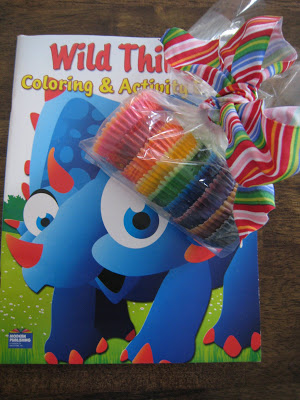 Peel off foil papers and package in a clear treat bag. Tie with a bow and pair with a fun coloring book.
Such an easy DIY gift!
Are you looking to enjoy A Simpler Season this holiday season? Join me as I share easy things you can do to slow down, savor the moments, and enjoy time with the people who matter most.

Every week from through New Year's I'll be featuring a "grab and go" printable that will enable you to do just that. You can subscribe for free emails or get LifeasMOM in your feed reader each morning, so you don't miss a thing.