Ceramic Ornaments that Kids Can Decorate
As an Amazon Associate I earn from qualifying purchases. For more details, please see our disclosure policy.
Celebrate holiday memories with these fun ceramic ornaments that kids can decorate. Overtime, you'll have such a fun collection!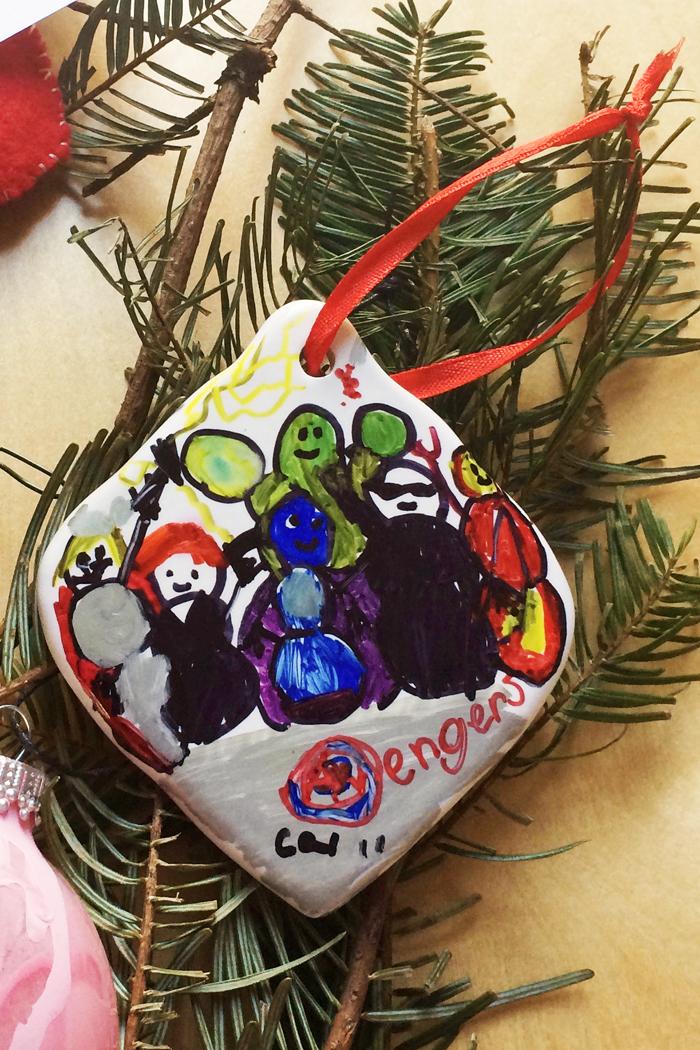 Over the past four holiday seasons, my kids and I have spent some time decorating ceramic ornaments to hang on the tree. It's a fun, easy craft that most of the kids look forward to. The older ones might not participate any more, but the littles still love it.
Years ago, I found these plain white ceramic ornaments at Michaels. A year later they were incredibly hard to find. The following year early in the holiday season, I snatched up as many as I could buy in good conscience without being a shelf clearer. This year, we are benefitting from my stockpiling as I could not found them at Michaels this year.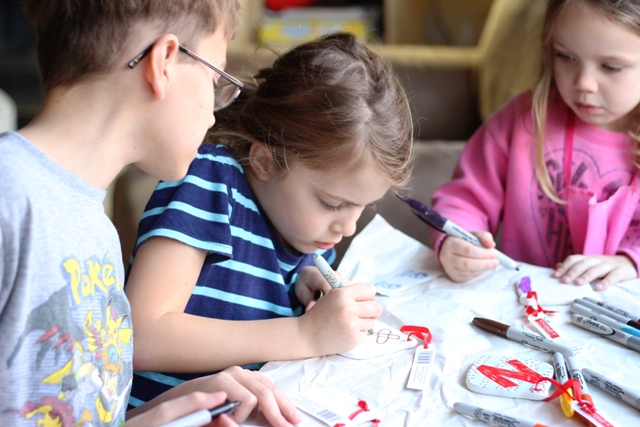 Here are three of my kiddos when we first did this craft back in 2013. It was part of a series of posts I presented called Great Gifts.
If I am completely honest, the Great Gifts series would be more aptly entitled "Cool Things I Wish I Did with My Kids All the Time." The holiday time is when my kids get a chance to do a lot of things that I'm presumably too overwhelmed to do the rest of the year.
Be that as it may, I am learning to take these opportunities as they come. Not every season plays out exactly like we plan it to. You know what I mean?
The first year when I threw caution to the wind, and pulled out the Sharpies for this craft, my kids were absolutely stoked. Once the youngest was five, I could do it without too much freaking out. Sort of.
Regardless, the resulting craft was a fun experience as well as something great to add to my children's tree ornament collections.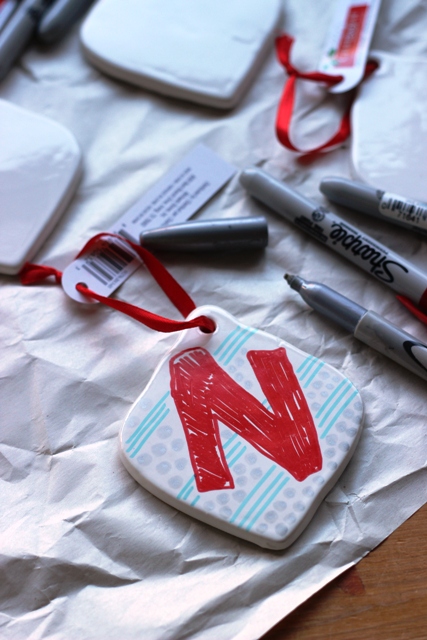 Ceramic Ornaments that Kids Can Decorate
I'd read about using sharpie markers on ceramic tile. When I saw these ceramic ornaments at Michaels for only $0.69 on sale, I snatched up six. I didn't know what we would do with them, but later, I made the Sharpie connection. And it was perfect.
Despite the heart palpitations.
These white ceramic ornaments on Amazon are very close to what I've found at Michaels in the past. However mine are glazed and Amazon's are not. This could cause problems if you want to "erase" (see instructions below) so keep that in mind.
While I didn't find them at my Michaels this year, I have found them in the past in a variety of shapes, with the regular price of $1.29. Be sure to check Michaels deals page or your local paper to get coupons. You can almost always find a coupon.
I have a ton of Sharpie markers at home. It's amazing how many new and fun colors Sharpie now offers. Yay! I just scrounged up as many as I could find.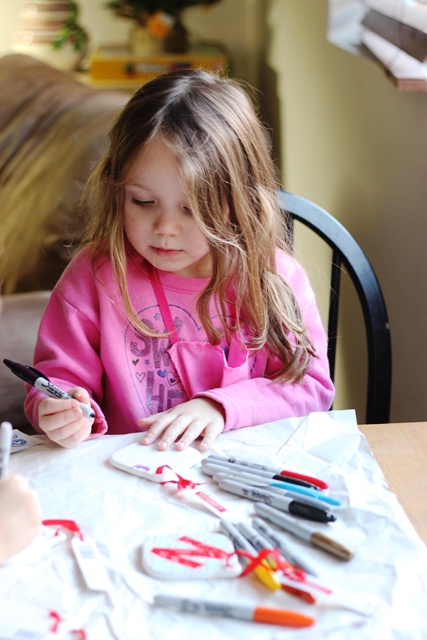 You basically just let your kids draw on the ornaments however they wish. The ink dries pretty quickly, so there isn't too much concern about smearing as there would be with paint. Just don't let the kid leave the table.
This girl, age 5? She did great. I really loved her final piece:
It was Christmas day on one side — see the tree there in the center — and Christmas Night on the other with a black background and silver moon. I loved it!
But, then when I left for the store, she decided she was bored and needed to redo it. So, she erased the whole thing and started over. Gah!
Yes, if you make a mistake, you can erase Sharpie from glazed glass and ceramics. Just use rubbing alcohol. I snagged some alcohol wipes from the first aid kit to prevent spills and provide better control in "erasing".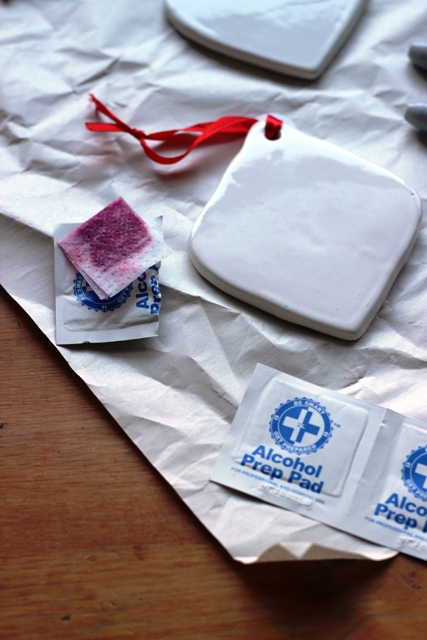 How ironic, my fear was that Miss FishChick5 would do writing where I didn't want it. Instead, she took her writing and drawing away!
You probably don't need me to say this, but supervise your younger children at all times when using the markers!
The project was just so fun, she wanted to keep doing it. I can't really blame her. Though, I wish I had bought each kid more than one ornament so we could preserve all their creations.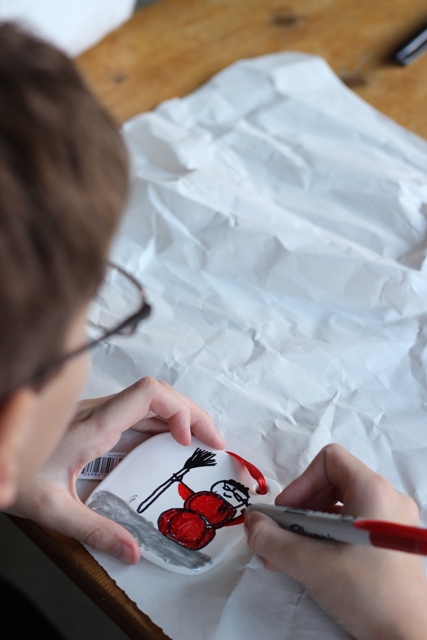 It was really fun to see the creativity that my kids used. This guy made a Harry Potter snowman on one side and a group of Avengers snowmen on the other.
Your drawings can be as simple or as complex as you want them to be. It just really depends on the types and colors of permanent markers you use. They range from fine tip to large chisel tip.
How to Decorate Ceramic Ornaments with Sharpie Permanent Markers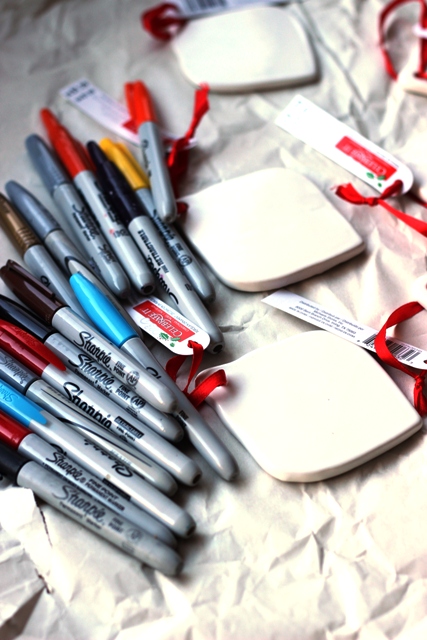 Supplies:
ceramic ornaments
permanent markers, like Sharpie
alcohol wipes or rubbing alcohol for erasing mistakes
Instructions:
Cover the work surface with newsprint or drop cloth.
Allow kids to draw or write whatever designs they like.
Use alcohol to remove any mistakes or to start over if necessary. Ahem.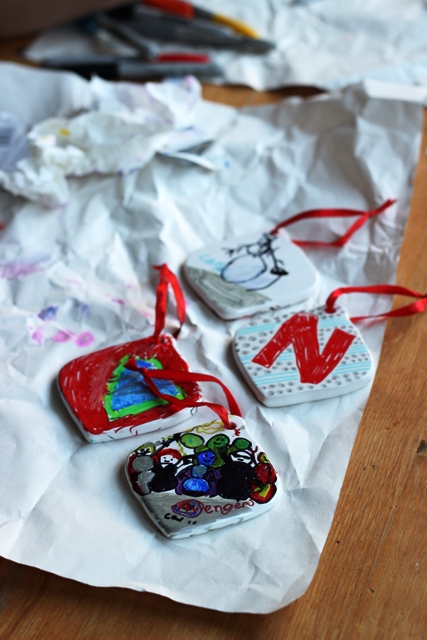 This is a super fun and easy craft that you can do with your kids. Or if you like to be crafty yourself, you can do it, too. The finished ornaments make great keepsakes, but they are also great to give as gifts.
At less than a dollar a piece, they are a very frugal and fun gift to give!
For more gift ideas, check out this extensive list of DIY gifts for every man, woman, and child.
Originally published December 8, 2013.