Frugal Friday: Budget Anniversary Celebrations
As an Amazon Associate I earn from qualifying purchases. For more details, please see our disclosure policy.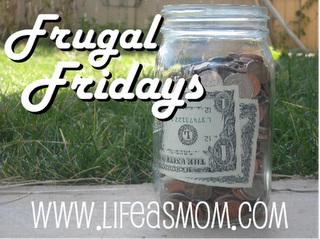 When a special occasions rolls around, it brings with it the temptation to "do it up big." Usually that signifies "do it up expensive." A few too many "special" occasions and you can find yourself in the poor house. Or at least with a few too many bills and too little money!
Yet, you certainly don't want to let your anniversary slip by without something special. I think one of the secrets to not overspending on special occasions is to find frugal or longer lasting alternatives.
Consider the following the next time your anniversary rolls around:
Can you make a special dinner at home? How about packing a picnic?
Can you prepare a special coupon book instead of buying a pricey present?
Would a pot of fresh herbs, a rose bush, or a fruit tree serve instead of a bouquet of flowers?
Buy an Entertainment book and wrap it with a promise to explore a new restaurant or attraction each month in your city.
How about sending the kids to a friend's house and having an at-home date night instead of paying for a babysitter and a night on the town?
Today is my and FishPapa's 16th wedding anniversary. And while I'm hopeful that we will someday tour France again as we did on our honeymoon, this year we are  staying home — literally.
Two years ago on our 14th wedding anniversary, we were aggressively fighting debt. Paying for a babysitter or a night on the town didn't fit our business plan that year. Instead, I recreated our wedding supper, and we celebrated with the kids.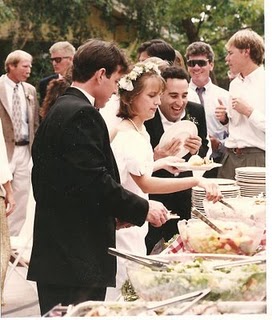 Last year, that recreated supper certainly fit the bill. It was becoming a tradition!
This year we're still watching our pennies, but we are amazed to be debt-free. WHAT an amazing reality from just a few years ago! We have a postponed anniversary weekend in the works. In a few weeks, we're going to a special bed and breakfast that we stayed in (stateside) at the start of our honeymoon.
But, tonight we'll be celebrating at home with the kids. We're foregoing the tri-tip dinner in exchange for a more economical, and more desired meal that our kids don't like. Is that bad? I'm going to feed them something else, but tonight we're indulging ourselves with Pasilla Enchiladas. We love these! (Recipe to follow next week.)
Our anniversary celebrations may seem a little unorthodox, but they help us not overdo things — and stay in the black.
What's your favorite money saving tip? Share it with us!