Keep Track of Financial Stats and Monthly Costs
As an Amazon Associate I earn from qualifying purchases. For more details, please see our disclosure policy.
Keep track of Financial Stats and Monthly Costs with these helpful planning pages.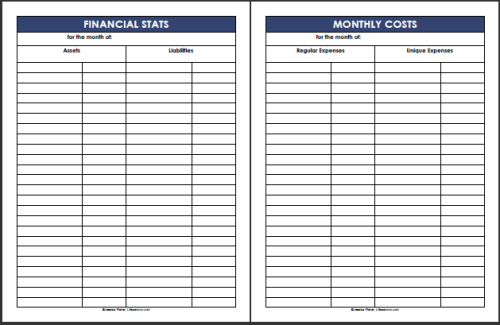 As you know, one of the biggest problems in money management is awareness. How many times have you heard someone say, "Well, I didn't realize that we'd been spending so much"? In this age of plastic cards and paper checks, financial accounting is extremely important.
If you're not playing the game with real greenbacks — and who pays their mortgage in dollar bills — it can be tricky to keep track of your financial status. Especially if you hate math.
One method that works for us is that each month after I've paid the bills and reconciled the accounts, I prepare a little summary to share with hubs. I'm the resident math geek so I'm pretty familiar with how our Quicken software works. But, I want to communicate things to my husband and partner in spending in a way that is straightforward and simple.
These Financial Stats and Monthly Costs Sheets help me do that. They serve as a communication tool for hubs and me. On the Financial Stats sheet, I list all our liabilities and assets, both liquid and long-term investments. This gives us both a clear cut snapshot of where we're at.
On the Monthly Costs Sheet, I list all the expenses we pay for regularly as well as those that are unique to the month at hand.
Can your finance software do this? Probably. For me, I find that the act of writing each of these figures down helps me keep better mental track of our finances. That allows me to communicate better with my husband so that together, we can tell our money where to go.