Fun Birthday Cake #952: A Drive-In Movie Theatre
As an Amazon Associate I earn from qualifying purchases. For more details, please see our disclosure policy.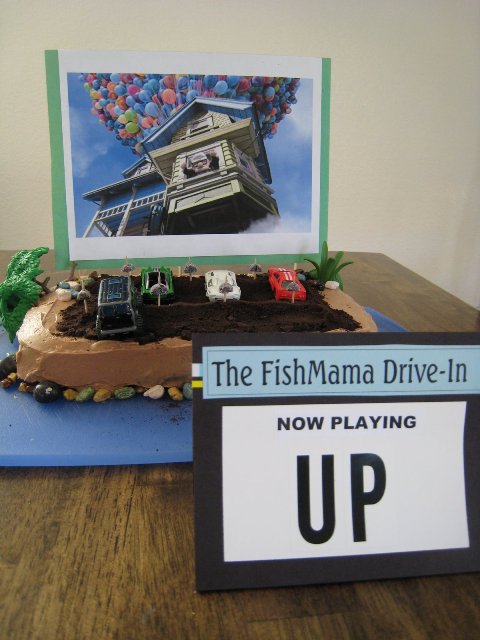 Recently, I asked readers to challenge me with a birthday cake theme and then vote on it. I kinda pride myself on being able to tackle almost anything, so I was curious what you would pick. Thankfully, I haven't been stumped yet. And y'all suggested some great birthday cake ideas!
(But, I'm so glad that Felix the Cat didn't win. Yes, yes, I am.)
Instead, the theme that was chosen in the poll was a drive-in movie theatre.
It wasn't until I was putting the cake together that I realized what a versatile theme this really is. Sure, you can use it for 1950s and 1960s themed parties, but it also lends itself well to automobile enthusiasts. I could even see a Nascar cake, featuring Nascar hot wheels and maybe the image of your favorite driver on the screen. It would work great for a retiree roast or even Grampa's birthday cake. Put the guest of honor's picture up on the screen; you know the one of him in high school sporting a white tshirt and a ducktail hair style.
The possibilities are really endless. An Elvis cake? Most definitely.
But, best of all, this cake works for the mom whose kid suggests a movie for which there are no cake toppers or action figures and you're just stumped for how to recreate that movie in cake. Simply put a press image of the movie on the screen, and you're good to go!
Obviously, the movie UP is a great one to make into a cake. You could construct a house out of a square layer cake and attach a few helium balloons, but this is way easier.
It was so easy, you really could let your kids put it together. So, please don't feel intimidated. Really. Truly.
What you need:
** a 9×13 cake – feel free to use a boxed mix or create something from scratch – your call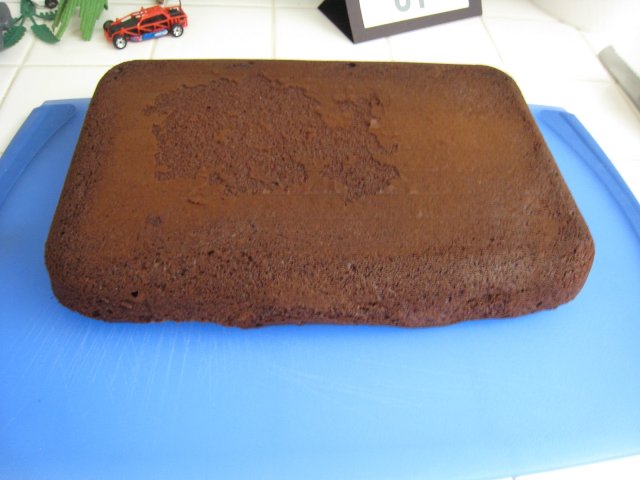 ** frosting, tinted light brown for dirt – You can use a can of prepared, white frosting or mix up your own buttercream. I did the latter because we had butter and powdered sugar. Tint it with brown paste food coloring (available at Michaels or Walmart's craft section) if you like or just mix in 1 Tablespoon of cocoa, which is what I did. Summertime buttercream can be persnickety. But, don't worry about it being smooth because you're going to crumb it all up.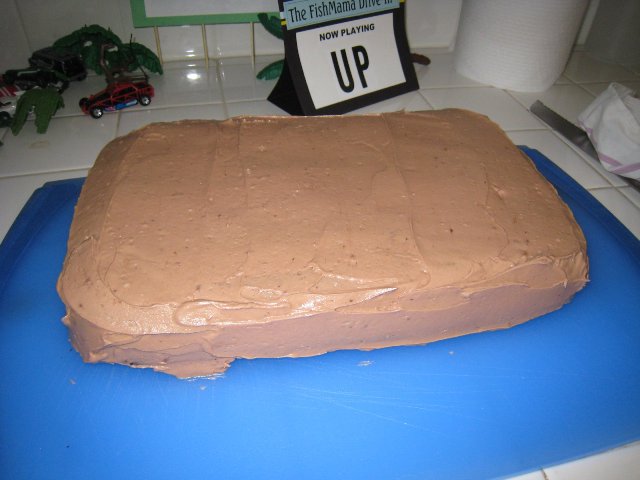 ** chocolate cookie crumbs – these are going to be your parking lot. Lay them out in a square and create mounds. This is a very important feature of a drive-in movie theatre, so says the FishPapa. You park your car up on the mound, so that you have a tilted, or reclined view of the screen and so that you don't block those behind you. Vans must be parked in the back.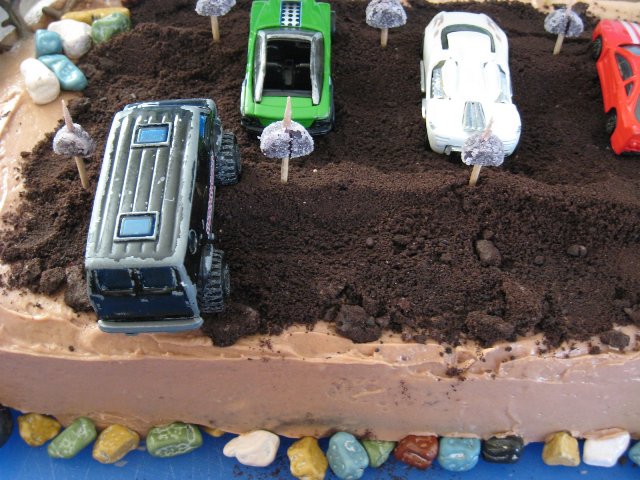 ** candy rocks, pebbles, and plastic trees and bushes – Embellish your cake with some landscaping. Candy rocks and pebbles are available at bulk candy stores. Indoor malls almost always have a bulk candy store. Add a few trees and bushes, such as Playmobil or from the dollar store.
** speakers – Cut gumdrops into halves or quarters and affix them to toothpicks. Place them throughout your parking lot.
** a movie screen – Print out a press photo of the movie or image you want to focus on. I attached mine to a piece of construction paper to make it a little sturdier. Then I taped bamboo skewers to the back of it. I used five to make sure it going to fall over in the middle of the party.
** cars – I used whatever I could find. You could tailor your vehicle choice to match your theme. I could even see alien ships if the movie made that the appropriate choice.
** a marquee – After browsing lots of drive-in movie theatre photos online, I realized that a marquee would be a nice touch. You could have the theatre's name match your guest of honor in some way. Be creative in what you say, such as "Now playing: Baby's First Birthday" and feature Baby on the screen.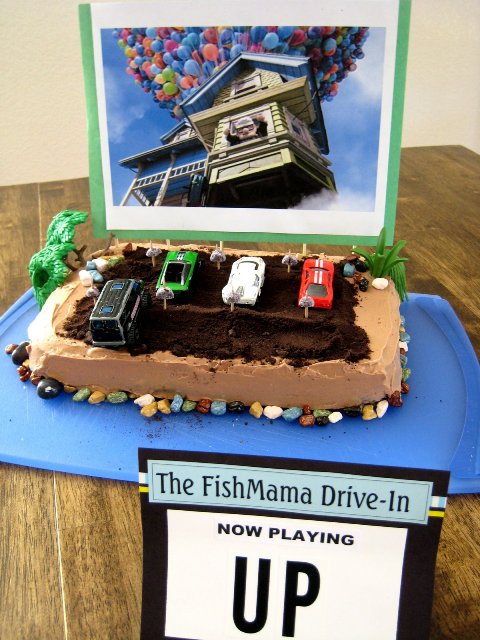 See how flexible this cake idea really is?