Captain Jack – Pirates of the Caribbean Cake
As an Amazon Associate I earn from qualifying purchases. For more details, please see our disclosure policy.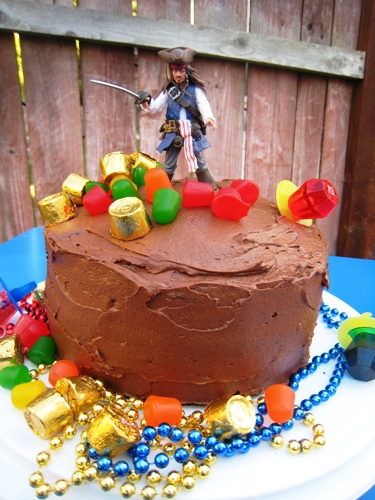 As you know, I'm into cake. Not so much the baking of it. I'm a total flop where from-scratch cakes are concerned. But, I love using cake as a canvas for fun, birthday themes.
Maybe it hearkens back to my first birthcake in memory — two all beef patties, special sauce, lettuce, cheese…. yes, it was in the shape of a Big Mac — a party at McDonald's, and the cake really did look like one ginormous hamburger.
Once I became a mom, I wanted to make birthdays special. But, on a fixed budget it was kinda tricky. It seemed that all the trappings were so expensive. I remember looking through the book of themed cakes, ready to sigh over the high price, only to realize that they were really only cheap toys thrown on a stack of frosting.
"I can do that!" says she.
And the rest, as they say, is history. My kids, and even FishPapa, have had themed cakes for the last dozen or more years.
You can do it, too. It's not hard at all! Normal people can decorate fun, cool cakes.
Pirates of the Caribbean
Today's cake is in honor of tonight's opening of the fourth installment of The Pirates of the Caribbean, On Stranger Tides. If you've got swashbucklers in your midst, they will love this cake!
And this Pirate cake is easier than pie. Seriously. You only need four things:
A Frosted Cake
Candy
Jewelry
Captain Jack

1. Frosted Cake
This can be an elaborate, from-scratch creation, a boxed cake + canned frosting, a combination of the two, or even a storebought cake. Yes, really. Buy a simple layer cake and throw away the packaging. No one will know. The best part is what you throw on top.

2. Jewelry
It's easy to find some cheap party favor jewelry. These necklaces were 4 for a buck and add the necessary sparkle to catch a pirate's eye.

3. Candy
If you can find chocolate coins and rock candy, cool. If not, you may have to settle for Roll-Os for gold and Dots for jewels. So be it. Candy rings will knock their socks off.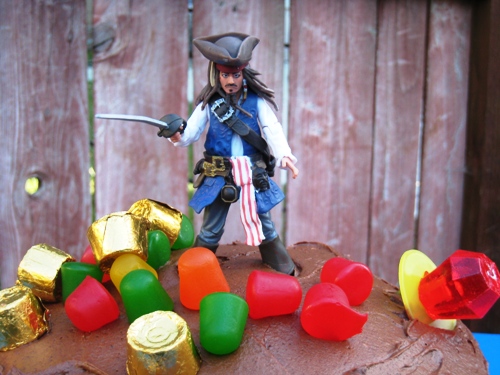 4. Captain Jack
There are plenty of pirate toys to choose from. If you want a true Pirates of the Caribbean cake, you need Jack. But, if you're going for the simple pirate motif, any pirate toy will do. If he's brand new, so much the better. You've got a cake and a present all wrapped up in one.
Put them all together, and what do you get?
One pretty cool cake.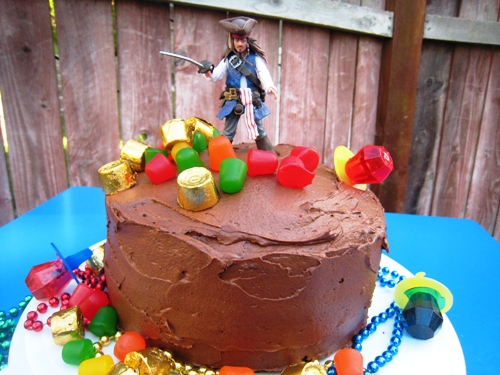 What's YOUR birthday cake tradition?