Simple Tips for Traveling in France, Europe, or Anywhere
As an Amazon Associate I earn from qualifying purchases. For more details, please see our disclosure policy.
Whether you're traveling abroad for the first time or the third time, sometimes you need a few reminders about things. Here's what we learned from a month in France — and what we'll do differently next time.

That is the Cathedrale of Bayeux as seen from the Museum of the Bayeux Tapestry. We visited the village for about 18 hours, toured the museum, slept in the cheapest, low-budge hotel in France, and got gas and food at E.Leclerc. It was a whirlwind visit to our first stop in Normandy.
Once we met Monsieur Renaud and saw all the other great things that Normandy had to offer, we were very disappointed that we'd only planned a day and a half to visit the region. We wish we had had more time!
There are lots of things we wished we had done differently about our month in France. One thing we do know: Family travel is worth the effort!
We are determined to go back in 2016, so we'll look at this as a dress rehearsal.
Here are some of the things that I learned while planning and executing the voyage.
1. Buy legal copy paper for printing euro-size tickets.
We bought our plane and train tickets from British companies. Since we didn't know when and where we'd have access to the internet, I printed them before they left. I was super thankful to have legal size copy paper on hand. Europe uses different paper than we do — between legal and letter.
2. Make sure you have a data plan that works internationally.
I've had a cell phone with Sprint for a very long time. My husband's cell phone is for work, so he left it at home. Unfortunately, my version of phone was not compatible with any of Sprint's international plans.
We thought we'd be fine without a phone, GPS, or internet. We were wrong. Since so much of our life is done digitally these days, it was really inconvenient not to have these services. We were sure we'd be fine, but now we regret it.
I'm currently looking to upgrade my iPhone, possibly switching carriers. I'll definitely be taking international roaming and data into my decision so that I'm not stuck with a bummer phone a few years from now.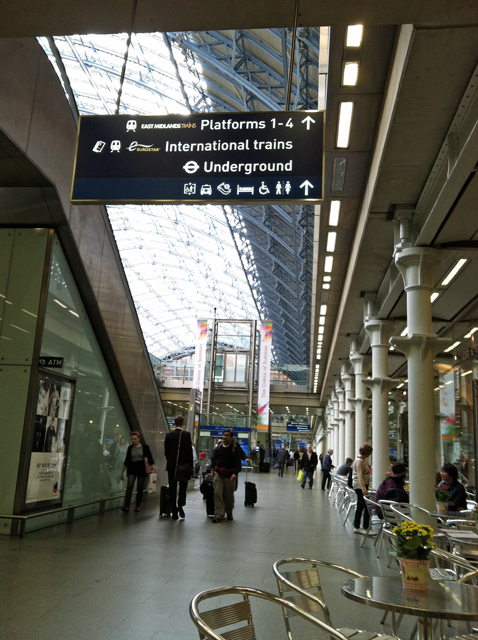 3. Make sure you get a hotel with good wifi.
I'm not sure how you can be sure that you get good wifi. I've heard Europe is sketchy in that way. Though most of our hotels if not all said that there was free wifi, it was often really limited. Nowadays it's so easy to plan your trip via the internet, it's really convenient and sometimes necessary.
4. Keep your phone charged in case you land on a place with great wifi.
Since I had no data or phone service on my phone, I mostly used it as a camera. Sometimes it would run down and I would forget to charge it. This was a particular bummer when we landed in a location with great wifi, such as a cafe, restaurant, or other tourist attraction.
Harry Potter has rocking wifi, so if you make that stop, be sure to have your phone charged or bring a charger.
5. Consider subscribing to a VPN.
VPN is short for virtual private network. Lots of businesses and schools have them. It gives you privacy on a public network, like the free wifi I've mentioned. Since hacks and internet theft occur when someone views your information and passwords, it's in your best interest to sign up for a VPN. They don't cost much, about $6 to $10, which is a great investment in internet security.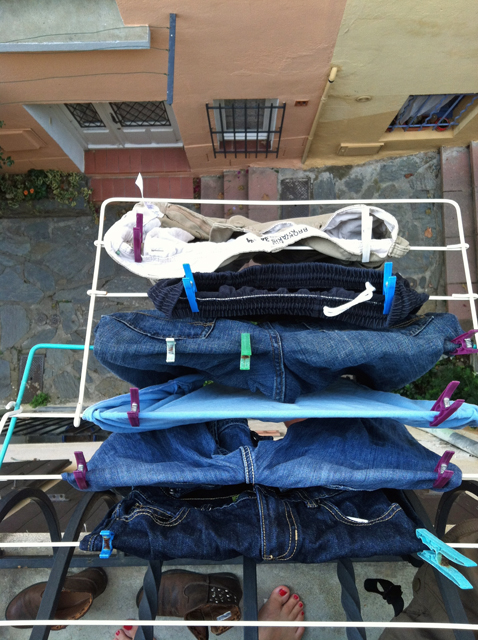 6. Be prepared for down days. Live life in the culture.
While you want to make the most of your time abroad, you want to make sure that you have time for daily life business. Grocery shopping and washing laundry are still an adventure.
(Trust me. You never saw such tiny washing machines in your life.)
Embrace how folks do things in the culture you're in.
7. Bring several grocery bags, not just one.
I knew we would be grocery shopping a lot during our month abroad. We had almost three weeks of accommodations that provided kitchens. I packed one reusable grocery bag, but in France, where they require you to bag your own groceries and often don't supply the bags, it was really important to have my own.
We ended up buying several durable, but eventually disposable bags, but it would have been nice to have packed a few extras.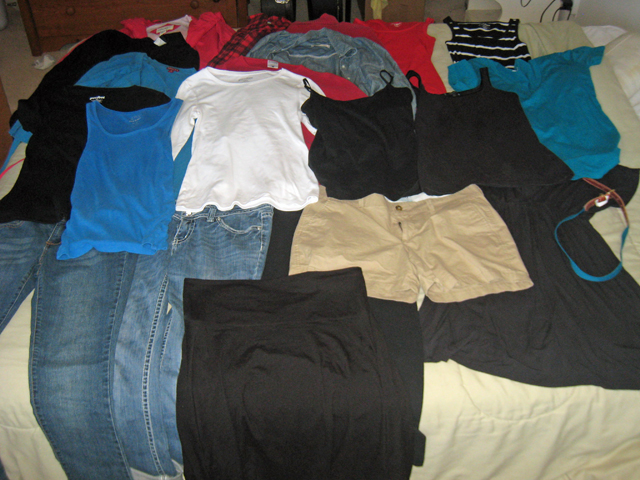 8. Pack a range of clothing.
We traveled in the month of October. We presumed it would be cool for the fall, but I packed a range of clothing: shorts, pants, t-shirts, and sweaters, even though we packed light.
As it turned out, we had some really warm days! I wish I had extended the range just a little farther. In Collioure, we could have used flip-flops. In London, hats and mittens.
9. Add a spray bottle to the kitchen kit.
I had wisely packed a cutting board, sponge, and dish soap in my picnic kit. (See all the kits we packed here.)
Those kitchen items were bank! I could wash dishes wherever we were. I ended up buying a small kitchen knife in Paris and some cheap plastic plates on the road. These items made picnicking so easy!
I also wished I had packed a small spray bottle. We use a spray bottle of vinegar all the time in our kitchen, to clean counters and wash vegetables. Would have been super handy for meal prep — and to wash the car windows.
10. Carry cash in case hotel doesn't take cards.
We always had some cash on hand in case of emergencies. We used our regular ATM card at banks that are affiliated with our home bank. However, we never anticipated having to pay for a hotel in cash, particularly when we'd used a credit card to reserve the rooms. So, always have some cash in local currency on hand.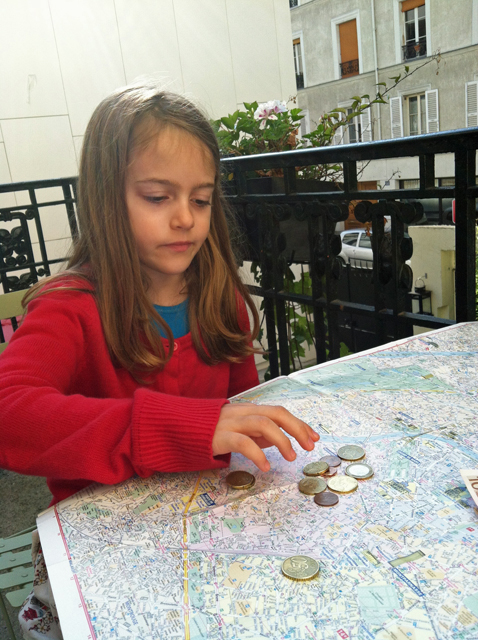 11. Get the audio guides at museums.
We found that while some museums offered English translations at exhibits, they were often inaccurate or insufficient, compared with what was offered in French. In order to save my poor brain from translating an entire museum, we got English audio guides. While these were sometime expensive, other times they were free for the asking! This isn't always marked for you to know. They are free at the Palace of Versailles, but we had to ask a guard to know this.
Audio guides can also be super helpful for the child or family member who really wants to know all the things. That person might seem like a "dawdler" to the rest of the family, when really they're just genuinely interested. Offering them an audio guide feeds their interest, but also moves them along a little more quickly.
12. Don't make assumptions about how food is prepared.
Burgers and hot dogs, though quintessentially American are not all created equal. Do not make assumptions about how food is prepared. The hot dog may automatically come with ketchup, the burger with mayo, and the pizza with swiss-style cheese.
I'm brave with food, but not all my family is. It's good to make sure everyone's prepared for food that might not be just like home.
Be sure to read these tips about food allergies.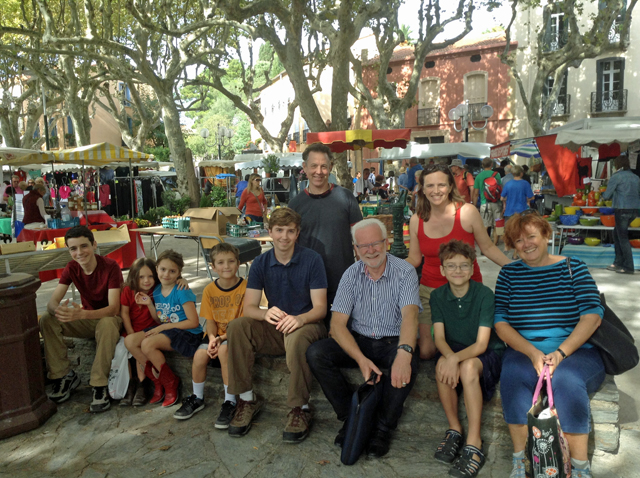 13. People make the place.
We would not have had such a wonderful trip to France if it had not been for Delphine and Nico, Monsieur Renaud, Jean-Marc and Michele, and Jen and Lio. It just would not have been as meaningful or as interesting or as fun.
If you can make friends on your trip, it will be so worth any effort you need to expend. People really do make the place.
Even if you don't, your traveling companions are the ones who you're making the memories with. Enjoy the trip with your family more by getting some of these pesky issues out of the way.
This post is not meant to be all-inclusive of everything we could have done better or what we learned through experience. Believe me, there was a lot more. I did take notes, though, and these were the things that we wanted to remember for next time.
Now who in England, Scotland, and Ireland wants to be my penpal? We're coming soon! 😉
What have you learned while traveling with kids?