How to Shop with a New Baby
As an Amazon Associate I earn from qualifying purchases. For more details, please see our disclosure policy.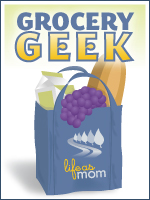 You may be a fierce coupon queen who knows the grocery store like the back of her hand. Checkers may quake in their boots when they see you walk through the doors with your handy, dandy coupon binder in hand. You may be able to quote the sales at every grocery store in town and be able to reference where the necessary coupons can be found.
However, have a new baby….. and well, let's just say, you may lose some of your grocery geekiness. Or at least you should.
If there's one thing I have learned over the last few years of deal shopping and coupon clipping, it's that:
Something's Gotta Give
You can't possibly do it all. Nor should you try. As Lauren suggested so eloquently earlier this week, new moms should find their bottom line and stick to it.
Here are some ideas for keeping the pantry stocked without wiping yourself out:
Let your husband, neighbor, mom, friend do the shopping. If your friends are providing meals — which I hope they are — then, you really shouldn't need to do extensive shopping during the early weeks. Provide a list and money and be okay that it's not done exactly the way you want it to be done. Paper or plastic? Who cares! Let them help you.But, do give your husband specific directions about feminine hygiene — maybe even send him a picture on his phone of the packaging. You don't know how many times I've received a phone call, "Do you want wings?"
Stock up before the baby comes. If delegating this area of your life is difficult, then make a point to fill the pantry and fridge with essentials before the baby arrives. You can do it your way — ahead of time.
Go shopping alone. I don't know about all moms, but once I was recovered from a delivery, I liked to get out and about. If I had a short list, I could easily go by myself and leave the baby with my husband. In doing so, I got a break from cabin fever as well as a chance to get back into the real world without exposing the baby to unnecessary germs.
What has been successful for YOU?