Grocery Geek Presents: Requesting and Redeeming Rain Checks
As an Amazon Associate I earn from qualifying purchases. For more details, please see our disclosure policy.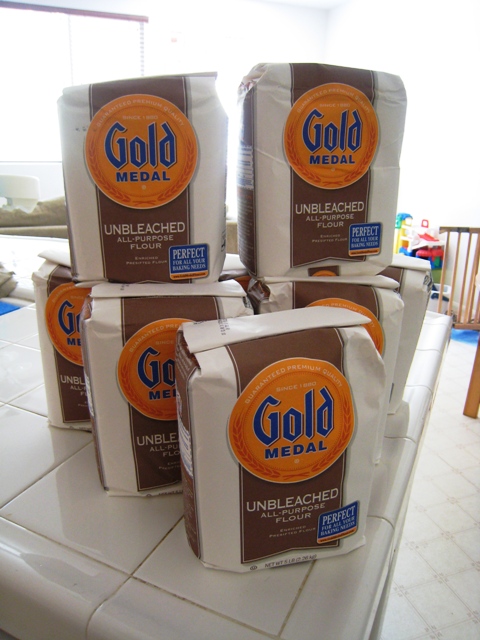 I love me a good sale. I love to open the grocery sale flyers to see what bargains are available each week. I love to snag a good deal to stretch our dollars just a little farther.
I don't love getting to the store and finding the shelf empty.
This can happen for a number of reasons: late or missed shipments, a run on the sale, or a store purposely leaving the shelves empty in order to draw customers. I don't know how often that last circumstance occurs, but it is possible.
However, most stores offer rain checks if they are out of the advertised special when you come to call. Unless the advertisement says "while supplies last" or "no rainchecks," you are guaranteed to be able to acquire the said item for the sale price. Provided that you get thee to the store and have the money to pay with.
Near Easter time one of my local stores had flour on sale for $1.29 a bag. This is a stock up price these days since flour has tripled in cost over the last two years. Last year I bought 20 bags at one time. Cooking from scratch saves me a ton of money, but also necessitates a ton of flour as well. Since the shelf was empty, I went to customer service and requested a rain check.
What's a Rain Check?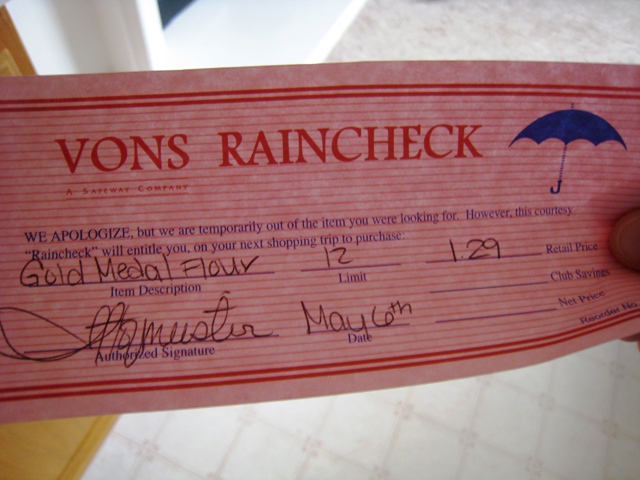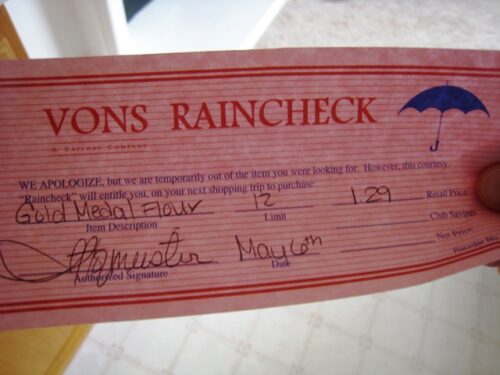 A rain check is a small piece of paper, a voucher, if you will, that states the store, the item, the price and any limitations on the sale. Sometimes rainchecks have expiration dates; sometimes the clerk will limit how many you can buy when you come back. Since different clerks fill out rain checks, one person might put a limit on your purchase while the next guy will not. Unless there's a clear policy, your mileage may vary.
For example, a friend got a raincheck for chicken breast recently, and they limited his purchase to 10 pounds. When I went to the same store and they were out of chicken, they let me choose the limit. I said 20 pounds. My friend was indignant. Well, sorta.
Redeeming Rain Checks
Keep the rain check like you would cash or a coupon. If you don't have it when you go to redeem it, you will not get the sale price. I stash mine in my coupon box until needed.
 When you do return to the store to purchase your item, check with customer service as to the proper procedure for redeeming it. Stores vary. Generally, though, you will get your items and take them to the checkstand. Present the rain check to the cashier and he or she should adjust the price. If it is meat, you may have to take your purchase to the meat counter to have the price adjusted.
If your rain check has a limit on it, you will need to buy all that you want to buy (within that limit) at this time. In my experience, meat counter guys tend to let you keep the raincheck. Checkers do not. You will have to surrender the rain check and kiss extra sale items goodbye.
When I went to buy my 20 bags of flour, they didn't have 20 bags on the shelf. I inquired at customer service and the representative said the cashier would give me back the rain check to get more on another day. The cashier, however, disagreed. She said rain checks needed to be surrendered. In any event, once I made it clear that I would have bought all 20 if they had had them, they issued me a new rain check. I bought 8 bags of flour for $1.29 and can go back and buy the other 12 on another day.
Yes, rain checks take a little work. But, the "sale" price the day I redeemed my rain check was $3.50 per 5-pound bag of flour. I saved $17.68 by using a raincheck.
What's been your experience with rainchecks? Is it worth it?