12 Ways to Save on Birthdays
As an Amazon Associate I earn from qualifying purchases. For more details, please see our disclosure policy.
Birthdays are a wonderful time in the life of a child. You don't need to spend a lot of money to make it special.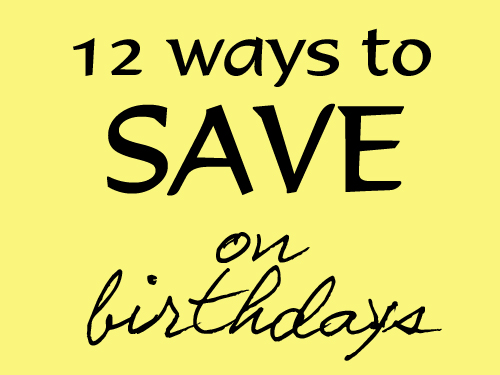 Our family has a "birthday season". Fifty-percent of our family has birthdays in a three-week span of time. As of today, we've got two more to go before we start leap frogging through the year to celebrate the other four family members.
I love birthdays! And I love celebrating these sweet lives that God has entrusted to my care.
I also have a tendency to dream big when it comes to birthday celebrations. Handmade capes for 17 knights in shining armor? No problem!
And yet I don't always have the energy to bring my plans to fruition. In fact, this post is going up later than I intended because I spent last night strolling through Walmart shopping for two family birthdays, a birthday party, and Father's Day. Thankfully, I shopped alone, right after getting my haircut, so it was a mostly peaceful affair.
Enough is still good enough.
Years ago when we found ourselves in deep debt, I had to reconcile our budget with my big birthday dreams. I had never been extravagant; no petting zoos and bounce houses for us. Yet I needed to economize and make every dollar count.
What I found was that it was easier than I thought. I discovered what most mattered to my kids. And we've found economical alternatives to my late-night-sewing-knight-in-shining-armor-for-the-masses.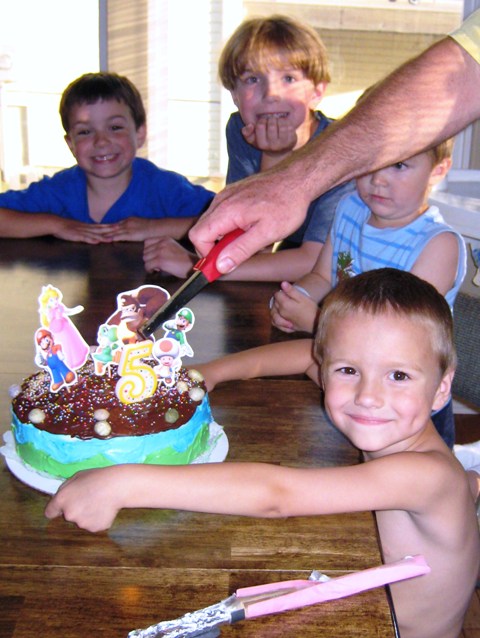 Here are twelve ways that you can consider to save money on birthdays:
1. Set a budget.
Everyone hates the B-word, yet having a budget is a built-in control against overspending. It helps you prioritize and make every penny count. Whether your birthday celebrations include an elaborate party with cake and favors or a simple family affair with a few presents and a nice dinner, a budget can help you keep things manageable.
2. Don't feel obligated.
This is huge. You get to decide what is best for YOUR family. Don't let the PTA, the grandparents, or your social circle dictate how you celebrate your child's birthday. Doing something under compulsion is never as fun — or as genuine — as doing something because you truly want to. If you celebrate the way you and your child want to celebrate, you'll feel better about how you spend your budget.
3. Feel free to break the mold.
Long before debt stopped me in my Martha-Wannabe tracks, exhaustion did. I finally told the kids I couldn't keep it up. So, we incorporated new traditions — besides the Birthday Party — into our festivities.
I asked the Birthday Child to choose an outing he would really like to do on his birthday. This led us to spend the day as a family using our passes to the Science Museum, the miniature golf course, and the pool. We had just as much fun without the hassles and high prices.
4. Combine birthday celebrations.
After several years of abstaining from parties with friends, I offered the birthday option to all my kids this year. Due to a weird chain of events, two boys are combining their party option into one raucous Angry Birds event. (Heaven help me!)
While each child gets to be "special" on his actual birthday (choosing the menu and activities, within reason), I have no qualms about the joint birthday party we're having next week. It makes sense in so many ways, finances included.
The two boys in question have birthdays just a few weeks apart. They also share friends within the same families. Why burden those families with TWO parties? Since I want those mamas (and myself) to stay sane, we're lumping it all together. And everyone's cool with that.
Read JessieLeigh's tips for success as a birthday party guest.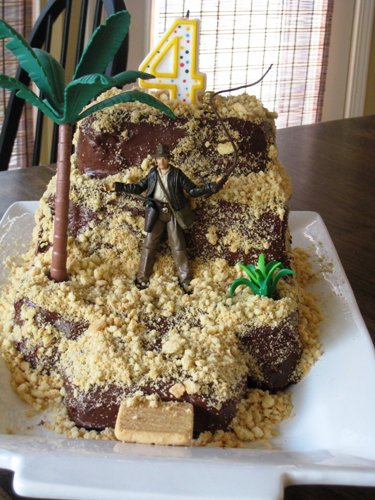 5. Decorate your own cake.
It's not hard to decorate your own themed cake. And you will save a boatload of change. I buy cake mixes for a dollar, make my own buttercream, and throw on some toys and candy. My kids hit their sugar quota for the year, but it works for us.
Stay tuned for the Angry Birds Cake I hope to pull off next week.
6. Limit the presents.
Each family has its own unique gift-giving traditions. Some limit it to a certain number of presents or a certain dollar amount. The salient point is that it's okay to limit it. You don't need to go overboard. Really. I promise.
We live in a nation of abundance. Once upon a time, a little girl named Laura was content with a penny in her stocking and her own metal cup to drink from. We've come a long way in 200 years. It's okay to put on the brakes.
That said, I try to include one biggish item that the kid really wants, a cool tshirt, and a book. The kids typically like to stretch their present opening out over the day, so multiple presents is still preferable with my people.
7. Shop the clearance.
Just as shopping the sales and clearance can help you save money on gifts, groceries, and household items, it can help you save money on birthday celebrations as well. Last night during my shopping expedition, I kept an open mind about our party's color scheme. When I found party plates and napkins on clearance that were Angry Bird/boy-friendly, those are the ones I chose. I am set on disposables for less than $3.
I've also been able to transform seasonal baking items into birthday-friendly creations for pennies on the dollar.
8. Make your own pinata.
It's been a few years since we included a pinata in our birthday celebrations. But they are great fun. And very easy to make yourself. Forget about spending $20 on something you're going to beat with a stick. Use regular household supplies and make your own for free.
Check out my tutorials for both balloon-based and paperbag pinatas.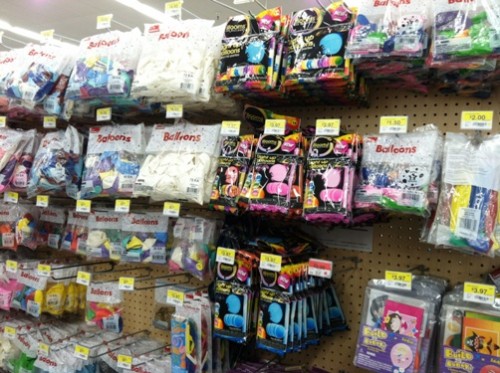 9. Include balloons for cheap-er.
Balloons are fun. Balloons are festive. I remember what a big deal it was to get a balloon bouquet for your birthday….back in the day. While it hasn't always fit the budget, this year it worked out to invest in a helium tank. You can get these for less than $20 at Walmart. The kit comes with enough helium and balloons for thirty balloons. We stretch it to cover several birthdays, making for a fun and festive little touch.
10. Go to the park, beach, or other public space.
Renting a party facility can be costly. So can getting your house ready for a big shindig. Consider a public space like a park or beach to hold your party. Depending on the size of your get-together, you can even avoid making a reservation. Be sure to be respectful of others using the facility. Be flexible in your planning and enjoy public spaces.
11. Avoid the full meal at a party.
Food, even if you make it yourself, can cost a bundle of money, especially for a large group. Plan your party so that cake and beverages (and maybe a light snack) is all that is expected. This means avoiding typical meal times in your party planning. Scheduling a party for the afternoon allows you to do this gracefully.
12. Focus on experiences.
After years of planning in-depth activities for birthday parties, I finally realized that my kids were perfectly happy with free time to play with their friends. They didn't need a lot of stimulation; ten boys create that all on their own. Water balloons are cheap. Give them a few resources and then step back.