How We Saved Money on a New Washer and Dryer
As an Amazon Associate I earn from qualifying purchases. For more details, please see our disclosure policy.
See this? This is HALF the laundry that was generated in my household in the last week since the dryer broke. The washer and dryer were on their last legs and decided to die in my absence. Right on their heels went the radiator and thermostat in our van. And the cam sensor. Whatever THAT is. My poor husband never let on that the supply of clean clothes was dwindling and that he had no way to transport all six children anywhere. I guess that explains the panic he might have felt when I almost missed my connecting flight in Phoenix. What a guy!
Do you know how much dirty laundry is created in five days' time?!
Thankfully, I did get home at the prescribed time. And we spent Monday picking up the pieces. FishPapa called around town to get quotes on a new radiator for the van and off the van limped for repairs. Meanwhile, I hopped online to find a new laundry combo.
Here's what I considered in my decision:
What's the going rate? We had previously researched front loading, high efficiency machines and realized that for the money, we probably weren't going to get a much longer-lasting washer and dryer than your standard, old school, top-loading washer and standard dryer. We do a lot more laundry than the average household. We quizzed a repairman about this and he concurred. Plus, I just couldn't swallow the idea of dropping $1,600 to $2,000 on laundry equipment. Instead, I looked up the going rate for your basic Whirpool combo which was about $1,000 after taxes.
What's the best cash back? I checked with Ebates as well as ShopAtHome to see who had the best cashback percentages for Sears, Home Depot, and Buy.com. Turns out ShopAtHome was offering 5% back at Sears as well as a coupon code for $5 off a $50 purchase.
What kind of sales and rebates are going on? Clicking through to Sears, I found out that Sears had multiple deals going on, including 15% off all washers and dryers, a free delivery rebate, and a $50 rebate on each appliance.
What's the energy cost? We compared the energy costs of the basic Whirlpool washer and dryer to the Energy Star combo. Since we know that I do an average of 12 loads of laundry per week, we know that a w/d combo will not last as long at our house as someone else's. Our last set lasted us 5 years. So, after some computations, we realized that the extra cost of the Energy Star machines did not pay for itself. (And before any of my green friends hassle me about buying the bargain machine, can I say that my thermostat is set at 64 degrees in the winter? We are doing our best to conserve energy in other ways. 😉 )
Can I just stay home? In former times, I might have been concerned about seeing the machines in person and checking out all the bells and whistles. But, experience has shown me that the bells and whistles are just that — a lot of noise. They normally aren't all that they're cracked up to be. I read some reviews and was satisfied that basic was going to work for us. Normally, I would have said no to delivery since we own a truck. But, that gas, time and effort still costs us something. Being open to delivery proved to save us a lot more money since it was FREE!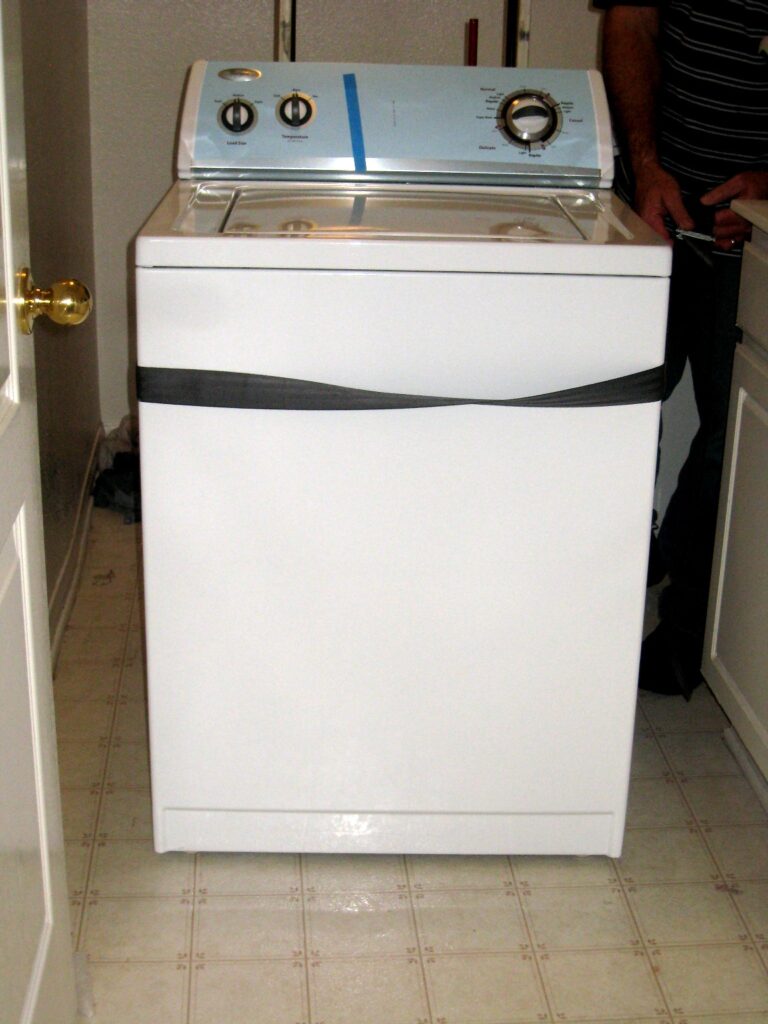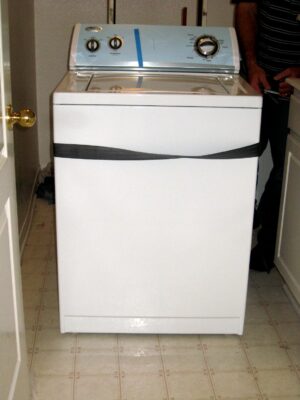 Cost of washer and dryer after taxes and delivery fees: $933.89
Delivery rebate from Sears: -65.00
    Appliance rebates from Sears: -100.00
      Cash back bonus from ShopAtHome: -39.70
Coupon from ShopAtHome: – 5.00
 Total Spent on New Washer and Dryer: $724.19
When all was said and done, we saved over $200 purchasing our new set, without even leaving the house. And it turns out that there were a few bells and whistles thrown in for good measure, like "wrinkle shield" and "energy preferred" settings. I spent the better half of Thursday whipping through 10 loads of laundry. I think these new machines work faster than the old ones.
Best of all, we've got clean clothes!
Edited to add: There's been some great discussion in the comments regarding HE machines. Just to clarify, my point #4 above was comparing the energy savings of a basic top loader and the "Energy Star" top loader. I am not questioning the efficiency of the HE machines, but we had already made the decision not to spend 2K on the set.
So, looking at the lower price point machines — the top loaders — that was the conclusion we were making. It didn't pencil out to pay $150 more to get a fancier top loader. I apologize for any confusion I might have caused.