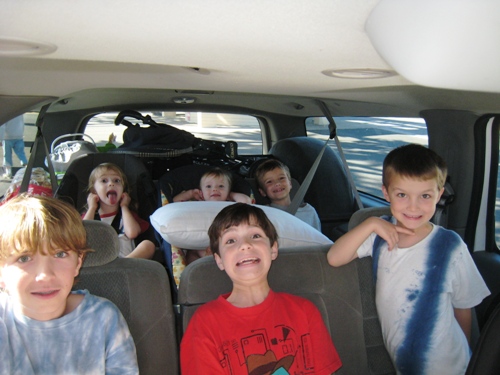 Last week our family went on an adventure. We loaded up the car with clothes, snacks, and kids and headed out for the open road. We had a loose agenda and up to 8 days to spend.
It was the longest trip we've taken in the last five years and the only one in which we really had a lot of freedom of choice. And, quite honestly, I think it was the first true vacation since we've had kids. We've traveled before, but not solely for pleasure. And much of the time, busyness, finances, and pregnancies have usually kept us homebound. So this was a rare treat.
Here are some of the things that we did to make our vacation fun, special, and as chaos-free as possible:

We kept the day's drive short.
My childhood vacations were cross-country trips from California to Minnesota in as little time as possible. My dad would often make the 1800 mile trip in 36 hours with very few breaks. In retrospect, he says he was just trying to get us there quickly so vacation could begin.
And while there is wisdom in that, this trip we chose to enjoy the ride, too. It helped that we had time on our side — and friends and family to visit along the way. We spent no more than four hours in the car in a given day which was very doable for adults and kids alike.

We stopped at parks and beaches often.
Since we were driving up the California coast, GPS in hand, we were able to stop whenever necessary to stretch legs and run off excess energy. And since we were visiting places where we'd lived before, we already knew some of the best playgrounds and beaches.
Stopping in familiar locations not only gave our kids a sense of comfort, but also gave us an opportunity to relive old memories.

We went during the off season.
We chose a hotel in Monterey that is right. on. the. beach. By timing our visit in September instead of the height of summer, we were able to avoid crowds and get better pricing. This is especially helpful since our family needs two rooms. We paid $100 per room per night. If we had gone during the peak season, we could have easily paid twice as much.
How fun to have the beach virtually to ourselves! Well, us and the jellies. Monterey Bay has a preponderance of sea nettles and moon jellies. Quite a few were washed up on shore, making for a very interesting and impromptu science lesson. We weren't really sure what they were (except for maybe jelly fish parts) but were able to clear up the mystery at the Aquarium the next day.

We focused on being kid-friendly.
Early in the planning stages, I realized that I needed to adjust my expectations of things we would do, and specifically where we would eat. Five star restaurants are for the honeymoon and parents-only weekends. I realized that fast food and take-out are splurges at home, so they could be our "splurges" on vacation.
We found a number of restaurants that were not only kid-friendly, but also easier on the pocketbook than fancier restaurants. Pizza places, hamburger joints and Chinese food restaurants typically lend themselves to feeding a family for less.
If you happen to hit Monterey anytime soon, check out Me-n-Ed's Pizza in Seaside. We fed our entire family stuffed to the gills for $30. Pretty sweet. Carl's Jr is right up the street from the Aquarium, a nice change from the more expensive tourist traps along Cannery Row.
All along the coast, there are plenty of decent fast food places about. In-N-Out Burger, Blenders in the Grass and Giovanni's Pizza are also great finds along the Central Coast. And of course, Gopher Glen is a must-stop.

We had no strict agenda.
I'm amazed at myself, Miss Julie the Cruise Director. We really didn't make any hard and fast plans. I guess we've finally learned that with kids, all plans are subject to change.
We knew we were going to visit Monterey and had made our hotel reservations, but other than that, we were free to go where wind and whimsy took us. We stayed a night at the grandparents'. Friends invited us to stay a night at there house. And then at the end of the trip when we were saddle sore and not really up for a long haul home, we made a last minute pitstop at the grandparents'.
It was quite remarkable — and relaxing — to be so spontaneous with six kids in tow.

We paid cash.
Long ago, we might take a trip and use a credit card. We might wonder how much it was going to cost. We might cringe when we saw the bill at the end of the trip. May it never be again! Those times were never really quite relaxing.
This time was amazingly different. While we didn't set a strict budget, we did pay for everything with money that was truly ours. That made a huge difference in how the vacation "felt." We'd worked hard, and now we could play hard.

We "lucked out."
Despite all my best plans, I know from experience that things won't always work out the way I hope they will. So what a pleasant surprise it was when things came together without much effort.
We made a stop at Krispy Kreme on our first day. While I was in line paying and contemplating if I should buy some milk for the kids, I remembered that I had packed a partial gallon jug of milk in the cooler because I didn't want it to spoil while we were gone. Since we were eating outside on the picnic tables, I asked for a few cups and we ate our donuts and drank some milk, too.  I saved a bundle on beverages, prevented waste, and the kids enjoyed a much better donut feast.
We really didn't know what to eat while we were in Monterey. It was new territory for us. We happened uponMe-n-Ed's Pizza after a drive around the block. It turned out that they had a $10 pizza special, enabling us a feast for a fraction of the regular cost.
On a stop at the beach, FishPapa commented that he wanted to go buy a kite. Luckily, I had remembered to pack our Park Bag and had an inkling that there just might be a kite in there. Whoo! There was. Free fun at the beach!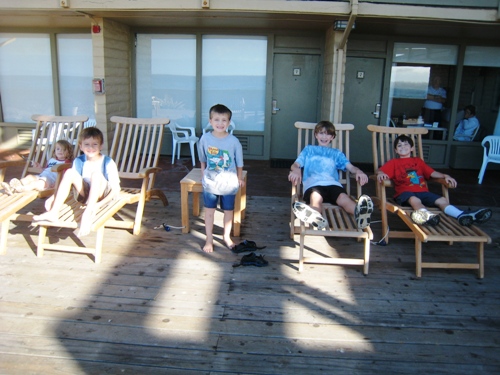 We took notes.
One way that we cope with unexpected mishaps is to try to figure out how to do it better next time. We had an awful lunch experience our first day out. Once we got loaded back in the car, we talked about what we would do differently the next time. I even wrote a list.
As we talked with friends we found out more helpful information about improving future travels. For instance, there's a website called Six Suitcase Travel that helps large families find affordable hotel accommodations. If you have more than three children, many hotels require that you reserve two rooms, making your "family vacation" feel splintered.
We also asked our kids what they liked, what they would like to do again, and what they would rather not include next time around. It was great to get their feedback — and sometimes comical to hear what was special to them.
God was so very gracious to us in giving us safe and happy travels. It makes us look forward even more so to the next chance to go on vacation. It was a beautiful week of making memories with our kids.
What do YOU do to make family travel pleasant?