Our European Vacation: The Limousin Region and Oradour-sur-Glane
As an Amazon Associate I earn from qualifying purchases. For more details, please see our disclosure policy.
This fall we spent a month abroad where we visited London, Paris, and a handful of cities in Western France. We explored, rested, and learned a ton about ourselves and the world. This is the sixth installment of our European adventure. If you missed it, go to the beginning here.

When we left off on the European Vacation saga, the rain was chasing us away from Leonardo da Vinci's last home, the Chateau de Clos Luce. Recently our family watched the film Ever After which is set in the Loire and features da Vinci. It made me a little sad that we didn't spend more time in the Loire.
But, when you spend a month traveling the entire length of a country and you're pretty worn out at the start of it (from life in general), you have to move quickly. No dawdling.
Our next stop was Poitiers where I had spent about six weeks as a college student when I first arrived in France. In the rain and the dark, it was hard to recognize anything.
We stayed at the Hotel Come Inn (yes, really) which is located near the main roads for easy access. FishPapa and I dodged the raindrops to checked in at the hotel. By this time, my French was warming up a bit; the clerk even said my French was good. Amen. Hallelujah.
Once we got our room keys and checked that everything was in order: two rooms: one to suit five people (the guys) and one to suit three people (the girls), we went in search of dinner.
FishPapa wanted to redeem our disastrous pizza experience in Le Mans. The hotel clerk gave us directions to an Italian place not too far away. Raining. Wrong turns. My fault. Nun said.
It had been such a hard day for me. For some reason I couldn't even get the door to open to Baila Pizza when we finally found it. I even started to walk away, though we could see the dining room full of people. Yikes!
The pizza lady welcomed us in and we were fed. The day of mistakes was washed away in a glass of red wine, HUGE pizzas, and candy for the kids. Our day was redeemed.
The next day put a lot of things into perspective.
Oradour-sur-Glane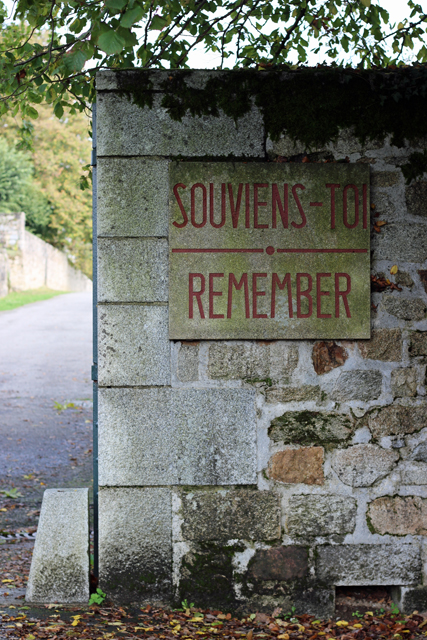 I am not sure how FishPapa heard about Oradour-sur-Glane; I had never heard this ghost village mentioned during my year in France, even though I lived in Poitiers not too far away.
Oradour-sur-Glane was a small village whose inhabitants — 642 men, women, and children — were massacred by the Nazis just days after D-Day. What is left of the village stands in memorium of those who were murdered. It is very moving and sobering to walk through the ruins.
If you don't know the story, I highly recommend your reading it. Be prepared for horrific things, though.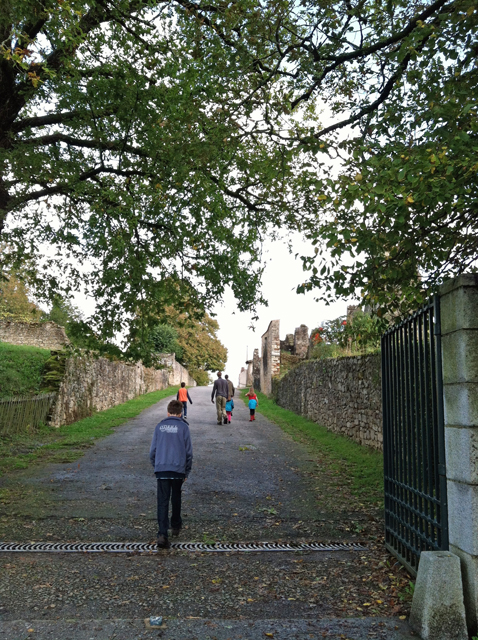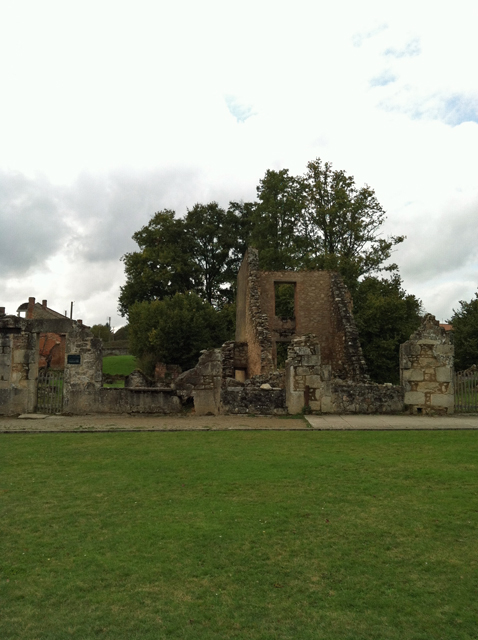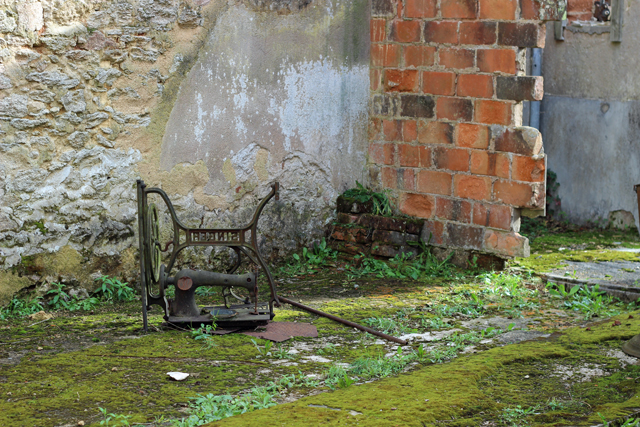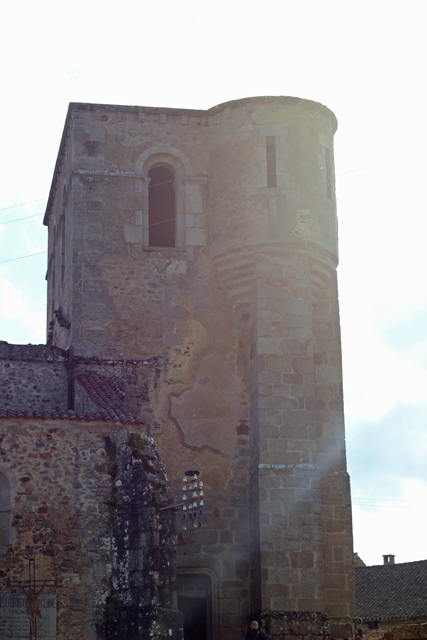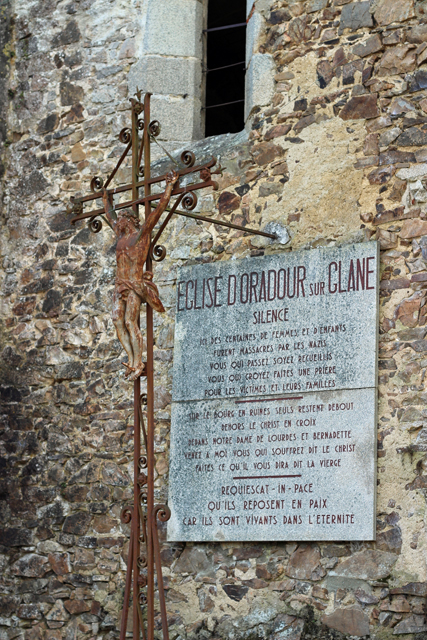 Near the ruins stands the new Oradour-sur-Glane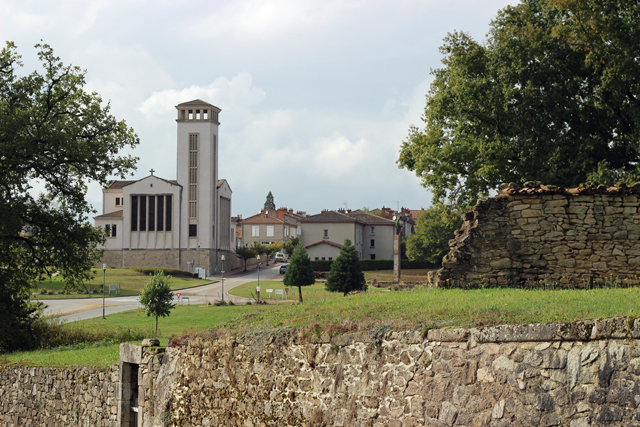 as well as a Memorial Center.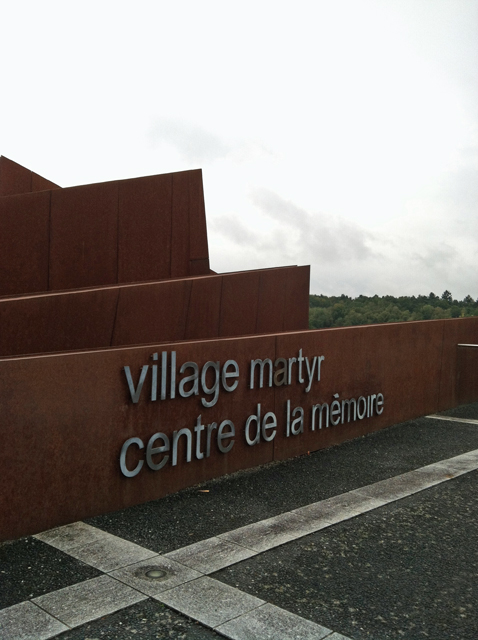 I was a French major. I lived a year in France. Yet, I knew nothing of this village and the atrocities its people suffered before my husband stumbled on it on a travel site.
Before our trip, I kinda thought the French were cowards for giving in "so easily" to the Germans. I thought that the Germans were a cowardly people for allowing Hitler to do what he did. I learned different.
In the visitor's center there are extensive displays to explain the history of the village, of Nazism, of the French Resistance, and of the German Resistance. German Resistance? Yes, there were German people who fought back. I didn't know that.
Despite my master's degree, I was pretty clueless about the horrors of WW2. I still am, to some extent. But, my eyes got open on our visit to Oradour. I learned a little more of the atrocities that Hitler brought to France, a little more of the evil that threatened to take over our world.
Our road trip through France started on the shores of D-Day became a little more poignant at Oradour-sur-Glane to see in what all that fighting was for.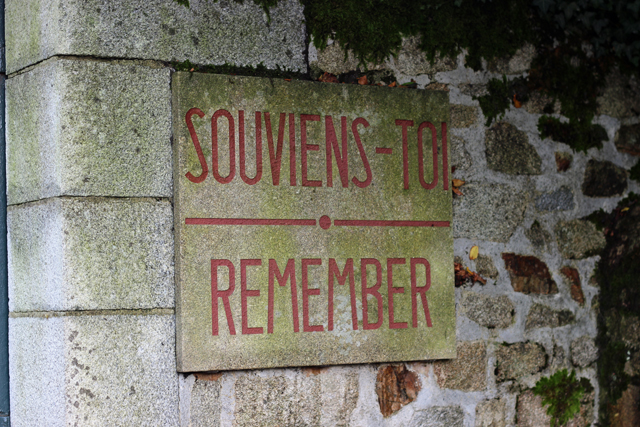 A note about the visitor's center: Unless your whole party speaks and reads French, you will want to spring for the English audio guides. My children 10 and over were able to pay good attention to the exhibits, though it was a little sketchy for the younger kids.
The information is pretty graphic — how could it not be? — but we felt that it was important for our family to learn about this important event in history.