Homeschool Planning: Putting Paperwork and Plans Together
As an Amazon Associate I earn from qualifying purchases. For more details, please see our disclosure policy.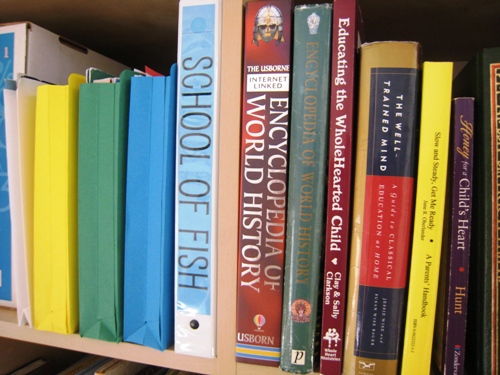 One of the things that I do to get our School-At-Home off to a good start is to get my records and paperwork in order.
At the beginning of each school year, I set up my record-keeping binder. I have done this for years and find that it is keeps me organized as well as provides an excellent record of what we've accomplished during the year. I save the binders from year to year and can refer back to them when I am teaching the same curriculum to a different child.
What I do has worked within the guidelines set forth by the states we have lived in. I recommend consulting with Home School Legal Defense Association to see exactly what is required by your state for record keeping.
Creating a Homeschool Records Binder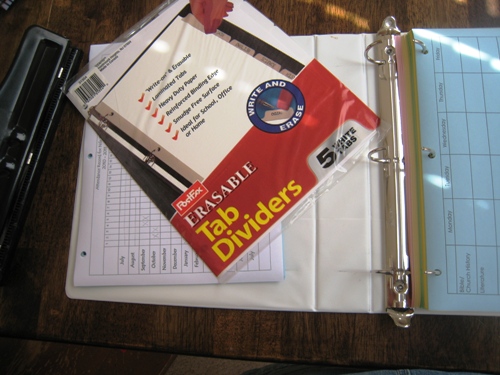 In my "School of Fish" Binder, I have five dividers:
Calendar
This is a one-page document that lists planned holidays and vacations as well as our planned start and end dates. I make this up myself, using Publisher software.
You can also buy my Organizing Life as MOM: Homeschool Bundle that includes all the forms mentioned in this post as well as a few extras.
Curriculum
In my lesson planning, I create a sheet for each kid that outlines his course of study, what he'll be working on for each subject, as well as what books we'll be using. I print these out and they go in my binder. I also include in this section, the photocopied table of contents of each textbook in order to document in more detail what we're studying.
I've included lots of forms for this in the homeschool bundle, but you can do your own if you like.
Attendance
Years ago, I created an Attendance form to help me track our days of school. I print a form for each kid at the start of the year and keep track of our school days this way. Again, check what is required by the state that you live in. Some states require that you document differently.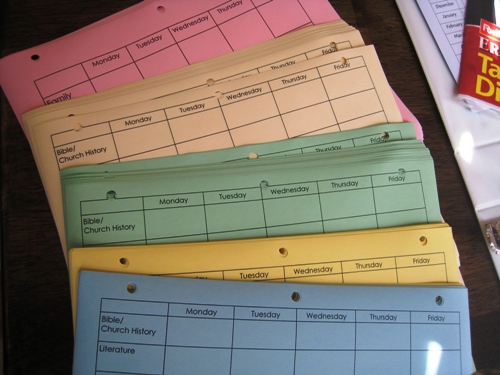 Lesson Plans
I have written lesson plans this way for 8 years now, based on something a friend did long ago. It's nothing new, I've seen charts like this from a number of different curriculum publishers.
I have different forms for the different levels I teach: Preschool To Do List, Grammar School, Middle School. My preschooler doesn't need a space for "Logic." Likewise, my 8th grader is above "Read Alouds," at least for his schooling.
There are blank, fillable forms for this in my homeschool printable ebook if you don't want to make your own or use the prelabeled forms linked above.
I print each child's lesson plans on a different color paper. This way, they don't get lost in the shuffle of paper and projects we call the school table. I weekly place each child's lesson plans on a separate clipboard. We consult it together, talk about it, and the child gets to check off what he's done. It's a great way to combine lesson planning and student accountability.
Testing and Assessments
I record their test scores and assessments in my binder as well as include any standardized test scores.
The Organizing Life as MOM Homeschool Pack contains customizable planning pages similar to those described here as well as a host of other pages designed to help you keep your homeschool paperwork in order.
Outside the Master Binder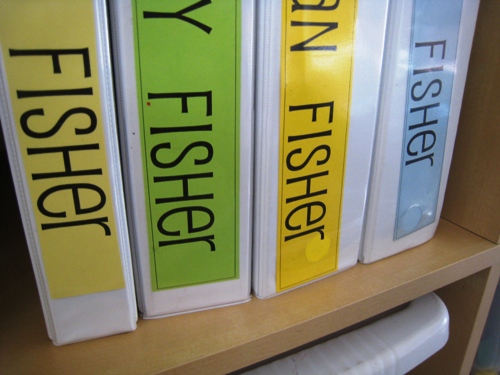 Individual Notebooks
Each of my kids keeps a notebook of his papers, dividing according to subject, as well as a list of all the books each kid reads – for business or pleasure – throughout the year. And, yes, their binders are all color-coded, too. Anything to keep me sane! This year we are going to keep separate science notebooks, black ones, decorated with glow-in-the-dark stars since we're studying Astronomy.
Portfolio Files
Over time, we pull different pieces of each kid's work to put in a portfolio to keep as a record of his growth over the year.
I've found that the easiest and least expensive way to do this is to use colored accordion file pockets. They aren't cheap, but I pick them up on sale during back to school time. I assign each kid a different color and his special papers and those that demonstrate growth, get placed in there. All tests and assessments go in the portfolio file as well. During years that I'm really with-it, we also include photographs. This year, I'm going to have the kids fill out "Who Am I?" questionnaires, describing their interests and goals for the year. We'll do a different questionnaire at the end of the year and see how we've grown.
What do you do to keep school records and papers in order?
You can purchase the Homeschool add-on to my ebook Organizing Life as MOM for all the forms mentioned here as well as some extras.

New versions for the upcoming school year are available in July of each year.