Grammar Picks for Homeschooling
As an Amazon Associate I earn from qualifying purchases. For more details, please see our disclosure policy.
Grammar matters. The study of language usage helps us communicate effectively.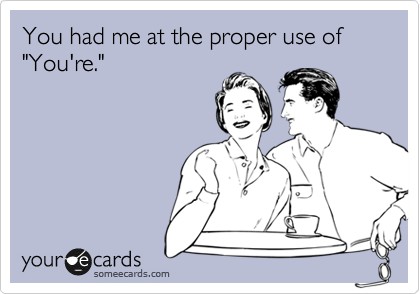 This summer I'm presenting a series of posts about homeschooling and afterschooling (read: enrichment) resources that are parent-friendly and designed to boost your child's education. If you've missed previous posts, head here for the "anchor" post and all the links.
This week, we're talking grammar. Grammar? Why do we need grammar?
Because we do?
Because it's what we've always done?
Because Abraham Lincoln knew a gerund from a present participle?
Because I said so?
Trust me when I say that these reasons won't fly well with your children — or your gut. It's downright silly to require your kids to learn something that has no purpose in this world. So, if you don't know why you're teaching something, you better find out.
Unfortunately, that's what people think about grammar; that it serves no purpose in this world. In my teaching credential/Master's program at UCSB almost 20 years ago, my professors claimed that the study of grammar was obsolete. The program as a whole really did not encourage the teaching of grammar at all, neither did the school where I later taught. It was relegated to the ranks of old school teachers who should be retired already, complete with eye rolling by those more hip educators.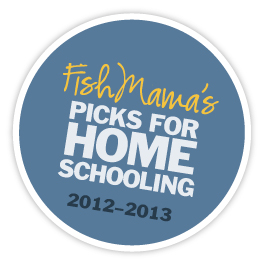 Grammar matters.
In my gut I've known that grammar was a good thing. As a French major, grammar mattered tremendously in the acquisition of a new language. As a French major, I found that grammar mattered tremendously in my acquisition of a new language. So did phonics.
The parts of speech are, in fact, the building blocks of languages, English, French, German, etc. They basically tell you the job that a certain kind of word does in the sentence. And to communicate effect we need to put words to work in the way they function best.
The argument my professors used for dissing grammar was that we intuitively know when to use which words. They claimed that with abundant reading a child would develop an ear for the right way for things to sound, that we don't need to formally teach it.
However, in this global society that we live in with multiple languages being spoken, written, and read in one square block, I think this is less likely to happen for the masses, let alone the kids in our own homes.
I help my three year old learn to say "I can do it," instead of "Me do it."
In order to acquire fluency in a language — whether foreign or our own — an understanding of the jobs that words do is helpful. Not only does this help us use the words correctly, but it also helps us correct our own errors in writing and speaking.
Grammar helps us learn our own language better as well as acquire fluency in foreign languages.
Grammar resources for the homeschool
Over the years we've used three different grammar programs. Here's a brief review of each:

The Easy Grammar systems – We started out using Easy Grammar when my oldest was in 1st or second grade. At that time, I had four or five kids, mostly preschool and below, so let's just say that I was in "survival mode".
While I knew grammar was an important subject to teach, the baby daze was too overwhelming for me to sweat it too much. Easy Grammar, particularly the pink book was, indeed, an easy way to talk about the basics of language usage. My older boys did a page or two a day up into the middle grades at which point I realized that they didn't completely "get it" when it came to articulating the jobs words did.
It's about this time that the baby haze cleared and we switched what we were doing.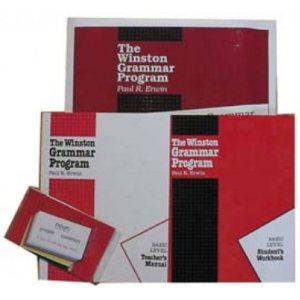 The older boys switched into Winston Grammar, a very hands-on program in that flashcards are used to teach diagramming and the parts of speech. I liked this aspect of the program since it was very visual and kinesthetic.
We plugged along for both the Basic and Advanced Programs while I used a different program with my younger kids. By using two different programs at the same time, I had a great experience of comparison. I found that the other program was giving ME an excellent refresher course in grammar while I was almost as confused as my bigger boys with Winston Grammar.
While leads me to my best pick for Grammar:
I have now used First Language Lessons, levels 1 through 3 with my younger boys with great success. It is repetitive, but that is good. I feel like I'm really grasping a lot of things that I didn't previously understand about grammar — and my schooling included weekly grammar instruction for all 12 grades!
The program uses songs, poems, and stories to teach not only grammar, but also basic language and writing skills. I wish we had started with the first level book with all my boys, but better late than never!
And since Peace Hill Press wasn't making this book when I first started, now a few years later, I know they've improved on the original editions, so I still win.
The plan for next year
Next year I'll be teaching grammar formally with five of my six kids. Now that I understand more of my purposes for doing grammar, I feel like I have a better direction for teaching the kids. Obviously, my two older boys have been products of scientific experiment, so they aren't getting the benefits as much as the younger kids.
Isn't that how it is in parenting? They get some of the best of me, and some not.
So, I've decided that their grammar this year will be simply review and filling in the gaps. I'm using texts that are designed for lower level grades as a way of doing this. Plus, I'm combining two kids into one program which should make my work load a little easier.
Here's our grammar plan for next year:
Grammar doesn't have to have a bad rap. It's amazing to me that it has in the past. But, words are so important. And when we use them effectively, we communicate so much more.
And I want my kids to be good communicators.
What's YOUR take on grammar instruction?
Disclosure: Peace Hill Press has provided me with a few complimentary grammar resources to use next year. However, I already knew and loved the program; I would have bought these anyway. All opinions are my own. This post does include Amazon affiliate links. If you make a purchase through those links, I am paid a small amount in way of advertising fees.