10 Tools to Organize Your Homeschool
As an Amazon Associate I earn from qualifying purchases. For more details, please see our disclosure policy.
Make learning easier and more peaceful when you organize your homeschool. Here are 10 tools to help your homeschool organization so you can enjoy your homeschool more.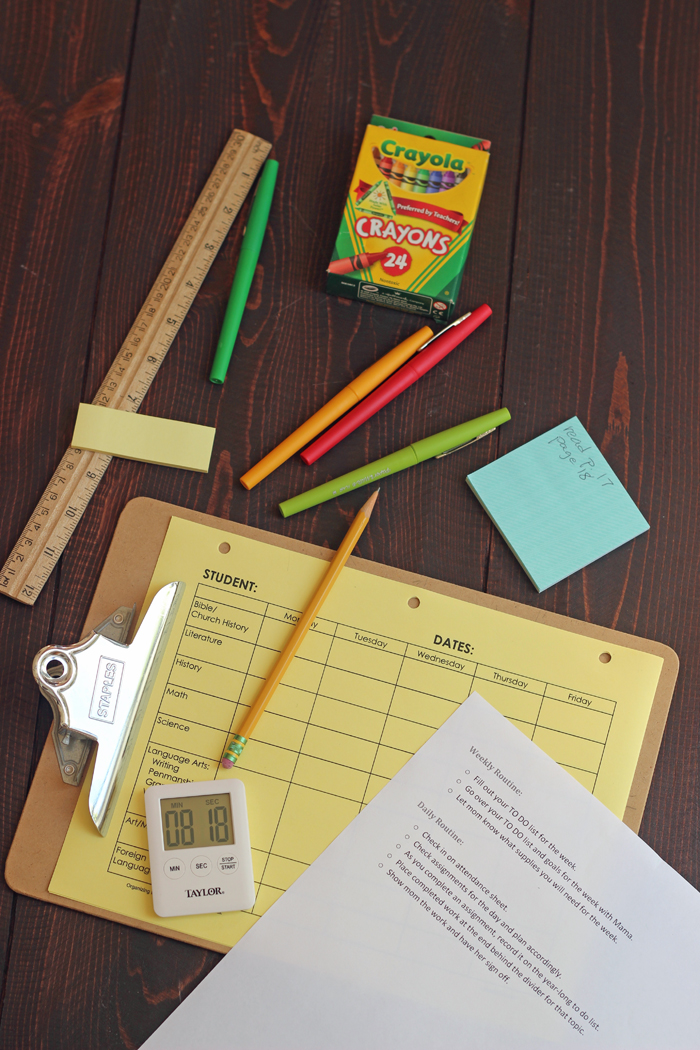 So you're homeschooling…
Whether this is something you've been wanting to do for some time or a choice you made due to COVID-19, welcome to the party! I'm officially in the throes of my 19th year of homeschooling with about 6 more to go. It has been one of my best life decisions ever.
I've learned a lot over the years.
One kid has graduated college, two are currently in college, three are still on my watch. So far, the experiment is working!
One of the things that I've gleaned in this home education gig, is that organization is super duper important. Since we live, eat, sleep, and school at our home, there is a myriad of tasks — and stuff – to juggle.
If you don't manage them well, there will be utter chaos. No thank you!
I've found that you have not only to organize your homeschool, but also to do it in a way that suits your family's personality and practice. There's no right method of homeschool organization, but boy, you sure do need to do it!
If you're wondering if your homeschool could run more efficiently, today's the day to find out. Here are the things that help us save money, time, and energy, and make homeschooling more fun: ten tools to organize your homeschool:
10 Tools to Organize Your Homeschool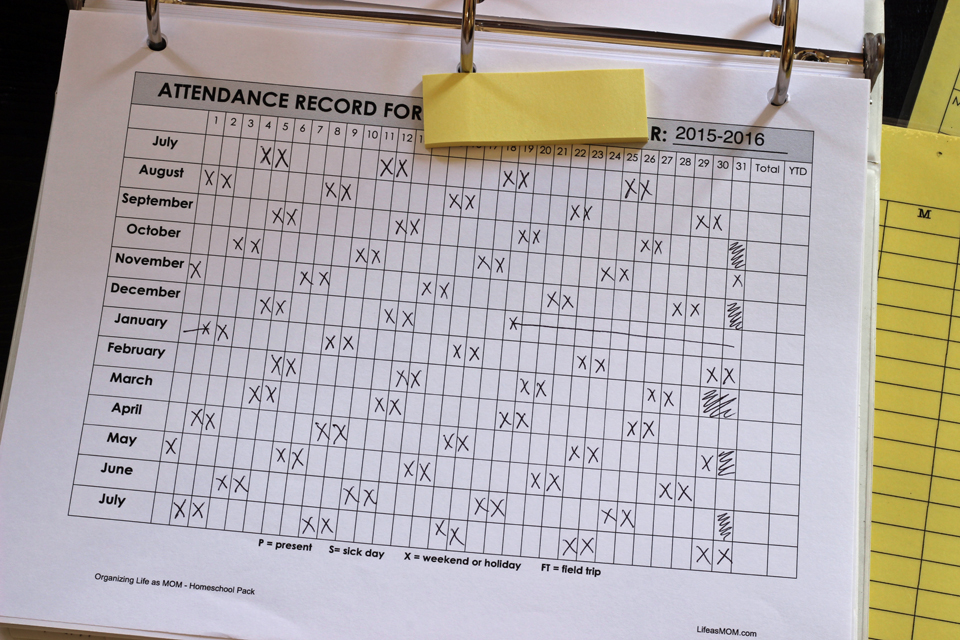 1. An Academic Calendar
One of the beauties of homeschooling, is that in most cases, state law-depending, you get to create your own academic calendar. Not only does this allow you to be flexible with vacations and crazy family seasons, but it's an ideal tool to organize your homeschool.
Every summer I create a calendar for the year, matching it up with my husband's work calendar. It's better if I plan for school holidays when he has time off work. Family birthdays are school holidays so I mark those off, too.
Having a calendar ready helps me plan lessons and map our way through the curriculum.
If you're coordinating online coursework, it's important to know when they start and end and have weeks off, so your calendar is incredibly important.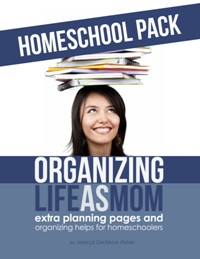 You can buy the Organizing Life as Mom homeschool pack which includes a number of homeschooling organizers and calendars for the year, including the one pictured above.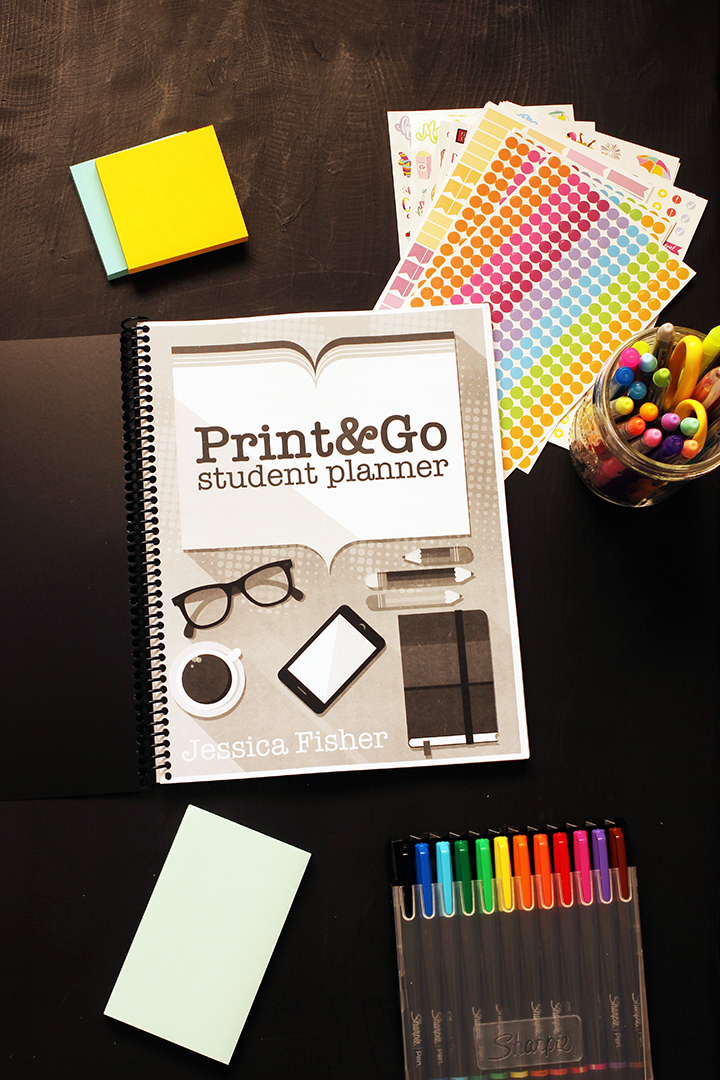 2. Assignment Sheets or Student Planners
Assignment sheets can be super helpful to organize your homeschool because you have to create lesson plans anyway, and your kids will benefit from knowing what's on the docket for the day.
For years I relied on weekly assignment sheets to map out my kids' work for the upcoming week. I found these to be super duper helpful, particularly for kids who need to check off the boxes every day.
(My only problem was that I could only plan one week at a time because I never knew how far we would get in a given week. If you've been homeschooling longer than a week, you know that things don't go according to plan.)
In recent years, I've transitioned my kids to their own Student Planners. In this way, I'm teaching them to track their assignments themselves, especially when they have teachers besides me which is the case for our kids in middle and high school.
The Student Planner works best starting in the upper grammar school years with some weekly input from me.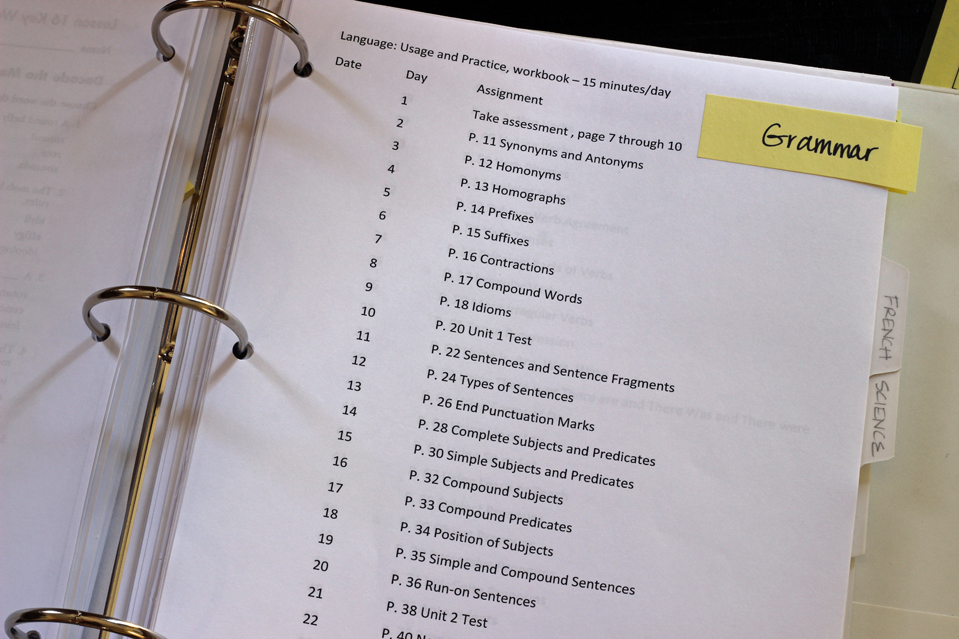 3. Assignment Binders
Prior to the student planners, we used a different system: The Homeschool Assignment Binder, which helds each child's assignments for the whole school year.
I spent a week of my summer writing out every child's assignments for every subject for the whole year. It was time well spent when I was managing many kids in coursework I was teaching myself.
We used the assignment binders to chart our course through the curriculum. If we skipped history one week, it was no big deal, we picked up where we left off, no erasing of weekly assignments involved or shifting of dates involved.
This was the best way that I could plan ahead without having to undo my own work.
4. Color Coding
If you've got more than one child, I highly recommend assigning each child a color to organize your homeschool and all the stuff!
Assign each kid a color or let him or her choose if they can do it without fighting. Buy coordinating folders, binders, copy paper, even post-its in these colors. You will know at a glance whose binder is whose instead of having to flip through and decipher handwriting.
I don't know about you, but my homeschoolers don't always write their names on their papers. 😉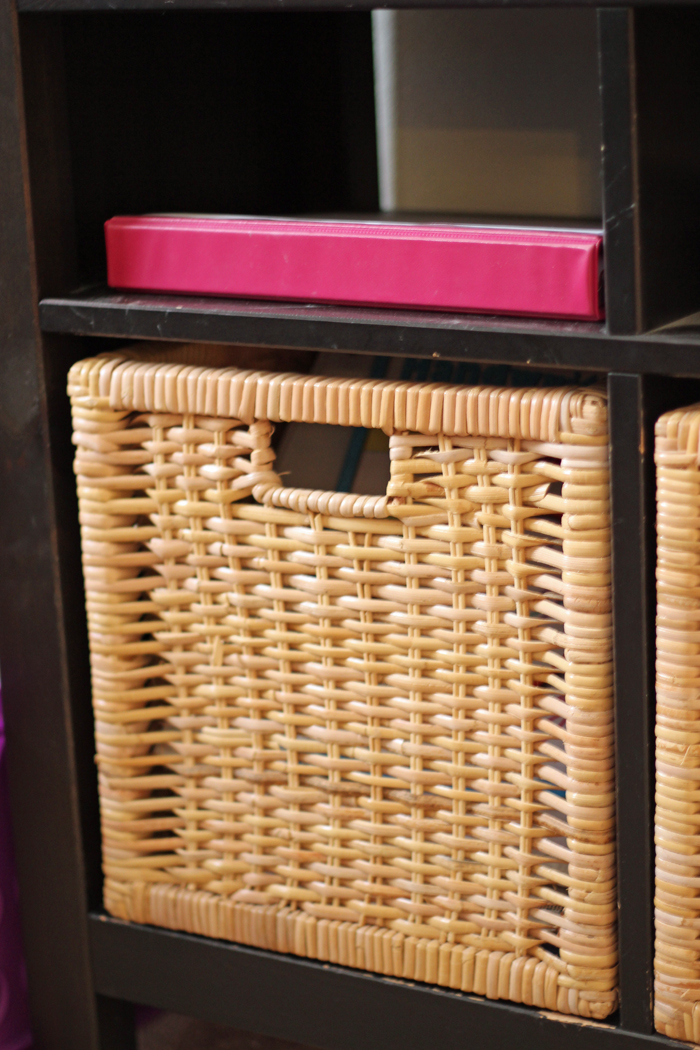 5. Dedicated Cubbies or Shelves
A place for everything and everything in its place, right?
Organize your homeschool by making sure that every child knows where to find (and replace) his or her books and assignments. You will go crazy if you don't make sure that they have places to put their school stuff.
We've always dedicated the formal dining room of our home into a schoolroom. This works for us since we don't mind eating in the kitchen and any guests who come get to see our real life schoolroom when we overflow to that table for meals.
We homeschool more than we entertain, you know?
Giving each child a cubby, or in the case of the teens, a dedicated shelf, makes it easy for them to find their books as well as know where to put them away. If it's possible, give each his own desk, something we've only been able to accomplish now in year 19.
One caveat: It really helps if you've got clean kids' bedrooms. We've lost (and repurchased!) many a grammar/vocabulary/spelling book when a certain child did assignments in his room and then lost the book.
Organize your homeschool with dedicated storage for each child so you don't have to rebuy books!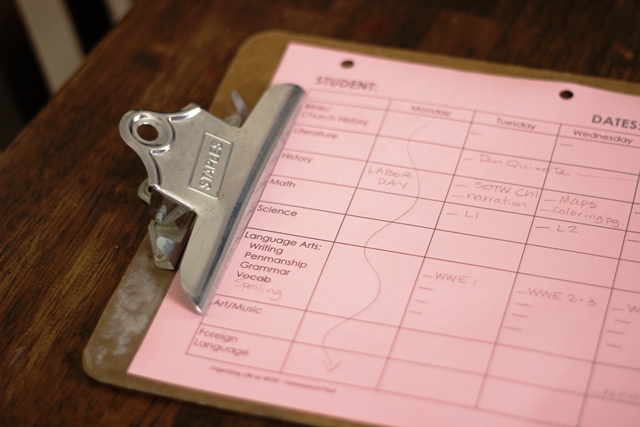 6. Clipboards
Clipboards are some of my favorite school supplies for homeschool as they are ideal, portable work spaces that hold papers together. Get enough for each child as well as yourself so that you each have a mobile work station and storage space.
You want your kids to be able to do school anywhere, including the hammock outside, so make it easy to do so.
If you can color code them, so much the better!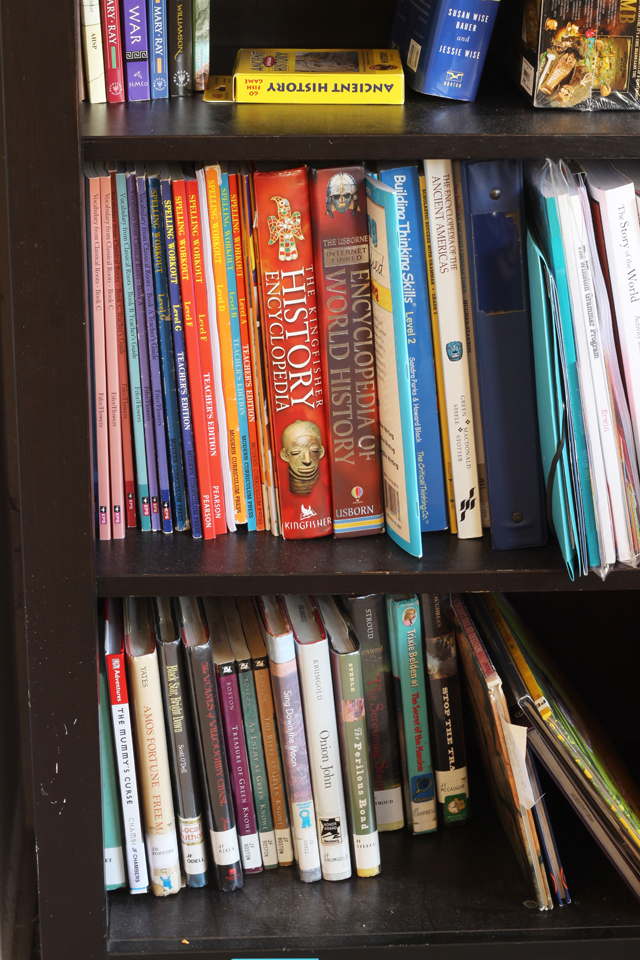 7. The Library Shelf or Box
The library is a homeschooler's best friend. There's a wealth of knowledge to access within its walls for FREE — if you can avoid the ever pesky late fees.
Organize your homeschool resources by making sure your library check-outs don't get mixed up. Placing them on a designated shelf or in a box/tote bag can make library returns so much easier!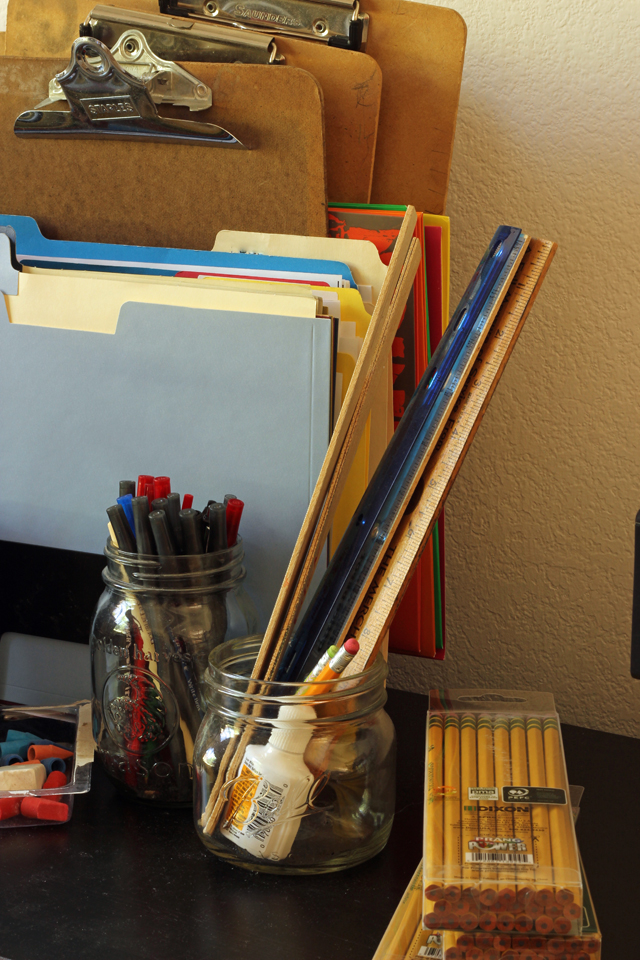 8. School Records/Portfolios/Cumulative Files
Have a space for your longterm school records. Depending on what your state requires, you may need to save portfolios or cumulative files for longer than the school year. Be sure to have a designated space for this.
I keep a yearly expanding file for each kid in the school room. At the end of the year these get boxed up and stored for longterm.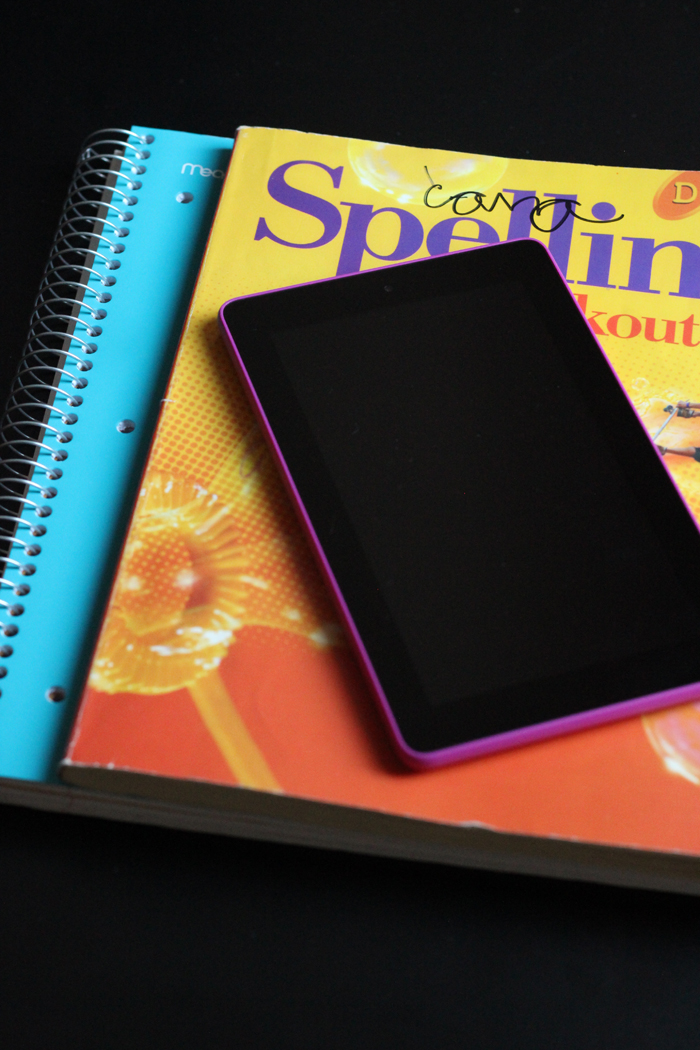 9. Kindles, tablet, or other device
In this day and age, it's pretty hard to do school without an electronic device of some kind.
Years ago, I bought each of the kids a Kindle for the first day of school. They were incredibly affordable — about $33 on Prime Day — and easy enough to load with learning apps and a way for the kids to turn in homework to me digitally.
We used these for all kinds of things, including book storage, to-do lists, timers, music, movies and documentaries, and life skills. You can read more about how we use Kindles for homeschool here.
This past summer we retooled our school room. In addition to the desks for the three kids still on my watch, we bought each one a low-end laptop. With all of them doing online courses this year, it was imperative in order to make sure each student had access to his school work throughout the course of the day.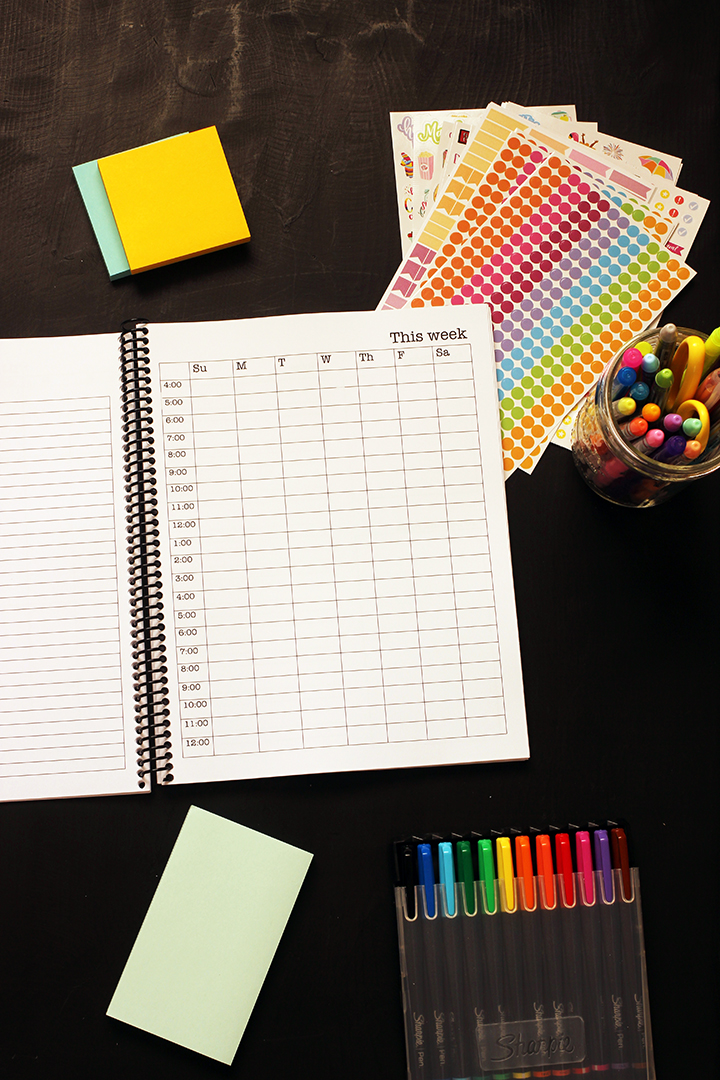 10. SOPs
A standard operating procedure or SOP is an important tool to organize your homeschool. It involves making sure your kids KNOW all the systems you've put in place. Do they know what to do with completed work? Do they know where to put library books when they're done reading? Do they know what the next assignment is?
By making these procedures clear to your kids — and possibly repeating them 5,436,987 times — you stand a chance of getting through the day without tearing out your hair.
Your SOPs should also include procedures for YOU.
Do you have a system for remembering when library books are due? When to file papers for the cumulative files? When you're going to tackle lesson planning.
Develop your own SOPs and write them down so that you don't have to think about what to do next. There's enough to think about already!
So, there's my top ten. I'd love to hear what you use to organize your homeschool in the comments. Let's chat!
How do YOU organize your homeschool?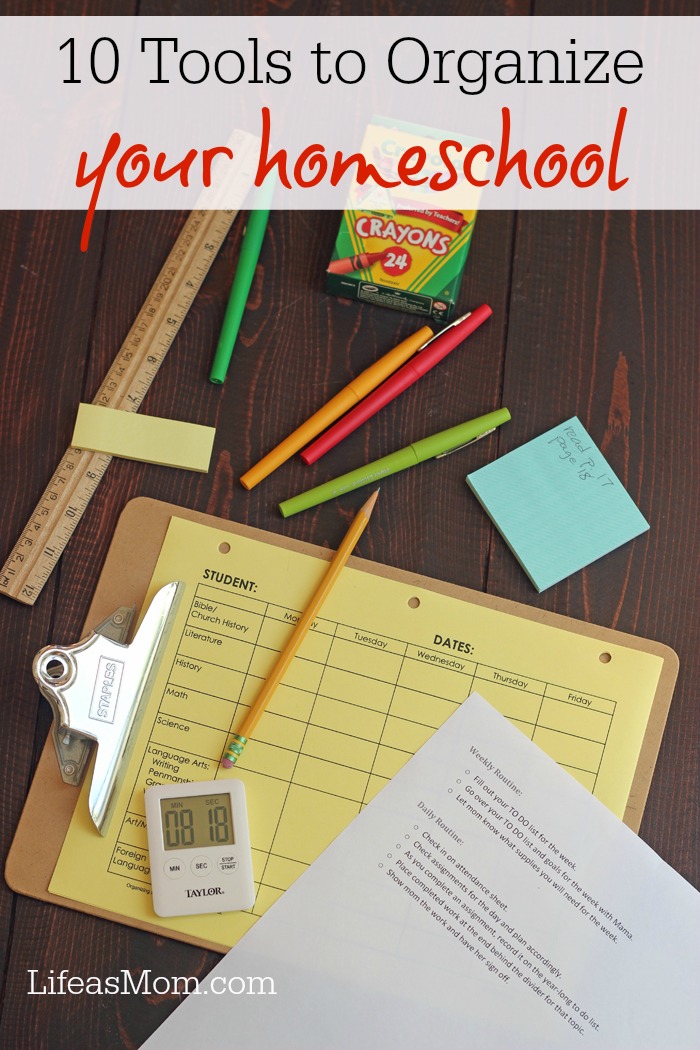 Originally published October 24, 2015, this post has been updated for content and clarity.