5 Crazy Things I Do to Keep Things Together
As an Amazon Associate I earn from qualifying purchases. For more details, please see our disclosure policy.
Heads up: This post does include Amazon affiliate links. If you make a purchase through those links, I am paid a small amount in way of advertising fees.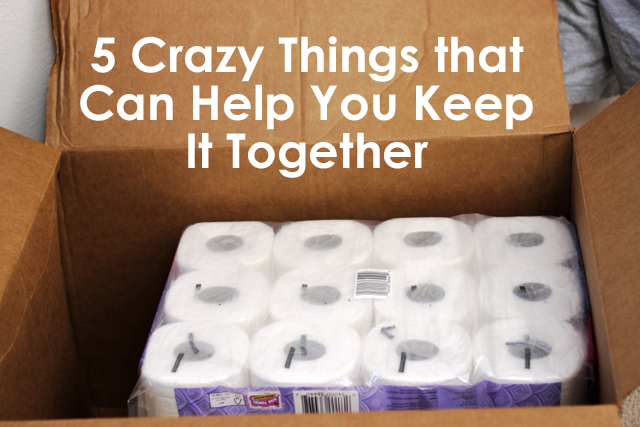 Life can be crazy. The unexpected is sure to raise its head and knock your best plans off course. "Simple living" is a good thing to strive for, but sometimes it's elusive.
Here are five kinda crazy things — at least in the world's eyes — that I do to keep things a little more sane at my house. Please keep in mind that in NO WAY do I think these are must-do's for anyone else. Like I said, I know that these are kinda crazy for the times we live in. But, they help me and my family.
1. I have my toilet paper delivered.
Oh, yes, yes, I do. About a year ago, I realized that we were constantly running out of toilet paper. I would cringe each time someone would tell me we were out. Running off to the store — when there were no sales to be had — became a regular thing. And no, I didn't/don't really have the brain power to follow the toilet paper sales.
Instead, I started ordering it on Amazon. Using Subscribe and Save, I have a regular delivery programmed. I watch for sales on Amazon, not hard to do when Kosher on a Budget regularly reports the toilet paper deals on her Facebook page.
(No, we don't keep kosher; we're not even Jewish, but I've found some great deals through Mara's site.)
I've found such freedom in having the toilet paper delivered. I can't tell you why. It's pretty silly, really. But, I can totally ignore the paper goods aisle at the store and it is so freeing!
Plus, my people are all prepared when they need to do their business.
2. I don't sort laundry.
A few years ago I decided I wasn't going to sort the colored clothes from the whites. No longer do I need to wonder if this yellow shirt counts as white or colored, I just toss it all together. So far, so good. (I wash linens and towels separately and in hot water.)
Then to take it one step further, I put the kids in charge of their own laundry. So, I don't have to sort the different piles either. Quite freeing and saves me so much time.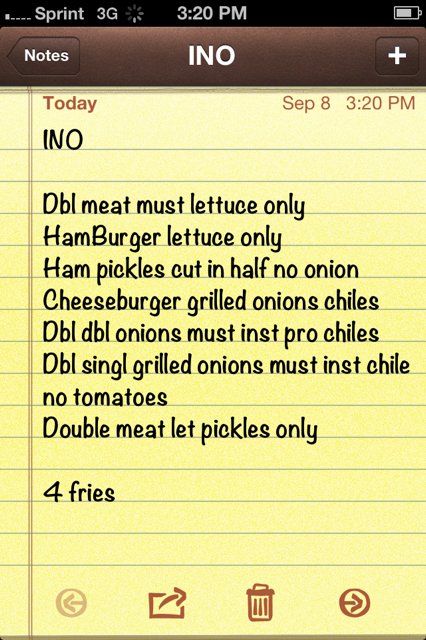 3. I am not afraid of fast food.
Well, sort of. I am picky about my fast food, limiting it to places like In-n-Out Burger, Rubios, or Chipotle. While I would love to feed my family healthy, home-cooked meals every night, that's just not the reality. I have to be able to outsource. And In-n-Out Burger, the closest to our house, makes a pretty mean burger.
I even have everyone's order programmed into my phone. We're so complicated, that this helps me in more ways than one.
4. I don't watch TV.
I grew up as a TV junkie. Today I've got too much to do. We had cable for awhile, mainly for sports, but now that's gone, too. I can't imagine how much time I would waste if I were watching TV. I know that for me it's an all or nothing proposition — and I'm better off without Downton Abbey or American Idol.
Really, I am.
We do have Amazon Prime so we can watch movies and programs after the fact. This summer we've really enjoyed Foyle's War which we treat like a movie. We're not hooked to a time and place when we have to watch. Nor is flipping on the TV a habit. (And they just took it off Prime Instant Video, so now we're even less likely to watch it.
5. I don't wear make-up.
Last year I had to splurge for some make-up in order to do a couple TV appearances. I hated every minute of wearing it on my face and washed it off as soon as possible.
Do I have flawless skin? No. Do I look as young as I might if I wore make-up? No. Do folks see my unsightly pregnancy-mask-that-never-went-away? Yes.
But, do I have to wash my face every night? Or spend time in the morning putting my face on? No. And for me, this totally works.
Like I said, I don't think these are things that everyone else should do — or not do, as the case may be. Instead, I offer them as examples of things that you can tweak to make life a little easier for you. Find your own groove, and make it work for you and your family.
What crazy thing do YOU do?