Hyatt Place is Family Friendly
As an Amazon Associate I earn from qualifying purchases. For more details, please see our disclosure policy.
Looking for summertime accommodations on the road? Give Hyatt Place a try.
Disclosure: I received a complimentary stay at Hyatt Place Ontario/Rancho Cucamonga. All opinions are mine.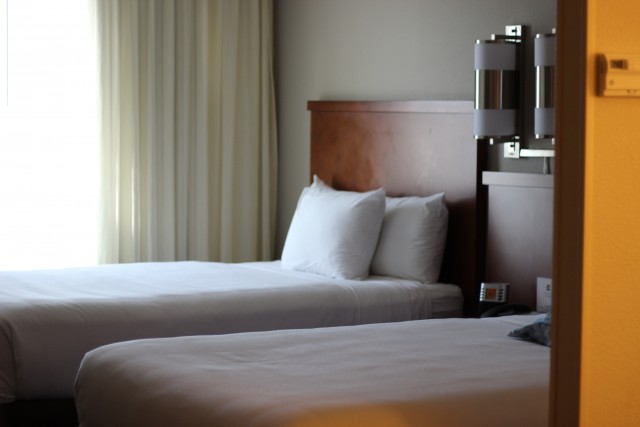 This past weekend half our family ventured north to the deserty city of Ontario for a homeschool convention. FishPapa and I took our two teenagers who are 13 and 17.
As son #3 just turned 12, it's been about 12 years since the four of us did something together just us four. That was kinda crazy to think about. While we missed the littles, it was a great time to reconnect with the biguns. They are both taller than me which means they are practically men!
FishBoy13 commented at one point, "It is kinda nice not to have to spend time getting car seats latched and all that." It was hilarious then the next day when his elder brother had a problem with his seat belt and I had to get out of the car and go around and fix it. Ha!
Since we typically rent a condo when we travel as a family, I was curious to see how a hotel would work for us. Connecting rooms can be tricky to get but this place is set up to make that work well. The folks at Hyatt Place graciously offered us two connecting rooms at the Ontario/Rancho Cucamonga location in order to check out their accommodations.
It was really lovely — and such a nice respite after a long day in a convention center.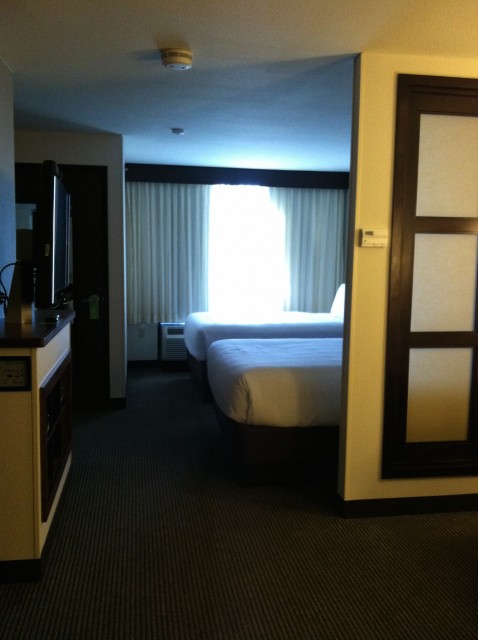 Different hotels have varying policies on how many people fit in a room. Since there were two beds and a pull-out couch, you could easily do one room for a family of four or five. Two rooms would be needed to fit our ginormous family. With a separate sitting area, large bathroom, wet bar/kitchen area, and a desk, this would easily be a great stop for any family.
There's a complimentary breakfast in the morning, complete with hot and cold items, free wifi throughout, a pool, and cool TVs in every room.
We arrived on the night of the Stanley Cup Finals. When I asked the clerk at the front desk about restaurant recommendations, he wisely diverted us from any place with a bar and/or TVs. Ontario is home to one of the LA Kings' affiliates, the Ontario Reign. Clearly this town knows what's up!
FishBoy13 and I ran out to Chipotle and brought it back to the room to eat and watch the game. You knew we were Kings fans….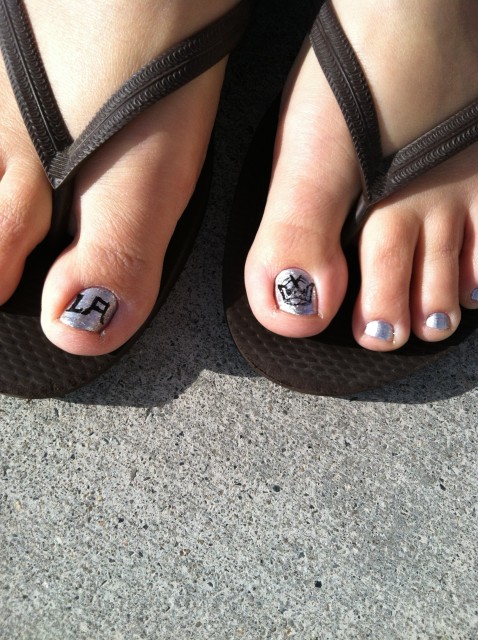 My sister gave me a pedi before we left the house!
The Hyatt Place in Ontario is conveniently located near the Ontario Mills Shopping Mall which has more restaurants and shops than you can imagine. It was really nice to be able to zip out for something quickly and easily. While the Convention Center was about five miles away, the closer hotels really didn't have much in the way of entertainment or food. Boring!
The wet bar was big enough that next time I could easily fill the freezer with homemade food and have space to store the rest on the counters. Definitely doing that next time as too much restaurant is not a good thing!
Being able to pack food as well as have a free breakfast is certainly a great alternative to the whole condo/kitchen thing.
Plus, I found out that the Hyatt Place has a free shuttle for anywhere within five miles of the hotel. This means that we will seriously consider staying here again for next year's Great Homeschool Convention and avoid the parking fees. The price is right, about $100 to $125/room. With the free parking and free Wifi, I find that highly competitive with other hotel chains we've tried.
(Currently, AAA members get 10% off the nightly rate. Get details here.)
The beds were super comfy and the entire place was super clean. The staff was kind and courteous. It was a great stay.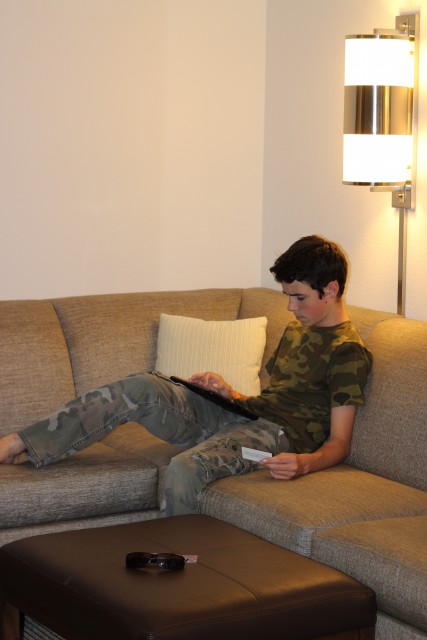 We will definitely be filing Hyatt Place in our repertoire of places that can handle a family such as ours. My only regret is that we didn't have more time to just veg and relax since the place was super clean, comfortable, and inviting.
Next year maybe I'll go up early before the guys and have a little mom's retreat. Yes, ma'am.
Disclosure: I received a complimentary stay at Hyatt Place Ontario/Rancho Cucamonga. All opinions are mine.