Things I Know About Our Homeschool
As an Amazon Associate I earn from qualifying purchases. For more details, please see our disclosure policy.
Curious about homeschooling? This is where I am today, 42-year old me with six kids, a writing career, and a homeschool.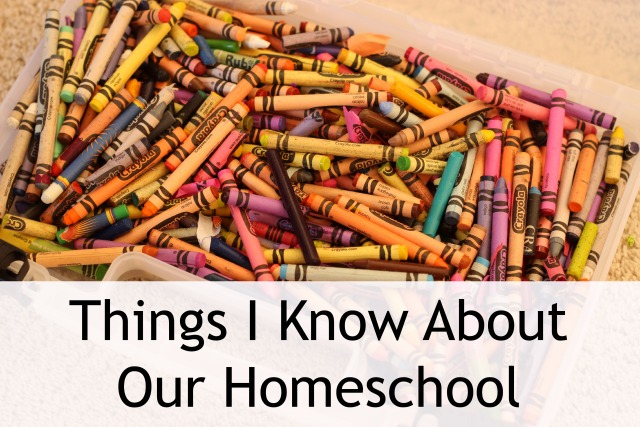 A random poll on Facebook tells me that you all are pretty split when it comes to school choice. As every poll I've ever taken over the last six years has shown, this one showed a healthy mix of homeschooling, private schooling, and public schooling. That makes me happy.
I have walked in crowds that said homeschoolers were total nutjobs and in crowds that said public school was of the devil. Neither opinion has ever sat right with me. I don't believe the Bible has a definitive answer on school choice, so it's up for grabs. Each family has a different story to live. I can't tell you what choice is best for your kids any better than you can tell me what is right for my six children.
My background is a public school one. Both my parents were public school teachers; my dad served 39 years in the trenches. My mom continues to teach at a public college. I earned my Masters in Education as well as my California State Teaching Credential in 1995. I taught for a couple years in Santa Barbara before becoming a stay-at-home-mom.
(You can read our story of why we chose this homeschooling path here.)
Right now, I'm coming off the heels of two very full days of thinking and breathing homeschooling. If homeschooling isn't your bag, this post will offer you a glimpse into the mind of one homeschool mom. Twenty years ago we might all have looked the same, but I assure you, the homeschool community is no longer the homogeneous group you may think it is. There are just as many tattoos as there are denim jumpers among homeschoolers.
This is where I am today, 42-year old me with six kids, a writing career, and a homeschool.
This past weekend FishPapa and I took the two older boys (aged 17 and 13) to the Great Homeschool Convention in Ontario. This was the first time in 12 years that we had an extended time of just the four of us. It was really sweet. We stayed in a hotel (more on that tomorrow). We ate restaurant food because it's so much more doable with four than with eight. The "big boys" loved that.
We parents got a chance to consider these young men we have raised. It's a humbling thing to see what great guys they are today.
I had spent the previous weekend sorting through our school room, pulling out the books that we won't be using in the new year. I still have paperwork to go through, but as we'll be doing light school through the summer, it was good to get a "do over", at least where books were concerned.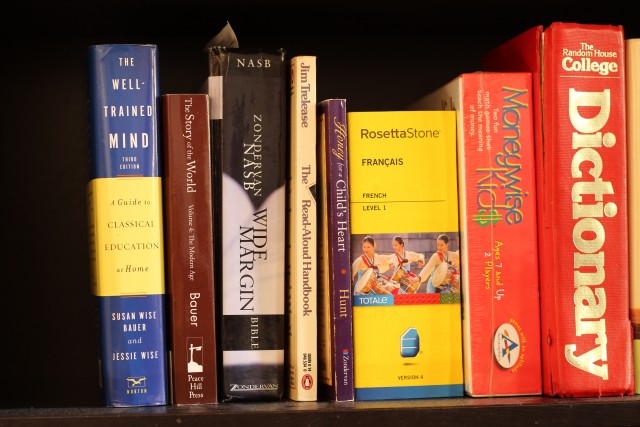 FishBoy17 took his SATs also that weekend before. As I drove away, leaving my firstborn in a sea of other high school juniors, I had a brief moment of What-have-we-done-and-did-we-do-the-right-thing? You would think that after 12 years I would have some uber-confidence in this homeschool gig, that I wouldn't worry that I'm the worst teacher or mother in the world.
As my friend Jamie so eloquently put it, if I was the worst, I probably wouldn't care.
Most days I know without a doubt that this is the right thing for our family. There are always some days, though, when I worry that this will be fodder for my kids to gripe about me someday.
Time to refresh
Clearly I was due for a reset in my homeschool mama brain. After all, I've just finished my 12th official year of teaching my kids at home. FishBoy17 is entering his senior year. My first guinea pig has survived — and thrived — amid all my crazy experimentation.
This year was probably the craziest by far, crazier than the years — yes, years, we did it twice — we moved cross country, crazier than the years — we did it four times during homeschooling — when we added babies to the family. This past school year I had this weird collision of school (all six kids!) and work obligations (final edits and release of Best 100 Juices for Kids, edits for Good Cheap Eats, development for Book #4, and two blogs). It felt like I was in a marathon that never had a finish line.
Yet, we lived to tell about it. And we're going to keep on keeping on.
Home education certainly isn't the easy road, but it has been a good one. This year was a handful with six kids in formal schooling: kindergarten, second, fourth, sixth, eighth, and eleventh grades. I feel like going into the new year, it's bound to be easier. At least I hope so!
At the convention, our fam split two ways during sessions with FishPapa (and usually the boys) attending heady presentations on science and higher education while I went to sessions on practically and spiritually getting things done. Our time was over far too soon. The guys were hangry and wanting to get on the road. I'm going early and staying late next time — by myself, if I have to! 😉
I came home feeling encouraged, refreshed, and ready to get back to business. In light of that, expect to hear more about school now than in August.
Here's my "state of the homeschool whatever-you-wanna-call it":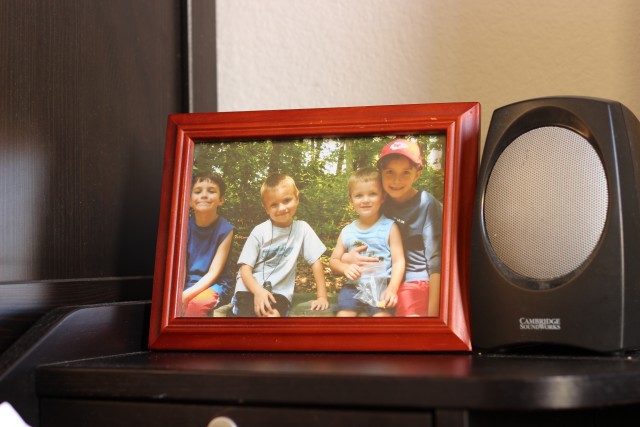 1. I (still) love being with my kids.
There have certainly been seasons of our life thus far when a child (or two or three) has struggled with different issues. We've had our fair shares of back talk, sibling rivalry, and squabbles. But, I still really enjoy spending my days with my kids.
I'm usually more than happy to see 3pm roll around, but I love getting the chance to talk with them and watch them learn. I can't imagine doing something different. Now that my firstborn is getting old enough to plan his flight from the nest, I realize how very quickly the time has gone. I'm so grateful that I've had the opportunity to do this.
The fact that we have this positive relationship and enjoy our kids so much is confirmation to me that we're doing the right thing for our family. As FishPapa so eloquently put it a few months ago, look at the fruit.
2. I (still) am excited about curriculum.
I am a curriculum geek. I've always loved books and developing a course of study. There are so many great things to learn in the world!
Long ago, the classical form of education captured my heart. I read The Well-Trained Mind when my only child was only two. I was ready to sign up right then. It's only in the reality of life that I've realized I'm more of a "classical unschooler".
For lack of an online post to direct you to, here's my short little rabbit trail definition.
Classical unschooling
Classical education, as defined by Susan Wise Bauer, one of my heroes:
Classical education depends on a three-part process of training the mind. The early years of school are spent in absorbing facts, systematically laying the foundations for advanced study. In the middle grades, students learn to think through arguments. In the high school years, they learn to express themselves. This classical pattern is called the trivium.
Subject matter includes: math, literature, history, science, logic, foreign languages, art, music, and rhetoric as appropriate for the age and stage of the child.
Unschooling, as defined by Wikipedia:
Unschoolers learn through their natural life experiences including play, household responsibilities, personal interests and curiosity, internships and work experience, travel, books, elective classes, family, mentors, and social interaction.
Our school is a bit of a mash-up of the two philosophies — and probably others besides. I present my kids with a wealth of resources that are age appropriate and in line with classical standards, but I don't sweat it if every day doesn't look like the next. If we spend six weeks on a time period they really like and then whip through the next one in a week, I'm not worried about it.
Somedays it's very relaxed with all the kids engrossed in books or art projects of their own choosing. Other days we're focused on math and science and getting lessons accomplished. Still other days we're taking a field trip.
(Check out what my friends Mandi and Anne have to say about their "classical unschooling". I also like this blogger's definition: "the concept is that classical ed informs the what, the content, and unschooling describes the how.)
When I was in the UCSB credential program my advisor said that education was not so much the lesson plan or the book chosen, but whether or not learning happened. I try to make that my litmus test for our school rather than how quickly we work through something.
3. I realize that every season is different.
The way we schooled was different when we had newborns or when we moved; it was different when they all wanted me to read aloud to them; it was different the year my mother-in-law died; it was different this year when I worked on three books. And that's okay.
Learning is happening.
We are entering a new season even now. I feel like this past year's cookbook chaos was similar to having a baby. It always took me two years to feel normal after having a baby. I feel like we have achieved something close to normal now. Or we will soon.
Changes are a-brewing. We're "doing school" through the summer because April and May were pretty light loads. We kinda already had a break. Part of the fall will be spend traveling through France and the UK. This, of course, will be educational in its own way, but I want to make sure we're keeping pace with math and that sort of thing.
We'll be exploring different school subjects quite a bit this summer as well as getting to the pool and trying to eat ice cream every day.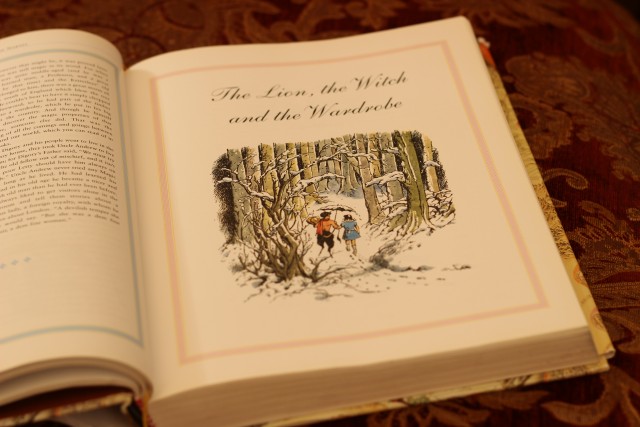 4. I am (still) excited about teaching.
I ordered a bunch of new school books and set up a summer schedule, including weekly museum field trips, play days with friends, daily trips to the pool, and a lighter regimen of math, science, reading, and art history.
I want to put the initial joy of learning back into our days. I want to be able to take our time as we work through art and literature together. I want to get kids feeling comfortable with math calculations. (As I type, FishPapa is going over a math lesson with FishBoy10.)
I want to finally figure out how to make elementary school science happen on a regular basis! We're starting now so that maybe we'll actually finish our new book. (Science is not my passion.)
5. I have some more refreshing, dreaming, and planning to do.
I really enjoyed taking extended time these past two weekends to think through our school, both at home, sorting through books, as well as at the convention, listening to speakers I'd never heard before. Initially, I was disappointed that neither Susan Wise Bauer nor Julie Bogart would be there. But, I dug around in the session listings and found plenty of new speakers and topics to spark my thinking and my imagination for our school.
On my list for the summer:
weekly school research and thinking
keeping to our summer schedule of light school
setting up a similarly light, but enthusiastic schedule for the fall 🙂
organizing all our old paperwork and getting it filed appropriately
rereading The Well-Trained Mind
getting high school transcripts updated
spending more downtime with my kids playing and learning
hopefully joining Brave Writer's Homeschool Alliance
6. Nothing is perfect.
Before you go thinking this is an I-am-Superwoman-do-as-I-do post, please know that this post is about me and our family and our goals for education. It's not for your family, though parts of it may be a good fit. I hope that if you're a homeschool mom, that you will feel encouraged where you are and that my own problem solving will spark an idea for you.
Some of this may be total whack to you. That's okay. I bet we wouldn't order the same things on our pizzas, either. We both want the best for our kids. Your private or public school isn't perfect, either. We can both hope for the best for each other, though.
No matter what type of schooling you choose, every day will not be all rainbows and glitter. Some days are really, really hard.
Honestly, I am not always this excited about school. But, I am now! And I'm going to strike while the iron's hot. Remind me of all this when things get tough six months from now, okay?
Got questions?
I'll answer them if I can.