An Amusement Park Survival Guide
As an Amazon Associate I earn from qualifying purchases. For more details, please see our disclosure policy.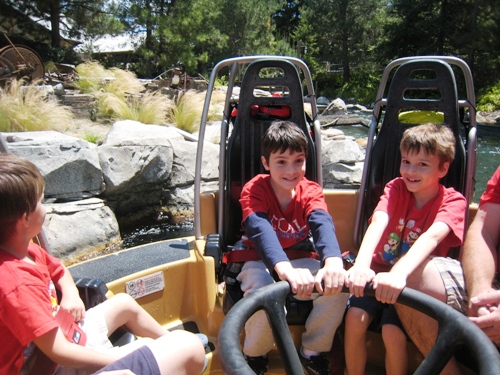 Growing up in the Los Angeles basin, I saw my fair share of amusement parks. Disneyland, the real one, was a yearly trip. Magic Mountain was a mere five or ten miles from my house. I even worked there one summer after high school. We bought passes to Universal Studios back when it was cheap and not half as popular as it is now.
Yes, sirree, I knew exactly how much money I needed to buy a waffle cone, a large, soft pretzel, and a frozen lemonade. And I knew what order to ride the best attractions. And I knew the layout of each park like the back of my hand.
My biggest concern was would the water ride muss up my hair and would I see a cute boy — and would he notice me.
But, it's different when you're a mom.
Yes, mussed hair is the least of my worries these days. I love an amusement park just like the next person, but I've realized in the two short years since I started taking kids along, that there are some items that will help you survive the day — and even smile.
Here's my little survival guide for touring amusement parks with children: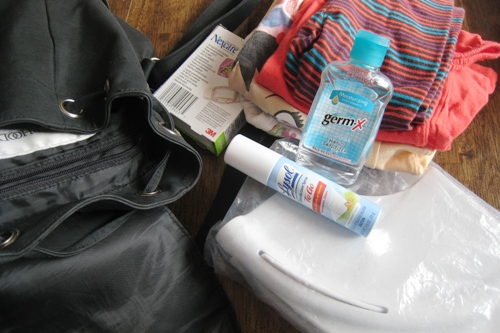 1. Pack a backpack with incidentals.
For our family this means the travel potty seat, hand sanitizer, travel size Lysol, bandaids, and spare clothes for the girls, ages 2 and 4. And after the last few outings when more than one person has asked for Tylenol or Advil, I'm adding pain killers to my bag of tricks!
I am the one to man the backpack. The back in backpack is important here. You need to have both hands free to catch wayward children, handle a map, and hold your frozen lemonade.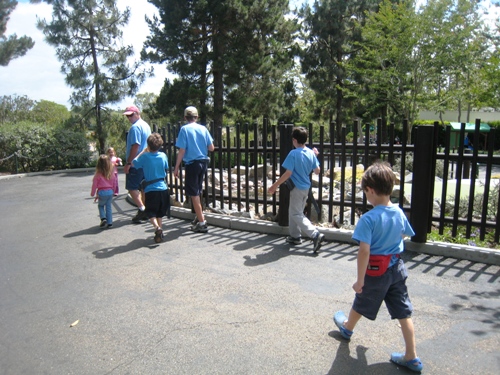 2. Wear a family uniform.
Yes, I know, it looks a little nerdy. Puhlease, don't tell my kids! But, trial and much error has proven that we need to be color coded when we go to places like Legoland or Disneyland. The shirts don't need to be identical, but at least in the same color range.
If I lose a kid — and the chances are great when you have six — I need to conserve every brain cell possible. I can't be wracking my brains to remember what he was wearing. All I need to do is look at the five kids I still have in my possession. Then I'll know at least what color t-shirt he was sporting.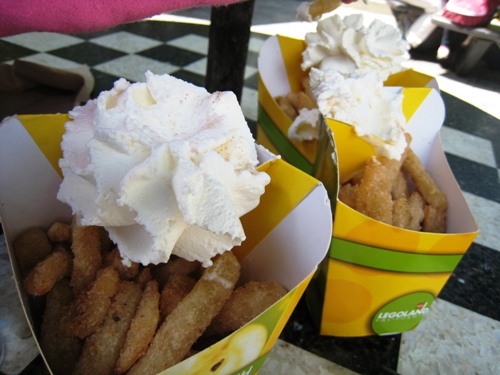 3. Splurge on a fun snack.
Some amusement park food is icky, icky, icky. But every park has at least one signature snack that is worth the splurge. Beignets at Disneyland, Apple Fries at Legoland, and the aforementioned waffle cones, large soft pretzels, and frozen lemonades at Magic Mountain are well worth a little coin. Buy a few choice items and split them.
Otherwise, bring food from home or leave the park for a buck-fifty Costco hotdog. You'll find nourishment without having to take out a loan to pay for it. We've packed coolers into Disneyland and passed through security, so I'm under the impression that it's quite all right.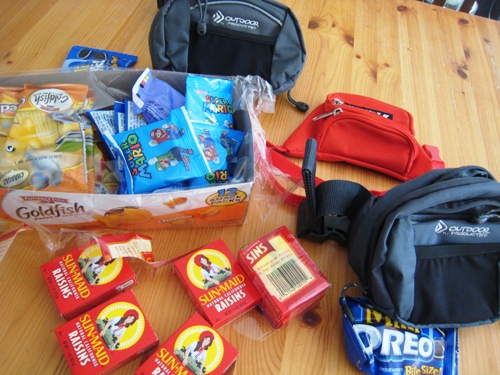 4. Give each kid a fanny pack.
I don't care how un-hip you may think hip pouches are. These will save your life. If you let your kids stuff them with the snacks of their choice at the beginning of the trip, you will not have to hear the whines and moans:
When are we gonna eat?
I'm hungry?
Can I have some popcorn? cotton candy? hot dog?
See how annoying that is? Instead the kid is wearing all the junk food nourishment he needs!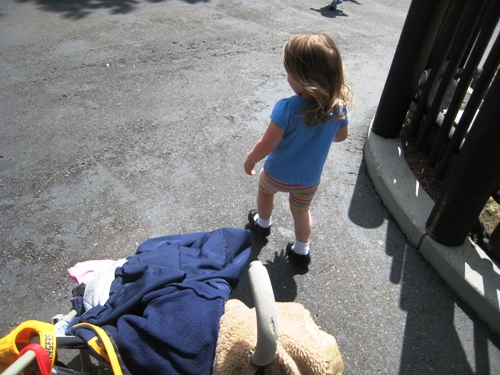 5. Bring a stroller even if the toddler insists on walking.
They may give up naps. They may potty train. They may insist on doing what the big kids do. But, don't let them fool you.
Even though that toddler insists on walking at the start of the day, she will be begging you to carry her by lunchtime. Amusement parks involve a lot of walking and little feet just wear out eventually. Even if you use the stroller to carry everyone's junk, keep it with you. Eventually she will conk out and you will have help in conveying her about the park.
A little secret? Just park your stroller in a stroller parking section of the park and come back for it later. No one will know that you're not on that ride right next to it. There are scores of strollers about. Don't leave valuables behind, but chances are your stroller will be fine. (I've heard that dirty diapers are wonderful deterrents to stroller-nabbers, though I've never tested the theory.) Remember where you parked it, and come back for it later.
Amusement parks can be a wonderful adventure for kids and adults alike. With a little pre-planning, you can eat good and cheap, go home with as many kids as you came with, and have a wonderful time.
What tricks do YOU implement at amusement parks?