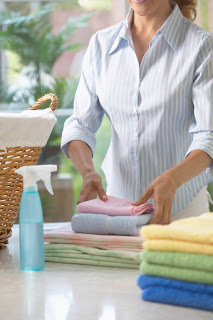 Food and clothing are the basic necessities of running a home. If those systems are working well, it's okay if other things slide from time to time. Once upon a time I could do laundry once a week. Now that my family has grown to its current size, once a week just doesn't cut it.
And my laundry system has evolved as our life and schedules have changed. For a time, twice a week worked really well. I would wash, fold and put away every Monday and Friday. And everyone was happy.
But, then I found myself always behind. I was a little resistant to change. When I found that I was up to about ten loads a week, including sheets and towels, I realized I needed to budge.
A friend directed me to FlyLady's rule of doing a load a day. Now I do 1-3 loads a day, Monday through Friday. It's not difficult to get a load going first thing in the morning. One of my minions is in charge of sorting dirty kid laundry every morning, folding clean towels, and delivering clean clothes and towels to their appropriate locations. This keeps things very manageable.
What's your laundry groove? Share it in the comments section – please! This is an area of life that can always stand some improvement.
Also, here are some related links for your laundry lovin' pleasure:
Andrea at The Flourishing Mother has a great perspective on Textile Management.
Tips and Tutorials to Do Laundry at About.com
Organized Home's advice to Lighten the Load