Travel Essentials for Family Trips
As an Amazon Associate I earn from qualifying purchases. For more details, please see our disclosure policy.
Ready to hit the road? Make sure that you have these travel essentials to make your family trip safe, fun, and trouble-free.
After almost 20 years of traveling with kids, I've learned a few things. College boys probably won't love your music choices, yet 7-year olds still get excited about Veggie Tales — even if you don't. Someone will say that they have to go to the bathroom just as soon as you pass the last exit for the next 20 miles.
And, inevitably, you will have forgotten to pack something.
Packing for family trips can be a complex experience, particularly when you've got little ones, big ones, and ones in between. I've spent good money on things that I had duplicates of at home because someone forgot to include them in the luggage. Or we've run into unexpected emergencies that necessitated first aid or other medical care that wasn't negotiable.
And I've cleaned up puke in the middle of the desert in 90 degree heat.
Let's just say, I've been around the block a time or two. 😉 Equipping yourself with a few helpful items can transform your family travel. Remember these travel essentials to make sure that your next trip is fun, easy, and trouble-free. (Hint: they also make great gifts!)
Travel Essentials for Family Trips
If you're traveling internationally, be sure to check these tips for safe travels. Whether home or away, these are things we've found helpful.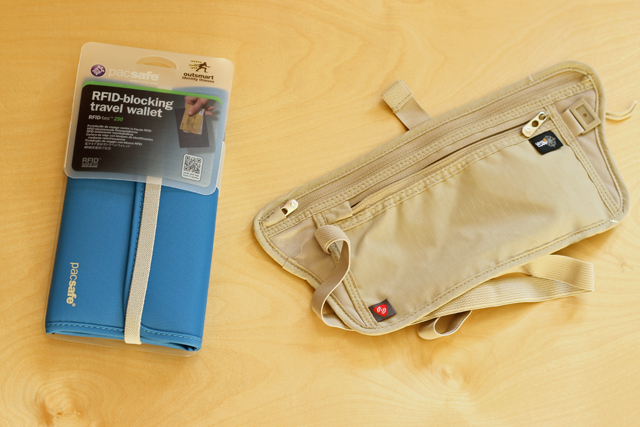 RFID-blocking travel wallet and money belt
My regular wallet is this one: a Pacsafe RFID-blocking wallet that Pacsafe sent me to review several years ago. (You can read my review of Pacsafe products here.) It was invaluable abroad, but I use it all the time now. Identity and digital theft is just too risky these days.
For foreign travel, we also used RFID-blocking money belts. This is where we carry all our cash, cards, and tickets when traveling. We don't use them at home, but they are must-have's abroad where pickpocketing is rampant.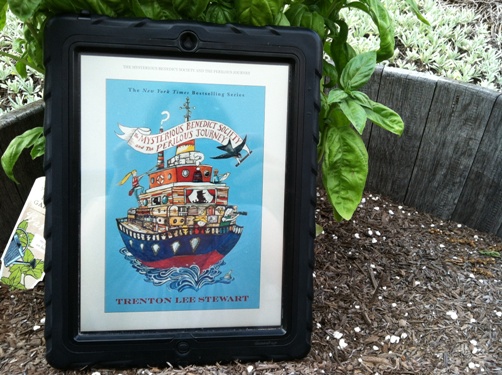 Electronic devices
I'll be honest. I know that technology should not be a babysitter. But I do it anyway. Having certain electronic devices along, like our Kindles, iPads, and the boys' Nintendo DS have helped us all keep our cool in any number of long waits and delays.
So, yes, we have pictures like this where pretty much everyone is using a device, except Sleeping Beauty:
Phone and device chargers
Be sure to have all your chargers onboard. It's really hard to take pictures or check the GPS when your phone goes dead.
On our last trip, I didn't have my car charger for my phone and it made a big difference — especially being on the road for 3+ hours at a time. I ordered this as a replacement.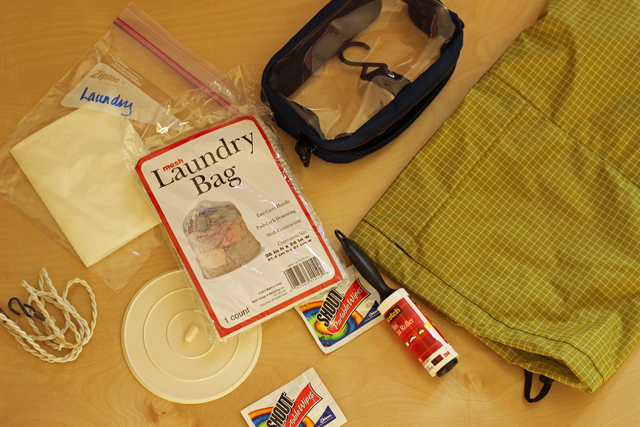 A laundry kit
If you're going to need to laundry while away from home, it helps to be equipped. I have a regular travel laundry kit that includes a stretchy clothesline, Shout wipes, a lint roller, a rubber sink stopper, Dizolve laundry sheets, and lots of laundry bags. (If we're going to wash laundry at home, I'd rather the kids just keep their dirty stuff in a laundry bag in their luggage.) A roll of quarters for the laundromat, if traveling domestically, is a good idea, too.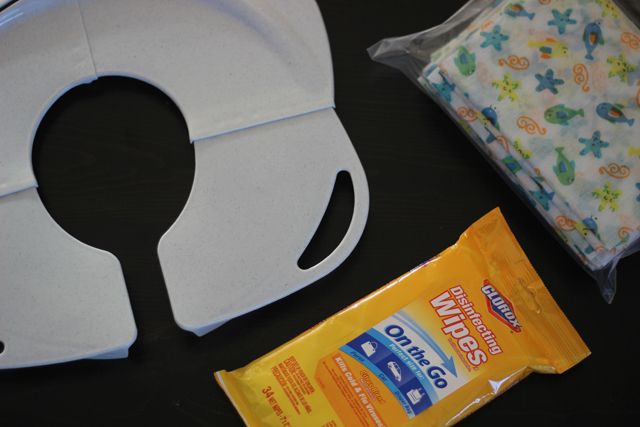 Potty stuff
When you gotta go, you gotta go. I'm a little bit of a germaphobe, particularly since I had girl babies. Over the last nine years, I've made it a practice to keep a kit of potty stuff with me: travel potty seat, disposable, paper covers, disinfecting wipes, and mini spray cans of Lysol.
I am also a big fan of this lavender hand sanitizing spray. Love it!
A carsick kit
Our girls are both prone to carsickness. We've had clean ups as close as 20 miles from home and far off in the desert in the middle of nowhere. I've learned through experience that we need to have supplies with us.
Prior to our recent jaunt north, FishChick8 stressed all week about the possibility of getting sick on the 3-hour drive. We were prepared with our carsick kit for cleanup as well as these items to prevent it in the first place:
First aid
I've had to make emergency stops at pharmacies in strange towns and countries on more than one adventure. I finally learned to pack basic OTC's with us, like
Flashlights
A friend told me years ago how her military sister carries a flashlight whenever she travels. You never know when you'll be in the dark.
That made sense to me, so now we always pack mini flashlights on trips. They come in so handy whether at home or away. We used them all the time to navigate dark streets or hotel rooms, to dig in bags, and just for play.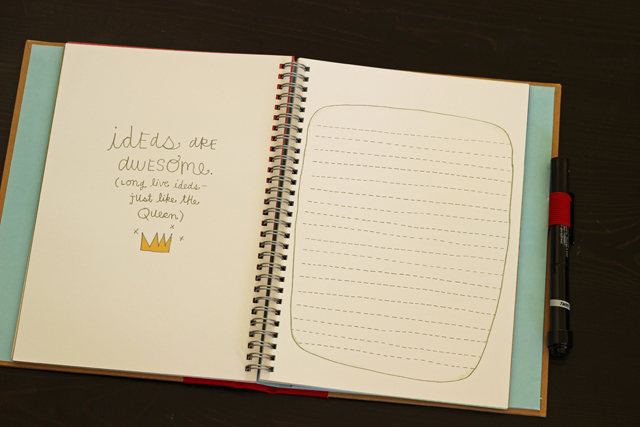 If you're going to be traveling for an extended period of time or make it a regular habit, it's great to keep a travel journal like a Smashbook. It is perfect for sticking in mementos and other souvenirs since the pen is also a glue stick. I love our journal of a our trip to Europe.
Travel-sized games
Not only do travel games like Spot-it and Skip Bo make great travel companions, they're also great to keep in your purse for long waits at restaurants or doctor's offices. Having a few games on hand is always a good idea.
I'm sure there's something I've forgotten. I always forget something! Let me know in the comments.
What are YOUR travel essentials?
Originally posted December 2, 2015. Updated April 18, 2017.