Let's Tour Colonial Williamsburg
As an Amazon Associate I earn from qualifying purchases. For more details, please see our disclosure policy.
Colonial Williamsburg, formerly a colonial capital, has been restored in architecture as well as in spirit, making it the ideal "family field trip."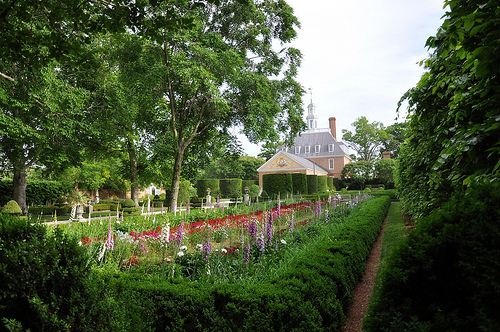 I'm a West Coast girl. I've lived in Southern California for most of my life. When I've lived or traveled elsewhere, I haven't ventured father east than the Mississippi, unless it was to hop all the way to Europe or journey south of the border to Honduras. While I've hiked in a rain forest or toured throughout the South of France, I just don't know much about 3/4 of my own nation's territory.
Instead, most of my life experience has been rooted in the West and, historically speaking, in the adventures of the Spanish Explorers or the pioneers. The kinds of field trips I took as a child and those that I now take with my kids involve Spanish missions, stagecoaches, cowboys, and the Wild West.
But, recently, I got a chance to go back in time and in space to Colonial Williamsburg, VA. Wanna go with? Let's take a tour!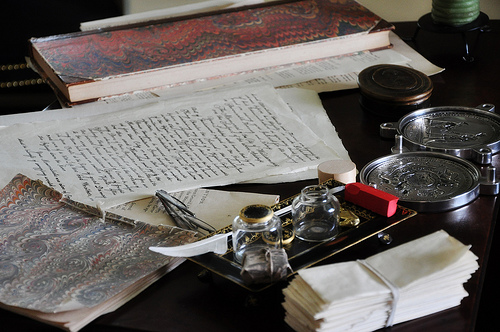 All photos by Heidi.
My sister and her family moved to Williamsburg last summer. My niece's school borders the gardens of the Governor's Palace. My guess is that she will have a different cultural experience in second grade than my sister and I did at her age. As one who has visited many of California's missions, regularly drives streets named for famous Spanish explorers, and knows her maize from her pintos, I'm amazed at the vastness of our country as well as the richness and diversity of its history.
This is one of the things that struck me earlier this month when I had a chance to tour Colonial Williamsburg with Tsh,
Stephanie, Sarah, Mandi, and Heidi. We didn't get to spend a lot of time roaming, but we were extremely grateful to the folks at Colonial Williamsburg to allow us complimentary passes to check out the place.
We even got to hear George Washington speak!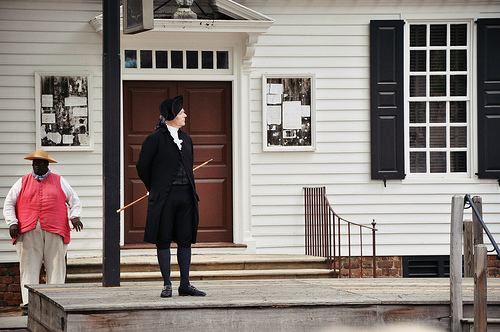 In case Colonial Williamsburg is as new to you as it was to me, let me explain. This "living village" is a restoration of the original Williamsburg, capital of Virginia during colonial times. It witnessed much of history first hand, including The War for Independence as well as The War Between The States.
"From 1699 to 1780, Williamsburg was the political, cultural, and educational center of what was then the largest, most populous, and most influential of the American colonies," states the Colonial Williamsburg website. Considering that many of our nation's founding fathers were also Virginians, it was most certainly a happening place to be.
Today it offers visitors a chance to step back in time. Not only are the buildings restored to the way they would have been 200 years ago (plus indoor plumbing and air conditioning in certain areas), but interpreters roam the streets, man the shops, and speak from platforms, giving you a real taste of 18th century life.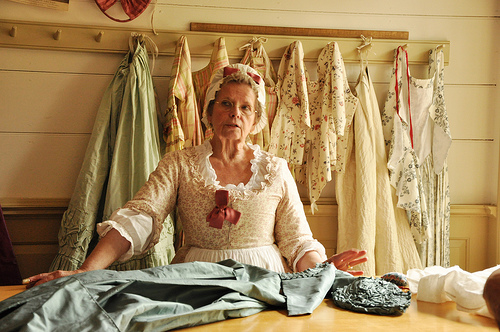 This woman worked in the dressmaker's shop, sewing and explaining her craft to visitors. We took shelter from a rain storm in this shop that is kept impeccably clean. The dresses looked like they'd be so fun to wear. I knew my girls would have such fun here.
Since things are kept to period standards here in the Historic Area, there are no electric lights in the public areas. So, when rain clouds cover the sun and the afternoon slips into evening, it really does get dark in this shop. I can't imagine sewing dresses by candlelight, let alone without a machine!
We probably don't know how good we have it these days.
However, it was nice and soothing to dine by candlelight. One night we splurged at Chowning's Tavern. And I do mean splurge. Probably one of the most expensive meals I've eaten in quite some time. But, it was all a part of the experience, which evidently, is NOT true to the 18th century in all ways. Hehe.
Their lunch menu is vastly different in price, so plan on lunch at the Tavern.
I'm a history geek, so I like to go authentic when I can. The tavern's menu is reflective of what folks might have eaten at the time. The servers are knowledgeable to tell you about different aspects of colonial dining. We split a few orders of Welsh Rarebit which I've read about in books and cookbooks for years yet had never tasted. Very rich and good when piping hot.
During dinner we were treated to roaming minstrels, another aspect of a visit to Colonial Williamsburg.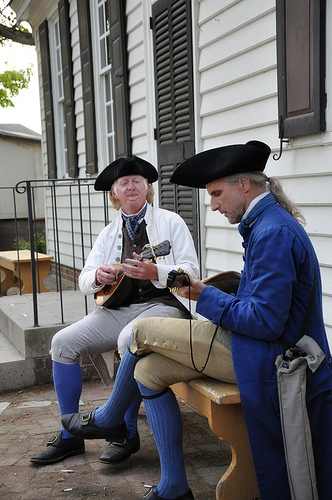 Walking through the village of Williamsburg was extremely peaceful. The gardens are beautiful, the flowers were all in bloom, and the streets were tranquil. I imagine there are crowds galore on certain days, but we must have timed our visit perfectly. It felt like we had the place to ourselves. I could have sat under a tree and spent the day happily.
One of the highlights of visiting the Historic Area was our tour of the Governor's Palace. Since this was once a capital of the Virginia Colony, the building, reconstructed from original plans, is full of history. I loved hearing the stories our guide had to tell about different rooms, different household items, and the different customs of the time.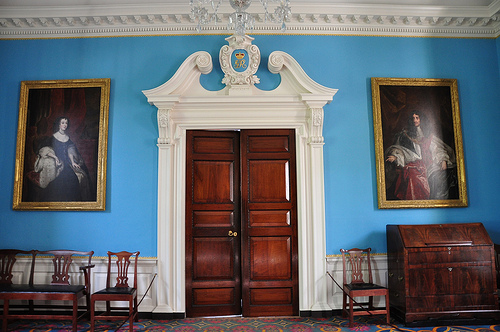 If you live within a stone's throw of Williamsburg, or have plans to travel that way, it definitely is a fun and educational stop to make. There's so much to see and do, you could easily spend several days exploring. And if your kids are studying the 18th century or American history, it's definitely a must-see.
Have you been to Colonial Williamsburg?
Disclosure: I received a complimentary pass to visit Colonial Williamsburg, but I am not under any obligation to post about my visit. All opinions are my own.