Life with TWO Babies??
As an Amazon Associate I earn from qualifying purchases. For more details, please see our disclosure policy.
Life with two babies is hard. But, it's not a death sentence. It's good, I promise.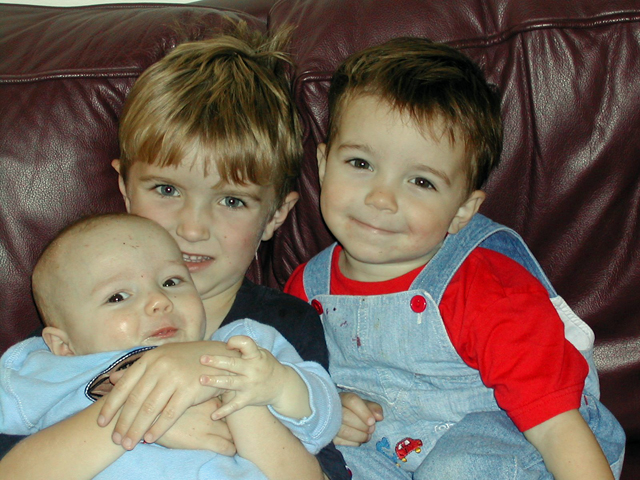 FishBoys, 2002, the youngest two were 19 months apart
A reader asked recently,
I have a one year old and am expecting #2 in August. They will be 19 months apart. Any advice for juggling 2 babies so close together–and although this might sound crazy to you, I'm intimidated by the thought of going out alone (grocery store, etc.) with 2 babies. Any tips to ease my nerves? Thanks!
What a great question! I am convinced that one of the most difficult transitions in growing our family was when our second child was born. I distinctly remember sitting on the front porch bawling my eyes out, trying to explain to my husband how hard it was. Our little guy (the brainiac who knows Greek) was very active and started crawling at about 4 months of age. We were also remodeling our home and there was plenty of trouble for him to get into. He kept me on my toes, that is for sure.
The transition from being mommy to one to being mommy of two is certainly not without its challenges. Not only are you adjusting to getting to know another unique, little person, but you are also learning to divide your time between with two little ones who depend on you for so much.
Not only that, but parents need to move to "man-on-man defense." With one child it is easy for one parent to go about independent projects while the other keeps watch of your child. With two kids, it really does seem like now you both have your hands full.
Your question doesn't sound crazy to me at all. In fact, I think I face similar challenges when my older children are away with FishPapa, and I have the littlest ones to myself. Little people need more attention – that's all there is to it.
Here are some things that helped me:
1. Meet the younger baby's needs first. I know some people take the opposite tact, but I do believe that if we help our littlest ones to feel safe and secure, then they will be more confident as they grow and not need us as much when they are bigger. In meeting Baby's needs for a fresh diaper, a nap, and a good feeding, you're also modeling to your older child good parenting. Invite him to help you by bringing you a fresh diaper, the baby's blanket, or a water bottle while you're nursing. "Big kids" love to be included.
2. Make playtime a priority with your older child. Once baby is settled for awhile, sit down with your older child for purposeful play. Read a story, play playdough, or draw a picture. Make time with your older child very focused. Don't ignore Baby — wear him in the sling or place him in a bouncy seat at your feet, but make sure that your older child also has a good share of "face time" with you.
3. Get a double stroller that you love. When my second child was born, my oldest was 3 1/2, so he had pretty much outgrown the stroller. But, Baby #3 was born nineteen months later. So my second and third babies had the spacing you're talking about. I quickly learned that I had to have a double stroller. I thought I could do without one, but after holding one sleeping toddler in my arms, while pushing a full cart with a baby and older child through Walmart, I learned otherwise.
If you take both children on outings, use the double stroller. A lot of grocery items will fit in the basket below. For larger shopping trips, try to take only one child — or none, if Dad can swing caring for them both solo.
4. Preplan and pack accordingly before you leave the house. I imagine that you fear double meltdown (or double blow-outs) while you're out and about. Cut this anxiety off at the pass by preplanning how to meet your kids' needs while you're away from home. Pack fun toys and snacks for your older child. Make sure everyone has a fresh diaper and that there arer plenty of supplies in the diaper bag. Give baby a good feeding before leaving the house. Avoid going somewhere during nap or mealtimes. Make your first solo outings adventures that are not necessary. Take a simple trip to the park as a trial run. Keep fine tuning your organization when it doesn't really matter so that it has a better chance of going well when it does.
5. Expect the unexpected. As your family grows, so should your ability to roll with the punches. Expect that something may go other than you planned and pray for the grace to laugh at it when it does. That is part of life, and resiliency is a great thing to teach your kids. Keep that sense of humor — it's critical!
Enjoy these days! My boys who are nineteen months apart are the best of friends. They share a room and are just the sweetest buddies – most of the time. Make a commitment to laugh at the days to come.
Especially when they're all crying at once.
I certainly don't have all the answers. Got some good advice for this new mom? Share what has worked for you in the comments.