"Love Is An Open Door" Valentine's Day Card
As an Amazon Associate I earn from qualifying purchases. For more details, please see our disclosure policy.
Looking for a Frozen-themed Valentine's Day Card? If so, Life as MOM contributor Janel has an easy printable to decorate a box of Sweethearts for Valentine's Day.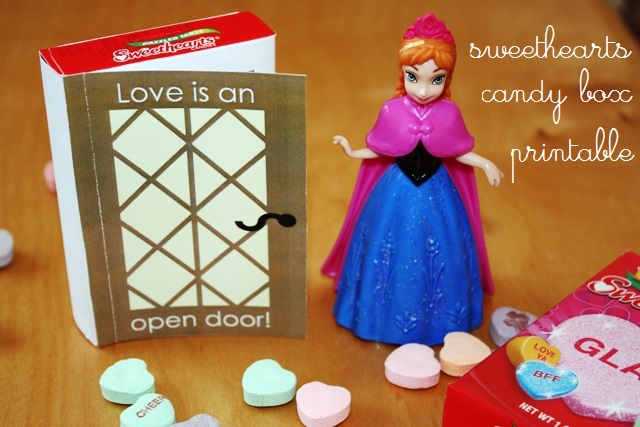 My children usually give out homemade Valentine's Day cards rather than the store-bought variety. It probably stems from my childhood.
I never liked it when someone else gave the same, store-bought cards out that I did. Plus, I always agonized over which card to give to which student. Heaven forbid that some classmate read far too much into what the pre-printed card said and think that I had a crush on him!
So, my girls and I usually get a bit creative and make our own. It's a fun family activity that we enjoy doing together.
Right now, my girls obsessed with the movie Frozen as evidenced by their singing the soundtrack and wearing their Elsa and Anna costumes at any and every opportunity.
Needless to say, "Love is an open door!" is a lyric that has gotten stuck in my head…and it provided the inspiration for these fun little Valentine's Day candy boxes.
I've designed a card that wraps around a box of Sweethearts. I found 4-count packages of Sweethearts Boxes at my local Dollar Tree for $1 so that would work out to $0.25 per student plus the cost of the printing supplies.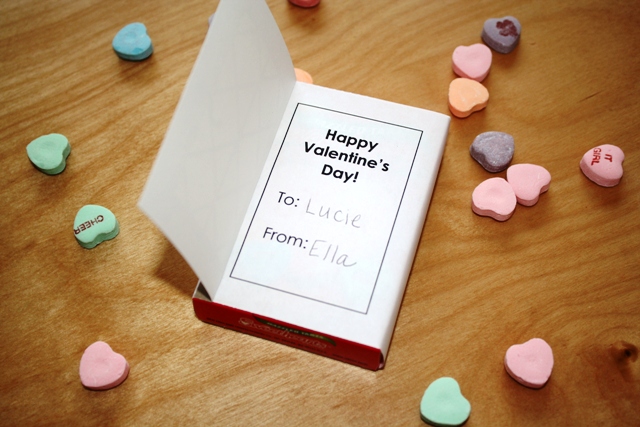 How to Make "Love Is An Open Door" Valentine Card with a Sweethearts Box
Supplies:
Boxes of Sweethearts Candies (I used the Dazzled Tarts)
paper or cardstock
scissors or paper cutter
embossing stylus
ruler
tape
glue
Instructions:
Download and print as many copies as you need onto paper or cardstock. Each Sweetheart Box card will need two pieces — the strip with the Valentine's message and one door. There are 3 strips with the message per page, and 8 doors per page.
Cut out the message strips and have your child fill out the names on them.
Take the door pages and use a ruler and embossing stylus to score a line about 1/4 " from the left edge of the door. This will be the fold so that the door can open up easily. Then, cut out all doors.
To assemble, take each message strip and place it over the candy box with the message centered on top. Flip it over and tape one end of the strip to the box, and then overlap the other end and tape down.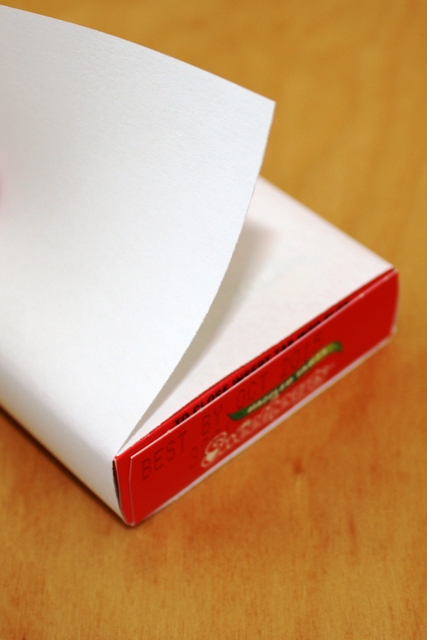 Put some glue along the left edge of the wrapped box and place the door on top. The door will fold back along the scored line to reveal the Valentine's Day message.

– Janel is a stay-at-home mom of two daughters and a "law school wife" in Virginia. Raised in a budget-conscious and DIY-minded family, she blogs about motherhood, crafts, and living on a law school budget at Life with Lucie and Ella.

DIY on a Dime
This is part of the DIY on a Dime: Valentine's Day. For more easy and frugal gift ideas, check out the list.