Travel Transport with a Large Family
As an Amazon Associate I earn from qualifying purchases. For more details, please see our disclosure policy.
Curious how we move all these people around? Transportation is an interesting thing when you have more than 4 people in your crew.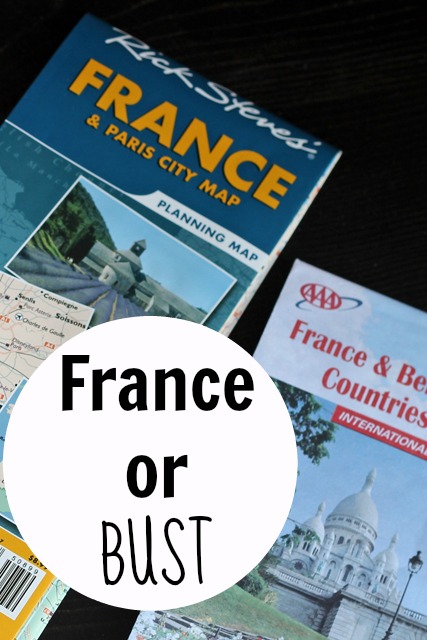 You know this story already. Probably because I am apt to repeat myself. But, here it is anyway.
I spent my 21st birthday in Toulouse, France. My French mom, Michele made Boules de Picolat, and the entire family feted me for my birthday with posters, surprises, songs, and much ado.
The following year, I spent my 22nd birthday in Paris, France. On my honeymoon. We ate the most expensive meal we've ever eaten to date. For two of us.
We had the idea that we'd return to France every year. But, we didn't.
I told that story to the pediatrician last month and she said, "You have six kids, you kiss France goodbye."
That's not entirely true. It's accurate that I was pregnant or nursing for 12 years nonstop. But, money was probably our bigger issue, not kids. We had debts. We didn't have huge salaries. More importantly, we didn't dream big dreams.
Yet, now, we're heading to France — 20 years later — with all six kids. And this is how we're going to do it:

In the US, we've most often traveled by automobile. Some folks may mock my 9-person SUV, but my group mileage rocks. It's way better than most single drivers I pass on the freeway; I typically have 7 seats filled!
Travel transportation can be tricky, however, when you're traveling with a large family. 
Just as we need two hotel rooms (or an apartment), we'll need two taxis, two rows in the plane, and who knows how much space in a subway? We get funny stares in the US just going out to eat. Can you imagine the reactions to our large brood overseas?
Anyway, we're not letting it stop us. We decided two years ago to dream travel dreams as big as our family.
While planning our trip, we've had lots of transportation issues to cover.
A plane will get us to the UK. A train will get us to France. Metros and tubes will get us around London and Paris.
After that? Well, we looked at the map of France and decided that we would retrace our steps from years ago, traveling throughout the western half of the country over a month's time. Economically, we'd need a car to do this. It's much cheaper than train tickets for eight people — and a lot more convenient when traveling with children.
I've lain awake many a night worrying about losing someone in a subway station. While we'll still do the metro and all that jazz, I'm looking forward to the comfort of having everyone together in our own vehicle. And yes, the French do have a car big enough.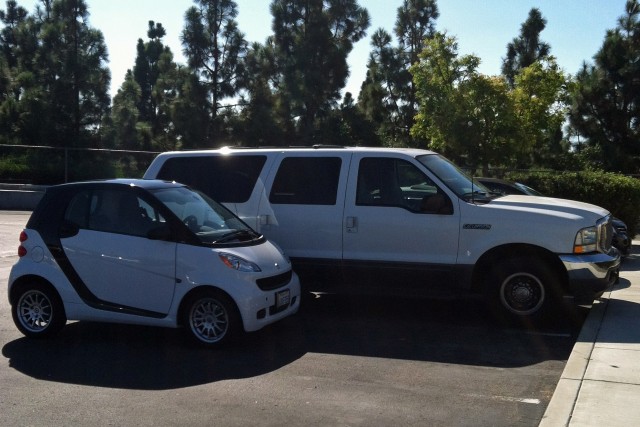 This made us laugh when we came upon these two cars recently. Ha!
We reserved a Renault Trafic for two weeks. My husband, a car guy, made sure to research the vehicle before plunking down cash. He knows all the details of the engine, its gas mileage — it's a diesel, he says — and how we and all our luggage will fit.
Heck! We've even got room for a 9th person should Nanny MacPhee magically appear. We found this video a fun little look into how we're going to travel. This guy reviewing the "people mover" is pretty funny. This is the Irish model. I believe our steering wheel will be on the left side like other French vehicles. Oh my.
Anyway, for the curious, that's how we're getting around overseas. We're using the French autoroute website to map the most economical route. It tells us how much to expect in tolls, fuel costs, and parking, depending on which road we take. We'll still have expenses, but we'll be able to stop if someone has to go potty, gets carsick, or other wise needs to put on the brakes.
I'm sure we'll have plenty of stories to tell!
How do YOU travel with a large group?
Travel with Kids
This is part of the Travel with Kids series. Every day in October, I'm posting tips, tricks, and tutorials for making all your travels fun, frugal, and family-friendly.
Be sure to read through the archives in case you missed a post.