A Necessary Accomplishment
As an Amazon Associate I earn from qualifying purchases. For more details, please see our disclosure policy.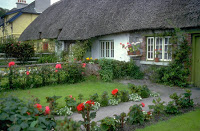 One of my favorite sets of books is written by Louisa May Alcott. Eight Cousins and its sequel, Rose in Bloom, are sweeter and more romantic, I think, than the Little Women trilogy.
In Eight Cousins, a young heiress named Rose is cared for by her bachelor uncle after the death of her father, his brother. Theirs is a tender friendship as he guides her lovingly to wisdom. I was convicted by one of his addresses to her. And a little shocked that even in 1874, this was an issue. Rose asks what "trade" she should pursue and this is how Uncle Alec responds:
Well, now, there is one very excellent, necessary, and womanly accomplishment that no girl should be without, for it is a help to rich and poor, and the comfort of families depend upon it. This fine talent is neglected nowadays, and considered old-fashioned, which is a sad mistake, and one that I don't mean to make in bringing up my girl. It should be a part of every girl's education….

[Housekeeping] is one of the most beautiful as well as useful of all the arts a woman can learn. Not so romantic, perhaps, as singing, painting, writing, or teaching, even; but one that makes many happy and comfortable, and home the sweetest place in the world. Yes, you may open your big eyes; but it is a fact that I had rather see you a good housekeeper than the greatest belle in the city. It need not interfere with any talent you may possess, but it is a necessary part of your training….
Imagine, even 130 years ago, homekeeping was considered "old fashioned." It doesn't have to interfere with our other callings and talents, but keeping our homes (read: tidy and organized as fits our families' needs and personalities) is a comfort to those around us.
What is an area of home management that you would like to grow in? Share it in the comments section.