How to Prepare for The First Trimester
As an Amazon Associate I earn from qualifying purchases. For more details, please see our disclosure policy.
Now, before you start congratulating me, no, I am not pregnant. But, my friend Lauren is. She recently found out that she and her husband were expecting their fourth child. What fun! For those of you who experience morning sickness and an otherwise rough first trimester, "what fun" might not be the first words off your lips. But, truly, a new baby is a wonderful blessing. Here, Lauren offers some suggestions for the first weeks of pregnancy and how to enjoy this phase of "life as MOM."
Morning Sickness.
Just the phrase brings on feelings of nausea, doesn't it? I'm currently pregnant with our fourth little one, and I have yet to escape all-day sickness while pregnant.
I'll be honest: With my #2 and #3 babies I absolutely dreaded the thoughts of being so sick. How was I going to cope? Who was going to take care of my other children while I camped on the couch? Was my family going to eat canned soup for 12 straight weeks? How was I possibly going to make it through the day?
But I decided I was going to make a deliberate effort to change my attitude with this pregnancy. If God was gracious enough to bless us with this little one, certainly I could work hard on my attitude, right? So while praying about my attitude one morning, I had this thought: I can be prepared this time.
Be Prepared
Prepared? What a concept! I was only 5 weeks pregnant and I knew my morning sickness would probably not hit full swing for another week. So I busily made a list of ways I could help myself and my family through this not-so-easy time.
Here are the highlights: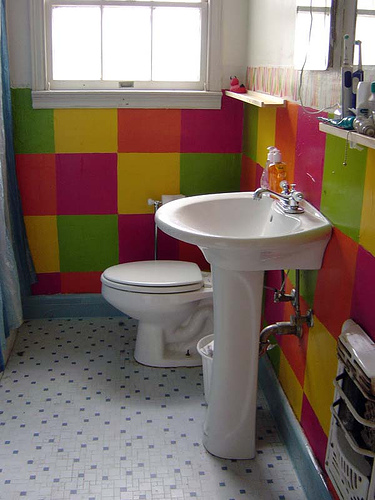 I deep cleaned my house. My top priority during the first trimester is clean bathrooms. There is nothing worse than being sick in a yucky bathroom, so I made sure those were absolutely spotless. I also ensured my floors were mopped extremely well. It could very well be weeks before they would be touched again!
I washed every article of clothing and bedding we owned. Again, I wasn't sure when I would get to changing sheets or washing items like bathroom/kitchen rugs. So my washing machine ran for 5 days straight.
I stocked my freezer. Thankfully, I participate monthly in FishMama's Freezer Cooking Days so I already had a few dishes in my freezer. I needed more than just a couple of meals, so for two hard days I cooked and stocked my freezer. I knew there would be evenings where either I didn't want to cook or I didn't want to eat – but my family would! Freezer cooking was essential during this season.
I didn't schedule any extra commitments. We didn't have play dates, and I didn't volunteer for any extra commitments at church. I know that sounds like a not-so-fun mom, but it didn't seem fair to commit myself to anything outside of my home when I could hardly manage the inside of my home.
I made sure there was plenty for my children to do. I got a few new puzzles, books, crayons, coloring books, paint-by-numbers, and glue sticks. I wanted my children to have some different activities than the ones that they were used to. New activities seem to hold their attention a little longer.
And the best thing I did before the morning sickness arrived:
I worked on my attitude. This was single-handedly the best thing I did to prepare myself and my family. I decided up front that I would not let myself dive into the "oh woe is me, I'm just so sick" mode. It is a privilege to carry a baby and one I don't take lightly. I was completely elated to be pregnant again, and I didn't want a poor attitude to mask that.
I did eventually have morning sickness set in around 6 weeks. But honestly, it really wasn't as bad this time. The actual nausea and fatigue were just as severe as prior pregnancies. But being prepared? It completely saved my sanity and helped my family in tremendous ways. It made all of the difference!
How do you prepare for the fatigue and morning sickness of early pregnancy?
— Lauren Hill is the Mama behind Mama's Laundry Talk. She couldn't be more thrilled about having a new little one join their household in November 2010!