To Be More Joyful: Be All There
As an Amazon Associate I earn from qualifying purchases. For more details, please see our disclosure policy.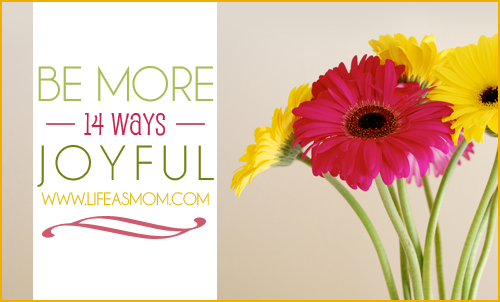 She is clothed with strength and dignity; she can laugh at the days to come.
I am on a quest to be a more joyful mom. I want my kids to look back on these days and say that I was able to laugh at the mishaps, to trust God in all things, and to seize each day as a blessing and adventure. And that is more complicated than it sounds.
Sometimes you have to simplify the way you do things. You have to be realistic about your situation. Watching how we think and how we speak can help us have a happier outlook, as can realizing how good we really have it.
But, sometimes, it's all too easy to get distracted from the important things.
The Multi-Tasking Myth
There's a myth circulating that the modern mom is the master of multi-tasking. Sure, most women can change a diaper, referee a fight between two older children, and read the directions to an Easy-Bake Oven all at one time. However, with the myth comes the expectation, spoken or not, that Mom should multi-task — and multi-task well — 24/7.
I dunno 'bout you, but I just don't do well trying to accomplish fifty things at once. Something always suffers, and completing the tasks combined usually takes much longer than accomplishing them one-by-one.
And that does not a joyful mom make.
If I'm talking to you on the phone, I want to give my attention to that one thing, the conversation at hand. I don't want to worry about burned toast or how long the sprinklers have been on. If I'm cooking, I want to throw myself into the experience and create a delicious meal, not wonder if I have an urgent email to answer. If I'm reading a story to the littles or orchestrating a family art project, I want to focus on my children and not a phone call to the gas company.
For months and years I've felt frustrated with myself that multi-tasking was slowing me down instead of speeding me up. And I think my family has been getting the short end of the stick as a result. Multi-tasking doesn't often help us.
Wherever you are, be all there. Live to the hilt every situation you believe to be the will of God.

— Jim Elliot
I go back to these words by Jim Elliot. Will my kids say that I was "all there?" Or will they remember a mom who fumbled through too many tasks with an ear half-cocked to their words?
True confessions? I don't multitask well. Sure, I can set the table, heat dinner, and talk to my husband when he comes home from work. I can fold laundry and call a friend. But check email, work on a writing project, and listen to my children tell me a joke?
Let's just say, "It's not working well for me."
I want to be all there.
Perhaps your situation is similar. You find yourself with many important tasks butting up to one another. You find yourself doing many things, but none really well. You find yourself easily distracted and the toast is burnt more often than not. It's not a situation that makes me feel "joyful." But, I'm determined to troubleshoot it.
How can we "be all there?"
How can we position ourselves for better productivity and more meaningful conversations?
How can we focus on the most important?

Consider the following to be more purposeful and more "there" in your Life as MOM:
1. Let technology serve YOU.
While technology is supposed to make our lives easier, often it can be a major distraction. Many times we become slaves to our phones, email, twitter, facebook, etc. Determine how to make these technologies serve you, not the other way around. Do you need to schedule times for certain activities instead of squeezing them in here and there? Would it help you to learn your DVR system so that you can watch at your leisure and not at the dictates of the TV Guide? Is a media fast in order to wean yourself of the idea that technology is more important than you think it is?
2. Compartmentalize.
Put things in their proper place. Do you need to work on time management? Would you do better watching TV after the kids go to bed than trying to get them to hush or help them with homework during your show? Do you need to say no to more volunteer commitments and yes to more invitations to play with your children? If you work at home, determine some boundary lines so that work does not invade family time.
3. Turn off distractions.
Can you really fold laundry and watch that movie? Are you so busy taking photos for your daughter's scrapbook that you miss the really funny story that she just told? Is the beep of a text message preventing you from giving the speaker at the meeting your full attention?
As you are able, turn off the things that cause you to be distracted from the task at hand. Focus and find more joy in what you're doing in the here and now.
I hope you know, I am preaching to myself here. I am very easily distracted by the urgent and often let it supercede the most important things. Yet, I know that I will enjoy my life as MOM so much more if I'm really "in there." Multi-tasking, or trying to do too many things at one time, just doesn't help me.
But focusing does.
How about you? Does multi-tasking help or hinder you?