Organizing Travel Gear with Tom Bihn Bags
As an Amazon Associate I earn from qualifying purchases. For more details, please see our disclosure policy.
Keeping your possessions organized while you're traveling can make the trip so much more fun and enjoyable. Check out this great gear from Tom Bihn.
Disclosure: I received complimentary review product from Tom Bihn. All opinions are my own.
In the planning of this big trip to cart all six kids halfway across the world, I've sometimes felt a bit of anxiety when it comes to the immensity of it all. We're going to be gone for a month? I don't think we've ever done that as a family.
There are many factors to consider in such a big proposition, mainly how will we live through the day to day when we aren't in our own home with all its comforts. I know people do this all the time, sometimes for a year or more. Stephanie did it last year; Tsh is doing it now.
A family really can live well — away from home.
I've watched both ladies plan and live their trips around the world. I know that we can do a month. But, golly, I'm hoping that I've planned well enough. One thing that I count on being super helpful are the bags we were sent from Tom Bihn.
Tom Bihn is a US-based luggage company that produces some amazingly sturdy and well made bags. This is exactly what we need to help our family stay organized with all our baubles and sparkly things.
I know that organization is key at home; I can't imagine it being less important on the road.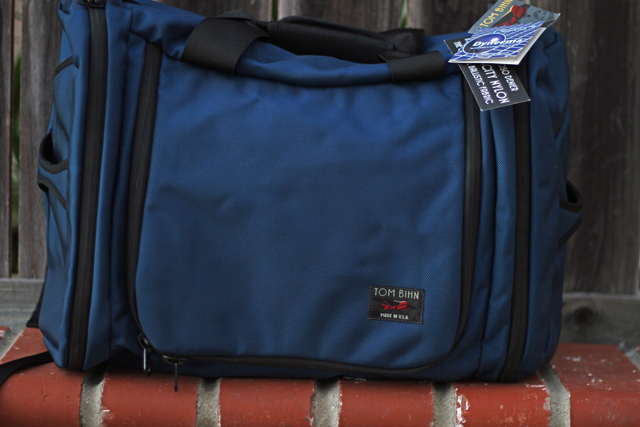 Tom Bihn's story is a great one. When Tom was ten-years old, he wanted some outdoor adventure gear that his parents wouldn't buy for him. They wanted him to figure out the funding himself. He ended up learning to sew on his grandma's sewing machine! I love that story!
The company is still owned and operated by Tom himself, the chief designer. The bags are sewn by a team of seamstresses in Seattle. It's clear looking at the bags that they are quality construction, made with care. I'm a fan.
The Aeronaut 45
I'm thrilled that my boys get to try out these bags on our big trip. Each of the older boys have an Aeronaut 45, a sturdy, soft-sided carryon that can be carried three ways.
Here are two ways. The third is the handle on the narrow side of the bag.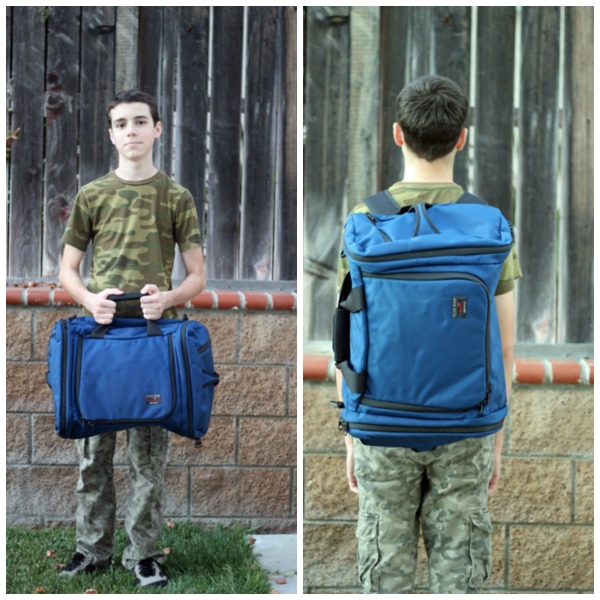 Teen boy and adult clothes are bigger and bulkier than smaller kids', so these bags are the perfect size for my 13- and 17-year olds. They can carry them hands-free and not be terribly weighted down. Plus, I think these are a great bag for them to take into their respective high school and college years.
Packing Cubes
Tom Bihn threw in a generous selection of packing cubes for us to check out. I don't have any experience with packing cubes, but after thinking through how I'm going to keep track of all the things, I'm sold.
There are small clear cubes that hold games and laundry supplies and larger ones that are perfect for a picnic kit and our first aid kit. There are even packing cubes that double as daypacks — perfect for to pack for day trips .
I love the thought and design that went into these items. The laundry bag has a moveable bottom. Fill it with clean socks. As they get dirty, place them in the opposite side of the bag. You don't lose storage space; neither do you combine stinky socks with dirty ones.
The travel tray is a sturdy drawstring bag where we can keep all our chargers and grab and go when it's time to move location.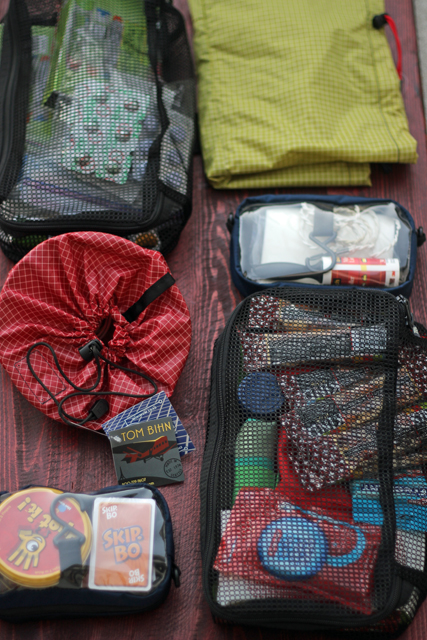 These bags are so cool, I kinda want to bag all my belongings — even at home! Ha! I'm really excited to have a way to track all the kids' different belongings, and hopefully come home with them all intact at the end of a month.
How do YOU organize when you travel?
Disclosure: I received complimentary review product from Tom Bihn. All opinions are my own.
Travel with Kids
This is part of the Travel with Kids series. Every day in October, I'm posting tips, tricks, and tutorials for making all your travels fun, frugal, and family-friendly.
Be sure to read through the archives in case you missed a post.