Easy Collage Craft with Kids
As an Amazon Associate I earn from qualifying purchases. For more details, please see our disclosure policy.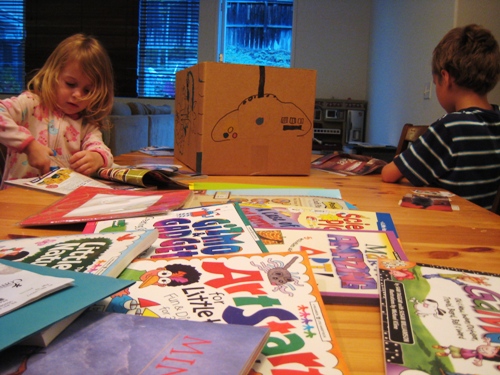 True confessions time. Remember that fancy schedule that I made up with all kinds of outings? Well, it hasn't really seen the light of day. We've been happy to be at home most of our days and have ventured out in the afternoons or weekends with FishPapa.
We've still done quite a few of the things we planned, but not the way I had planned on them.
For the most part, the kids, the FishBoys in particular, have been really pleased to occupy themselves. They have a list of chores that needs to get done first and then they have free time. They've read books, played outside, shot dart guns, played video games, and done the Lego/Playmobil thing. I think that the break from our school routine coupled with freedom to go where the whim moved them has been good for everybody.
Things were going along quite swimmingly. Until last week when I heard someone say, "I'm bored."
Interesting. I wasn't too worried about it, though. Since we haven't even scratched the surface of all the things we could do in the last few weeks of vacation.
Summer Survival Kit
Last night I broke out a Summer Survival Kit that I had waiting in the wings.
Over the last few months I've collected activity books that we already had on our shelves as well a magazines to cut up as well as craft supplies. I corralled them in one big box, waiting for the dreaded sigh, "I'm bored."
Last night the four younger ones had a great time making collages — well, three of them did, anyway. I handed them scissors, magazines, paper, and glue, as well as old file folders to decorate. One of the easiest crafts we could have done. I stood by to help cut and just talk. They were so absorbed in their projects. It was great fun to watch.
Here's FishBoy6 to tell you about it. Talk about real life at the FishHouse, complete with whining toddler. But, this little man — oh my! Be still, my heart. He is a hoot!

(To see the video embedded in this post, click here.)
Cool Sticker Paper
One of the hits of the evening was the "sticker paper" we used. It is Post-It Craft Paper that Post-It sent us to try out. This stuff is really fun. Just cut out whatever shapes you want, peel off the backing, and stick. There is no end to the possibilities of the things you can create. You know kids love stickers! This is a great way to let them be creative with custom-made stickers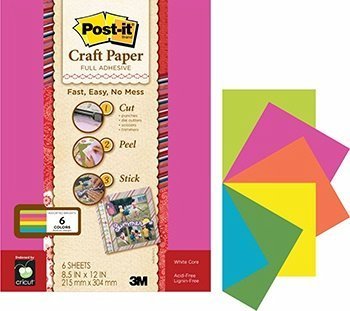 I even broke out the large paper punches from my scrap booking days. The kids were amazed that we could make our own stickers. The only question is why haven't I been doing this with them sooner?
Note to self: do this more often with the kids.
Win Post-It Craft Paper!
This week 3M and Post-It are offering free paper packs to three LifeasMOM winners.
To enter this giveaway, tell us what kind of paper craft you like to do with your kids.
Giveaway will be open until Sunday night, July 25th at 8 pm PST. Winners to be chosen at random and notified via email. If I don't hear back from a winner within 48 hours of sending the email, I reserve the right to choose another winner.
THIS GIVEAWAY IS NOW CLOSED. WINNERS HAVE BEEN ANNOUNCED.
Disclosure: Post-It provided me with samples of Post-It Craft Paper to review. I was not compensated for publishing positive comments. My opinions are my own. For more information, please see my disclosure policy.